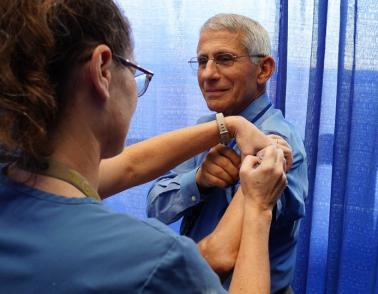 NIAID is conducting and supporting research to find new and improved ways to diagnose, treat and prevent influenza (flu) infection. You can join the fight against influenza by volunteering to participate in a clinical study. There is no charge for study-related medical care, including study visits, medications, treatments, and procedures. Volunteers may be compensated for time and travel.
The following are selected flu studies sponsored by NIAID. The links lead to full study titles, descriptions, eligibility criteria, and contact information.
Studies for Flu Patients
Evaluating Anti-Influenza Intravenous Hyperimmune Immunoglobulin (IVIG) in Adults Hospitalized With Influenza (NCT02287467)
The purpose of this study is to evaluate whether IVIG can reduce the severity and duration of flu in people who are hospitalized with the flu.
Influenza in People With Normal or Weakened Immune Systems (NCT00533182)
The purpose of this study is to evaluate how the immune system responds to influenza infection and compare how the infection differs in patients with a weakened immune system versus those with a healthy immune system.
Viral Infections in Non-immunocompromised Patients (NCT01011712)
This study is enrolling people who are thought to have normal immune systems but who have been diagnosed with a viral infection that is unusually severe, prolonged, or persistent.
Respiratory Virus Hospitalization Study (FLU 003 Plus) (NCT01056185)
The purpose of this observational study is to describe the characteristics and outcomes over a 60-day follow-up period of participants with influenza virus infection (including influenza A subtypes such as H3N2 and 2009 H1N1, or influenza B), or a targeted non-influenza respiratory virus, who are hospitalized with severe illness and/or complication in geographically diverse locations.
Studies for Healthy People Who Want to Help Advance Flu Research
Screening Volunteers for Influenza Challenge Studies (NCT01386424)
This study is screening healthy volunteers ages 18 to 50 for potential participation in future influenza challenge studies that will help researchers find better ways to prevent and treat the flu.
VRC 321: Evaluating Dose, Safety, Tolerability and Immunogenicity of an Influenza H1 Stabilized Stem Ferritin Vaccine in Healthy Adults (NCT03814720)
The objective of the study was to test the safety and effectiveness of the H1 Stabilized Stem Ferritin vaccine.
Evaluation of Human Immune Responses to Influenza Virus Vaccination (NCT02385123)
This is an open label single arm observational study of longitudinal immunologic responses to influenza vaccine in healthy adults.
Evaluating the Effects of Age, Prior Exposure, and Previous Vaccination on B Cell Response to Influenza Vaccine (NCT03328325)
This study is designed as a prospective surveillance of the immune response to seasonal influenza vaccination in 240 healthy children and adults ages 9 and over.
Analysis of Bone Marrow and Blood B Cell Immune Responses to Influenza Vaccination (NCT02485639)
The primary objective of this study is to investigate the longevity of humoral immunity to influenza virus in humans.
Safety and Immunogenicity Study of an Influenza Vaccination Strategy in a Pediatric Population (NCT03553940)
The primary objective of this study is to assess the safety and reactogenicity of a monovalent live attenuated influenza H3N2 M2SR vaccine.
Safety and Immunogenicity of Inactivated Influenza A/H5N1 Vaccine Administered Intradermally With or Without Topical Aldara (NCT03472976)
This clinical trial is designed to assess the safety, reactogenicity, and immunogenicity of inactivated A/H5N1 influenza vaccine administered intradermally with topical Aldara or control cream as a 2-dose regimen.
A Study in Healthy Adults to Assess Priming With Antigenically Mismatched Live Attenuated A/H7N3 Influenza Virus Vaccine Followed by Inactivated A/H7N9 Influenza Virus Vaccine (NCT03581903)
The purpose of this study is to assess priming with antigenically mismatched live attenuated A/H7N3 influenza virus vaccine follow by inactivated A/H7N9 influenza virus vaccine in healthy adults.
Assessing the Safety, Reactogenicity and Immunogenicity of a Sanofi A/H7N9 Inactivated Influenza Vaccine Administered With/Without AS03 Adjuvant (NCT03312231)
This is a randomized, double-blinded, Phase II study in healthy males and non-pregnant females 19 years and older that is designed to assess the safety, reactogenicity, and immunogenicity of a pre-pandemic 2017 monovalent inactivated influenza A/H7N9 virus vaccine (2017 H7N9 IIV) administered at different dosages given with AS03 adjuvant and phosphate buffered saline (PBS) diluent, with AS03 adjuvant only, and without adjuvant.
Genetic and Environmental Factors in the Response to Influenza Vaccination (NCT03088904)
The purpose of this study is to investigate and compare the immune responses to influenza vaccination in monozygotic (identical) and dizygotic (fraternal) twins to determine the roles of genetics and environment in the response to flu vaccination.
The Role of CD4+ Memory Phenotype, Memory, and Effector T Cells in Vaccination and Infection (NCT03453801)
The purpose of this study is to provide a better understanding of the adaptive immune response to the licensed influenza vaccines in children.
Read more about NIAID influenza research.
Contact
For questions about participating in this clinical study, contact
    Office of Patient Recruitment
    Toll Free: 1-800-411-1222
    TTY: 1-866-411-1010