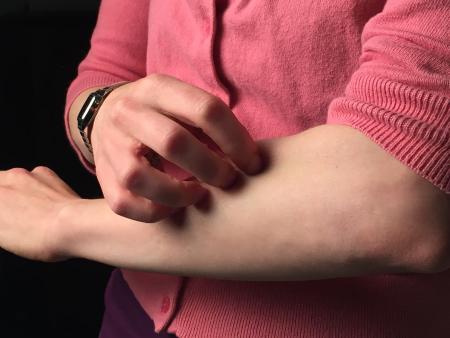 What is the physical urticaria study?
Urticaria is a common itchy skin disorder that may occur spontaneously or after exposure to a physical trigger (called physical urticaria). This study is investigating why some people get hives after certain physical triggers such as cold, heat, water, exercise, pressure, or vibration.
This study may help researchers at the National Institutes of Health (NIH) in Bethesda, Maryland, learn the genetic and immune factors that contribute to the condition—information that may help develop safe and more effective treatment options for patients in the future.
Where is the study taking place?
The study is being conducted at the NIH Clinical Center in Bethesda, Maryland. The NIH campus is accessible by car and public transportation.
What does the study involve?
Participants will visit the NIH Clinical Center for the initial appointment and then, in general, at least once more. Medical evaluations and procedures will vary based on a patient's disease course and may include a physical exam, blood draws, skin biopsy, and challenge testing (triggering hives through physical stimuli).
Because genetics may play a part in urticaria development, researchers are also looking for family members to enroll in the study. Participating family members would be asked to provide blood and/or skin samples for comparison with the family member who has a history of hives.
In addition to family members, healthy volunteers (those without the condition) are also needed to participate in testing. Watch a healthy volunteer participating in a challenge study: Getting Chilly for Science.
How much does it cost?
There is no charge to participate in this research study. All study-related medical care, including clinic visits and procedures, are provided free of charge.
Will I receive payment?
Certain procedures such as blood draws and skin biopsy (if needed) may be compensated. Transportation and other expenses may be covered.
Can I participate?
Patients may be eligible to participate if they
Are 6 months to 65 years old
Have physical urticaria (hives) that has been evaluated by a physician
Are willing to give blood or tissue samples
To learn more about the physical urticaria study (trial ID: NCT00887939), visit ClinicalTrials.gov.
Contact Information
For questions about participating in this clinical study, contact:
Office of Patient Recruitment
Toll Free: 1-800-411-1222 (reference 09-I-0126)
TTY: 1-866-411-1010 Se habla español.
Email: prpl@mail.cc.nih.gov