Funding News Edition: February 19, 2020 See more articles in this edition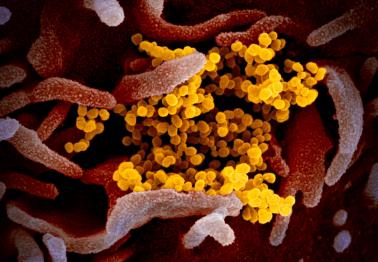 NIAID is taking several approaches to support new research in response to severe acute respiratory syndrome coronavirus 2 (SARS-CoV-2) and coronavirus disease 2019 (COVID-2019).
Administrative Supplements for In-Scope Work
If you are a grantee currently supported by active NIH funding, you may be eligible to apply for an administrative supplement to support SARS-CoV-2/COVID-2019 research.
An administrative supplement is a noncompeting award that provides additional funding to a currently funded grant to meet increased costs that are within the scope of the approved project, but that were unforeseen when the new or competing renewal application was awarded.
Contact your program officer to discuss if this may be an option for you. If your proposed research on SARS-CoV-2/COVID-2019 is within the scope of your current grant, an administrative supplement is your best option to obtain additional funding. You'll apply using the parent administrative supplement funding opportunity announcement (FOA): PA-18-591.
New Tool for SARS-CoV-2/COVID-2019 Response
In response to the COVID-2019 outbreak caused by SARS-CoV-2, NIAID, together with the National Institute of General Medical Sciences (NIGMS), is using the NIH Urgent Award mechanism for the first time. The corresponding Notice of Special Interest (NOSI) Regarding the Availability of Urgent Competitive Revisions for Research on the 2019 Novel Coronavirus (SARS-CoV-2) highlights the urgent need for research on SARS-CoV-2.
NIH issued the Urgent Award FOA (PA-18-935) in 2018 to provide a ready tool to help NIH respond to urgent public health needs when they arise. To activate the Urgent Award FOA, the lead institute or center (IC) publishes a NOSI outlining specific areas of research it wishes to advance. The NOSI invites competitive revision applications.
A competitive revision provides grantees with additional funds during a current project period to support new or additional activities that are not included as part of the current award. This request reflects an expansion of the scope of the grant-approved activities. As such, the NOSI is a way to leverage existing awards to shift research priorities quickly. 
Rather than undergoing formal peer review, as is required for competitive revision applications, urgent supplement submissions are instead reviewed internally by the IC. Second-level review is also performed in an expedited fashion.
Given the recent Public Health Emergency determination by HHS for this outbreak, monitor NIAID's Opportunities & Announcements webpage for updates regarding the NIH Urgent Award mechanism.
NIAID Research Interests
NIAID is encouraging the submission of applications for competitive revisions to active grants to address the following research areas of interest:
Identifying optimal SARS-CoV-2 in vitro culture requirements and conditions
Developing reagents and assays for virus characterization
Understanding critical aspects of viral infection, replication, pathogenesis, and transmission
Identifying viral epitopes critical for binding neutralization
Examining virus stability and persistence
Producing molecular clones of SARS-CoV-2, reporter viruses, and recombinant viral proteins
Developing animal models of SARS-CoV-2 infection suitable for screening vaccine and therapeutic candidates or pathogenesis studies
Studying the evolution and emergence of SARS-CoV-2 viruses including the identification of factors that affect viral host-range and virulence
Conducting virologic and serologic surveillance studies of the distribution and natural history of SARS-CoV-2 viruses in animal populations and in humans at the human/animal interface with particular emphasis on host reservoirs and understanding cross-species transmission events
Developing sensitive, specific, and rapid clinical diagnostic tests for SARS-CoV-2
Developing SARS-CoV-2 therapeutic candidates; broad-spectrum therapeutics against multiple coronavirus strains; examination of SARS-CoV-2 antiviral activity of existing or candidate therapeutics initially developed for other indications
Identifying and evaluating the innate, cellular, and humoral immune responses to SARS-CoV-2 infection and/or candidate vaccines, including, but not limited to: cross-reactive antibodies from individuals exposed to SARS-CoV-2 and other coronaviruses; viral epitopes critical for antibody binding and neutralization; and immune-mediated pathology or host factors that might predispose to severe infection
Developing SARS-CoV-2 vaccine candidates that include emerging antigen design strategies, novel platforms or delivery approaches, adjuvants, or assessing cross-neutralization potential of SARS-CoV vaccine candidates
How To Apply
Submit an application through the Urgent Award FOA linked above. You must write "NOT-AI-20-030" in the Agency Routing Identifier field (Box 4b) of the SF 424 (R&R) Form—applications without this information in Box 4b will not be considered for this initiative.
Keep in mind that the competitive revision award project period cannot exceed two years and the competitive revision budget is limited to no more than the amount of the current parent award. We are accepting applications on a rolling basis from February 6, 2020, through February 6, 2021.
Review the NOSI linked above for complete details. Contact Dr. Erik Stemmy or Dr. Wolfgang Leitner with scientific questions relevant to NIAID. Dr. Daniel Janes will respond to questions pertinent to NIGMS.
NIAID's Standing Response Capabilities: Resources for Researchers
The Urgent Award NOSI is one part of NIAID's approach to address emerging infectious diseases. NIAID has a toolkit of other approaches to support research on urgent public health needs, including a wide array of tools, services, and resources.
Biosafety Laboratories
We encourage investigators who do not have the biocontainment capability to work with infectious disease agents to collaborate with investigators at the National Biocontainment Laboratories (NBLs) and Regional Biocontainment Laboratories (RBLs) that, respectively, provide BSL-4/3/2 and BSL-3/2 Biocontainment Research Facilities. The NBLs and RBLs have CDC registration and biosafety level 3 facilities needed to work with SARS-CoV-2.
Investigators in academia, not-for-profit organizations, industry, and government studying biodefense and emerging infectious diseases may contact the NBLs and RBLs directly for further information.
Animal Models
NIAID's research and development contract portfolio includes developing and using small animal, nonhuman primate, and nontraditional models of infectious diseases. For more information, see Preclinical Models of Infectious Disease.
In the case of COVID-2019, where no animal model exists, NIAID is leveraging its contract program to create new models that replicate the course of human disease.
Drug and Vaccine Development
NIAID offers preclinical services that cover multiple aspects of drug and vaccine development, such as chemical synthesis, formulation work, manufacturing, assay development, immunogenicity and efficacy testing, toxicology studies, pharmacokinetic/pharmacodynamic analysis, and clinical and nonclinical sample testing.
To find out what we offer, go to Vaccines and Therapeutics.
Reagent Repositories
Through several repositories, researchers can share and access cells, organisms, and reagents. Coronavirus reagents are being made available through the BEI Resources Repository.