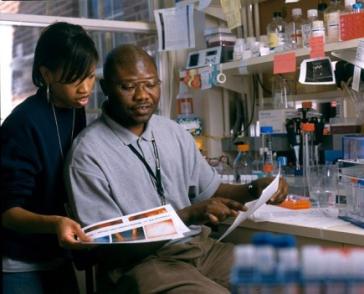 Your preliminary research may be the difference between your application's scoring within or short of NIAID's paylines. For R01s, the thoroughness of your preliminary research can be just as important for impressing peer reviewers as the Specific Aims it supports. 
Sometimes investigators feel frustrated by the perceived need to provide so much preliminary data that it feels as if a good portion of the project is completed before the project is ever funded. On the other hand, peer reviewers need to see that you've done key proof-of-principle experiments to demonstrate the feasibility and potential impact of the project. It's a difficult balance to achieve. 
Here, we'll answer a few common questions, including how to gauge how much is enough when it comes to preliminary data and the catch-22 of needing to apply for R03 or R21 funding to generate preliminary data. 
Why Should I Include Preliminary Research? 
Strong preliminary research helps your application in two ways: it demonstrates that your proposed research is promising and your ability to carry it out is credible. 
There is no checklist of how much preliminary research is adequate. In general, the more surprising your findings, the more data you'll need (in terms of replications and statistical significance) to convince reviewers the results are real. For complex or multiproject applications, you should include preliminary research relevant to each component. The more paradigm-shifting your hypothesis, the more information you'll need to provide to lay the foundation for the proposed projects. 
You must also assess whether or not your preliminary data are sufficient to convince reviewers that your project has a high likelihood of success. Reviewers use your work to evaluate both the merit of your Specific Aims and your skills as a scientist. 
Avoid including preliminary data not directly relevant to your central hypothesis, Specific Aims, or as a demonstration of expertise in a method or model system that you have not yet published. Some applicants include irrelevant data thinking that reviewers will be impressed by their "productivity," but that is not the case if the data aren't directly relevant to the application. 
Which Grant Mechanisms Require Preliminary Research? 
The investigator-initiated R01 does, as do several fellowship, cooperative agreement, and program project grants. 
Small grants (R03) and exploratory/developmental grants (R21) are tricky. By rule, they do not require preliminary research. But, as we tell you in Comparing Popular Research Project Grants: R01, R03, or R21, most applicants include preliminary research in their R21 applications, and those who do enjoy greater success rates. 
As a rule of thumb, if you have preliminary research that is rigorous and justifies your proposed work, include it. But remember, any preliminary research that you do include will be judged and scored. 
Requests for applications (RFAs) and program announcements with special receipt, referral, or review considerations (PARs) vary on whether or not preliminary research is required. For those that do, you will need to read the individual funding opportunity announcement (FOA). Still, the same rule of thumb applies—include any evidence that justifies your proposed research. 
Must I Personally Generate the Research? 
Generally, you should rely on data that you have generated, but you can certainly include data generated by your project collaborators if they show that your team is capable of carrying out the experiments you propose. More broadly, anytime you have a collaborator who fills a gap in your expertise, you should include evidence that your collaborator does in fact fill the gap. 
For research results that are already published, know that there is no requirement for reviewers to read any papers cited in your references section nor will they follow web links you include in your application. Put any information that is critical for justifying your Specific Aims directly into the application. 
But again, if the preliminary research is not your own, you must be mindful of finding other ways to demonstrate your capabilities since you will likely be competing with researchers who have generated their own preliminary data. For example, you might use a literature review to support one of your Specific Aims—if so, your review needs to be an original, thoughtful analysis, not merely a list of references. 
When referencing or including data generated by others, make sure to properly cite them in your application. 
Does the Preliminary Research Need To Be Data? 
People often take data to mean quantitative data, but qualitative data are equally important. 
For example, you may include a figure that verifies your ability to perform a new technique you'll use in your proposed research. Demonstrating the sensitivity, specificity, and reproducibility of the technique is an important part of preliminary research and should be included. 
Including data is also useful because it allows peer reviewers to assess your ability to interpret your findings. But data are often only as valuable as the methodologies that generate them. So find a way to show off your research skills. Especially for early-stage investigators, thoughtful interpretation of data is critical because it shows reviewers how you think. 
You don't need to convince reviewers that your hypotheses are true in the application itself—that work is what the grant is designed to support—but you do need to show them that you have a viable plan to answer the research questions you pose (and a viable back-up plan should you need it). 
How Can I Generate Preliminary Research if I Don't Already Have Funding? 
Network! Find other scientists interested in working on the same topic as you. Consider writing a multiple principal investigator (PI) application if you are conducting multidisciplinary research or team science. If you are an early-stage investigator, you should search especially for collaborative opportunities that allow you to hone the methodologies relevant to your area of research. 
You might also consider the following as sources of funding: 
Startup funds or other institutional support 

Foundations, professional societies, and advocacy groups 

Transitional and career development grants 

Small and exploratory research grants 
Keep in mind, the R03 and R21 activity codes are not meant to be stepping stones for new PIs to reach their first R01. Instead, we encourage new investigators to apply for an R01 directly if they have sufficient data to support the proposed work since NIAID has a separate R01 payline for new PIs. Alternatively, you may be eligible to apply for an Academic Research Enhancement Award (AREA, R15) to help get you started. That caveat aside, R03s and R21s are ideal grant activity codes to explore novel avenues of research. 
Preliminary research is not required for the R03 and R21, but if you do not have any, you must still show reviewers that your project is impactful and that you are likely to accomplish it fully. Make critical assessments of other research, explaining where and why additional research is needed. Early-stage investigators should find experienced collaborators whose strengths complement theirs. 
Pay attention to RFAs and PARs as well, which sometimes do not require extensive preliminary research. You will still need to show that you are a capable researcher and demonstrate why your application is relevant within the FOA's broader aims. Remember, you can check Concepts: Potential Opportunities to review Council-approved topics. 
How Should I Write My Application? 
In the application itself, you should present your past research to show rigorous methodology, insightful and unbiased interpretation, and applicability to your Specific Aims. 
You can put your preliminary data anywhere in the Research Strategy that you feel is appropriate; just make sure your reviewers will be able to distinguish your original work from other evidence you cite in support of your Specific Aims. Alternatively, you can create a separate section with its own header. In our experience, strong applications mix preliminary findings into each Specific Aim, using the data as justification along the way. You can even indicate in the figure legend or in the text describing the preliminary data which Specific Aim that data support.  
Do not paste preliminary research into your application without adequate explanation and/or a figure legend, and then leave it for your reviewers to decode. If using a table or figure from a publication, make sure to update the legend so that everything needed is in the application. Show how the implications of your preliminary research are relevant to the research you propose. Do not neglect the statistics—reviewers will want to know if your findings are significant. 
Make reading your application easy for reviewers. Keep your figures simple and large enough that readers don't need a magnifying glass to see them. Label all axes and units. If you embed a figure in the text, place it so that your reader doesn't have to flip back and forth to refer to it. Double check your footnotes. If you fail to adequately polish your application, you risk alienating your reviewers. 
Don't make reviewers give you the benefit of the doubt—you are responsible for relating your preliminary research to your proposed methodology and Specific Aims. Speak to any limitations of the previous work and how you plan to overcome them. 
Check out our Sample Applications & More to see how other investigators successfully presented preliminary research in their applications. 
Finally, talk to a program officer (but do not send your grant application). He or she is a scientist experienced in assessing whether an application has provided sufficient preliminary research and can tell you if more is needed to justify your Specific Aims.