Haunted houses, ghastly ghouls, spooky spirits and… frightening food allergies? Halloween can be a stressful time for families managing food allergies. Many popular candies contain peanuts, tree nuts, milk, eggs and other potentially allergenic foods. Kids with food allergy and their caregivers need to remain watchful to avoid a food allergy scare on Halloween, but they certainly shouldn't be left out of the fun! Reading food labels carefully can help ensure a safe and happy Halloween for everyone.
Allergic reactions to food can range from mild to life-threatening. Some people may experience swelling of the lips, hives or shortness of breath. The most severe type of reaction, called anaphylaxis, can cause a sudden drop in blood pressure, trouble breathing and dizziness. If untreated, anaphylaxis can be fatal.
To avoid allergic reactions, people with food allergy must be vigilant about the foods they eat and the environments they enter. Reading food labels is key, because sometimes allergens are present in foods one would not normally associate with them. FDA requires that food labels clearly identify ingredients that are one of the major food allergens or contain any protein derived from a major food allergen.
Some foods might contain traces of an allergen due to cross-contamination during the production process. In these cases, the label may note that the product "may contain" an allergen or is "produced in a facility that also uses" an allergen.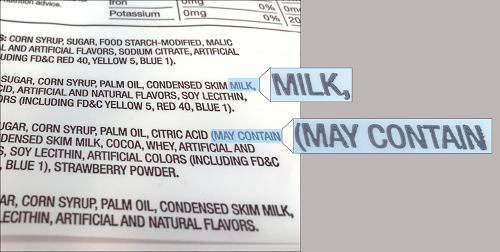 Reading labels carefully can be particularly important for snack-sized or fun-sized candies, which sometimes are produced with different ingredients or in a different facility than the regular-sized version of the same candy. Individual pieces of miniature candy may not contain the full ingredient list, but the complete label should be available on the manufacturer's website. Seasonal or holiday varieties of candy also may have different ingredients than the regular variety.
Making a plan before heading out trick-or-treating can help ensure that everyone has a fun and safe evening. For example, kids with food allergy could agree to "trade in" unsafe candy to their caregiver in exchange for an allergen-free candy or other safe treat, or donate their extra candy to a charity. Some food allergy support groups encourage more homes to offer non-food treats or allergen-free candies to all trick-or-treaters.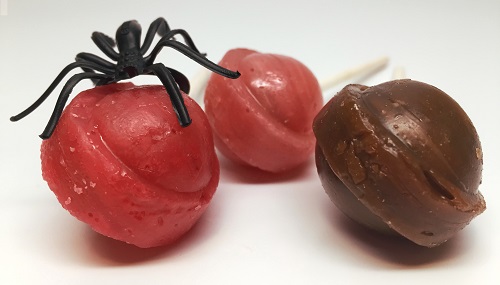 To learn more about food allergy, watch NIAID's Understanding Food Allergy video on YouTube and see NIAID's food allergy website.
For additional information about Halloween food safety, see FDA's Halloween Food Safety Tips for Parents.