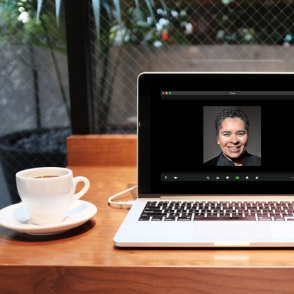 By Megan Kalomiris, Postbac in the Caliciviruses Section, Laboratory of Infectious Disease
In July and August 2020, Raquell Holmes, Ph.D. led three virtual workshops as part of the NIAID Training Creating Conversation Series—where postbacs practiced building communities and conversations through improv. Dr. Holmes is a computational cell biologist and the founder of improvscience, a consulting business that uses theatrical techniques to facilitate effective teamwork in scientific environments. Megan Kalomiris, an NIAID postbac, attended two events in the series and reflects on her experience and what she learned.
Dr. Holmes introduced the concept of improv and its collaborative nature. The introduction taught us to build upon what others say, expect mistakes, and not to worry about being funny. Applying these concepts, we practiced mirroring each other's movements and taking turns admitting a mistake we recently made. Everybody caught on quickly and became noticeably more relaxed throughout the sessions.
The series centered around learning to hold and foster collaborative conversations, with each session exploring how to be a more effective communicator. The workshop titles highlighted the different focus of each session: "building inclusive scientific communities," "great conversations are a collaborative creation," and "speaking with confidence."
Throughout these sessions, we learned the guiding principle of improv —  "yes, and…"—one in which you listen to what the other person says, accept whatever it is, and build upon it. Following this rule ensures a conversation keeps going no matter the direction, while breaking it can prevent progression of the conversation. "Yes, and…" is not just important to improv, but has understated applications in science. Following this principle fosters a collaborative relationship between colleagues and prepares everyone's mind for discovery. Shutting down avenues of thought can lead to missed opportunities in research, so it is a good habit to consider all possibilities.
As an early-career scientist, I feel it is easy to worry about missteps when discussing projects, presenting work, or even conversing with colleagues. This series highlighted the fact that mistakes are bound to happen and are nothing to fear. The exercises and theatrical techniques we practiced taught us to take the unexpected in stride and proceed with confidence.