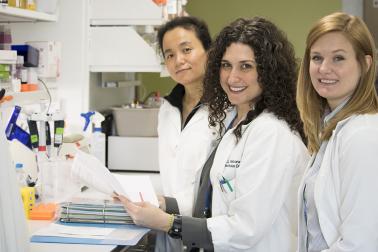 Women face unique health problems related to many NIAID mission areas—specifically, HIV/AIDS, sexually transmitted infections, and autoimmune disorders. Many infectious and autoimmune diseases affect female populations disproportionately. For example, genital herpes from herpes simplex virus 2 is nearly twice as common among women as among men. Likewise, women account for more cases of chlamydia, lupus, and scleroderma than do men.
Even diseases that strike men and women in nearly equal numbers may have unique consequences or complications for women. For instance, women with HIV are at higher risk of severe cases of gynecological problems, such as chlamydia or bacterial vaginosis, than are non-infected women. Women also risk passing some of these diseases to children during pregnancy or breastfeeding.
The National Institutes of Health (NIH) created the women's health research category in 1994 for annual budgeting purposes and in 2019 it was updated to include the following categories:
Studies with only female participants
Diseases or health conditions unique to women
Disease or conditions that predominantly affect women or girls
Research with an overall goal of examining women's health outcomes, trajectories, risk factors, diagnosis or treatment strategies, or health differences between women and men
Career development, training, and meeting grants related to fostering the women's health research workforce
Why Is Women's Health a Priority for NIAID?
The National Institute of Allergy and Infectious Diseases (NIAID) mission is to conduct and support basic and translational research to understand, diagnose, prevent and treat infectious and immune-mediated diseases, including diseases that impact the health of women and girls. NIAID takes measures to ensure the involvement of women in clinical trials on various infectious and auto-immune diseases. NIAID is involved in basic and translational research on diseases that disproportionately impact women and girls, such as systemic lupus erythematous (SLE). NIAID also collaborates with other organizations on research initiatives to improve women's health. Much of the research conducted or funded by NIAID supports various goals and objectives of the Office of Research on Women's Health (ORWH) Trans-NIH Strategic Plan for Women's Health.
How Is NIAID Addressing This Critical Topic?
NIAID conducts and supports a range of research relevant to women's health in the Institute's mission areas, from sexually transmitted infections (STIs) to HIV/AIDS to autoimmune diseases through both individual projects and large programs.
Some major projects and programs relevant to women's health that NIAID supports include:
Related Public Health and Government Information
To learn about risk factors for diseases that specifically affect women and current prevention and treatment strategies visit the MedlinePlus Women's Health site.