Anthony S. Fauci, M.D., NIAID Director

Dr. Fauci was appointed Director of NIAID in 1984. He oversees an extensive research portfolio of basic and applied research to prevent, diagnose, and treat established infectious diseases such as HIV/AIDS, respiratory infections, diarrheal diseases, tuberculosis and malaria as well as emerging diseases such as Ebola and Zika. NIAID also supports research on transplantation and immune-related illnesses, including autoimmune disorders, asthma and allergies. The NIAID budget for fiscal year 2020 is an estimated $5.9 billion.
Dr. Fauci has advised six Presidents on HIV/AIDS and many other domestic and global health issues. He was one of the principal architects of the President's Emergency Plan for AIDS Relief (PEPFAR), a program that has saved millions of lives throughout the developing world.
Read about how NIAID is conducting and supporting research on SARS CoV-2 and the disease COVID-19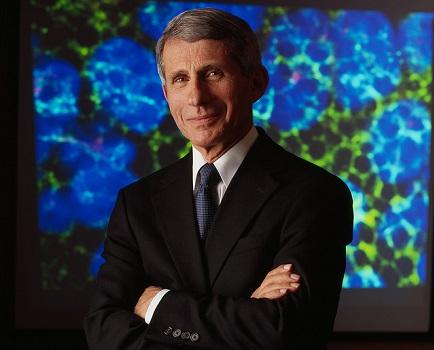 Profiles, Awards, and Honors
Publications and Articles
October 26, 2020
August 15, 2020
July 17, 2020
Congressional Testimony
Testimony: COVID-19: An Update on the Federal Response.  Senate Committee on Health, Education, Labor and Pensions.
Videocast and Testimony:  The Urgent Need for a National Plan to Contain the Coronavirus.  House Select Subcommittee on the Coronavirus Crisis.
Laboratory of Immunoregulation
Dr. Fauci also is the long-time chief of the Laboratory of Immunoregulation (LIR). He has made many contributions to basic and clinical research on the pathogenesis and treatment of immune-mediated and infectious diseases. He helped pioneer the field of human immunoregulation by making important basic scientific observations that underpin the current understanding of the regulation of the human immune response.
---