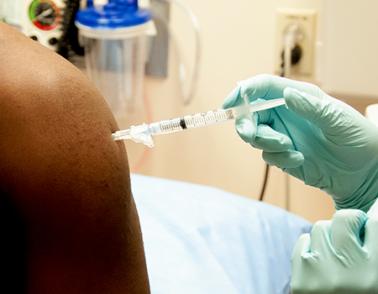 Vaccines stimulate the immune system to produce immune responses that protect against infection. Vaccines provide a safe, cost-effective and efficient means of preventing illness, disability and death from infectious diseases.
Why Is Vaccine Research a Priority for NIAID?
Vaccines have saved millions of lives worldwide and dramatically reduced the prevalence of many life-threatening infectious diseases. Yet there remains a need for new and improved vaccines against existing infectious diseases, as well as a need for rapid development of experimental vaccines to address emerging infectious diseases. NIAID supports and conducts research to identify new vaccine candidates to prevent a variety of infectious diseases, including those for which no vaccines currently exist. NIAID-supported research also aims to improve the safety and efficacy of existing vaccines.
How Is NIAID Addressing This Important Area of Study?
NIAID conducts and supports numerous stages of the vaccine development process, ranging from basic immunology research to clinical testing of candidate vaccines. Basic research aims to understand the complex interactions between pathogens and their human hosts and generate the knowledge essential for developing safe and effective vaccines. Preclinical research helps advance promising vaccine candidates into human testing. Clinical trials evaluate the safety, tolerability and efficacy of investigational vaccines in people.
Types of Vaccines
Scientists take many approaches to designing vaccines against a microbe. These choices are typically based on fundamental information about the microbe, such as how it infects cells and how the immune system responds to it, as well as practical considerations, such as regions of the world where the vaccine would be used.
---
Vaccine Adjuvants
A vaccine adjuvant is a substance that is formulated as part of a vaccine to enhance its ability to induce protection against infection. Adjuvants help activate the immune system, allowing the antigens—pathogen components that elicit an immune response—in vaccines to stimulate a response that leads to long-term protection.
---