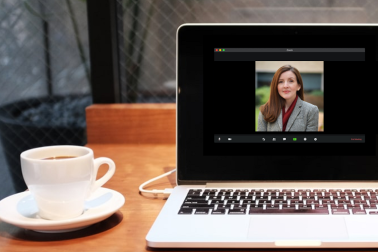 By Eimear Holton, NIAID Training Social Media/Web/Outreach Program Specialist
NIAID predocs and postdocs began the new year with a back-to-basics writing series focused on how to communicate their science and ideas in a succinct, logical manner. Led by Megan Bohn, Ph.D., NIAID Predoctoral, Postdoctoral, and Visiting Fellows Program Coordinator, this interactive three-part series focused on the themes of writing clearly, staying on track, and communicating the purpose and impact of your science. Structured as quick 50-minute skill blitzes, the sessions were designed to inform and inspire.
"Writing is thinking on paper." William Zinsser famously wrote this in his classic book, On Writing Well, and that idea served as the inspiration for the series. Forming productive writing habits may seem like a daunting task for busy graduate students and postdocs, but it's easier to adopt when the emphasis is not on perfection, but rather on incremental progress in crafting and refining ideas. Simply setting aside 20 minutes every day as contemplative writing time to think about research can have a major cumulative effect on progress. Creating a writing strategy to stay on top of manuscript writing isn't a new concept for most postdocs or graduate students, but typical strategies often end in frustrating and stressful binge writing. Dr. Bohn shared a variety of approaches and emphasized understanding yourself and what works for you to guide your strategy. The key to success, Dr. Bohn argued, is to break large projects up into smaller manageable tasks by creating a writing schedule and setting measurable goals for writing progress.
In sitting down to write a research paper, it's also key to remember who you're writing for: human beings who want to be told a story. That story needs to be easy to read. Tips from the series include writing shorter, stronger sentences, using active language, and avoiding jargony fillers you may think make you sound smart. Dr. Bohn worked through examples of common word usage mistakes that obscure meaning and discussed how properly structured story arcs create engaging material. Readers expect information to appear in a logical pattern—a beginning, middle, and end. When you stray from that logical structure, the reader is left frustrated and less likely to invest in your ideas.
Writing clearly is imperative when it comes to showing why your work is important and the impact an investment in you and your ideas will have down the line. Brilliant scientific ideas and eloquently conducted experiments have the greatest impact when they're communicated well. If you can't articulate them well in writing, you're going to have a hard time accelerating your research, getting funding, landing your dream job, or even designing experiments in the first place. Writing clearly indicates clear thinking and is imperative to gain the reader's confidence in you and your work. The most relevant examples for postdocs and graduate students are writing grants and applying to jobs. Dr. Bohn pointed to specific formulas and information patterns that the reader will be expecting so they can wholly focus on your ideas and why they should fund or hire you. "It is the writer's job to make the reader's job easy."- Writing Science by Joshua Schimel.
This skill-blitz style series was an apt precursor to NIAID training offerings in 2021: The Virtual Grant Writing Training and Mentoring Program kicks off in March, with more career exploration and development opportunities coming in the fall. Stay tuned.
Want to learn more
Contact the NIAID training office at NIAIDtraining@nih.gov or schedule a one-on-one meeting with Megan Bohn, Ph.D. (NIAID DIR/VRC predoctoral and postdoctoral fellows only).
Relevant Resources
On Writing Well by William Zinsser
Writing Science by Joshua Schimel
Grant Writers' Seminars and Workshops