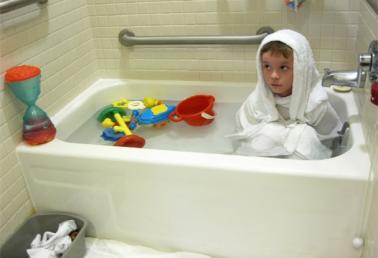 Eczema, or atopic dermatitis, is an inflammatory skin condition that mostly affects children and adolescents. People with eczema may be particularly susceptible to bacterial, viral, and fungal skin infections. NIAID research increases our understanding of the immune system and how it contributes to the development of atopic dermatitis and its complications. NIAID also supports research to explore the genetic determinants of eczema and to evaluate new strategies to prevent and treat the disease.
Watch a short video about how NIAID clinical research found that wet wrap therapy combined with education on long-term skin care can dramatically improve the lives of children with severe eczema: Helping Kids with Severe Eczema.
Current Clinical Research Studies Seeking Volunteers
The following are selected clinical trials supported by NIAID investigating various aspects of eczema (atopic dermatitis). The links lead to full study descriptions, eligibility criteria and contact information.
NCT03389893: Effect of Dupilumab on the Host-Microbe Interface in Atopic Dermatitis
People ages 18-65 years with chronic, moderate-to-severe atopic dermatitis may be eligible to participate in this clinical trial that investigates the effect of 6 weeks of dupilumab treatment.
NCT03018275: Beginning Assessment of Cutaneous Treatment Efficacy of Roseomonas in Atopic Dermatitis
This clinical trial is currently seeking children ages 7-17 years who have been diagnosed with atopic dermatitis and have a rash on their elbow or forearm area to help NIAID researchers test a new treatment approach.
NCT01164241: Natural History of Diseases Associated With Allergic Inflammation: Atopic Dermatitis and Genetic and Congenital Diseases Associated With Atopic Pathways
The objective of this clinical trial is to study the natural history of diseases of allergic inflammation, such as atopic dermatitis or genetic disorders associated with allergic inflammation. Children and adolescents between one month and 21 years of age who have a documented history of moderate to severe atopic dermatitis may be eligible to participate. Individuals between one month and 80 years of age who have a suspected genetic or inherited allergy disorder related to atopic dermatitis or allergic pathways may also be eligible.
NCT03038932: Etiology of Eczema Herpeticum (EH)
Those with atopic dermatitis may have complications from skin infections such as eczema herpeticum after herpes simplex virus (HSV) infection. The purpose of this study is to determine why some individuals with atopic dermatitis are at higher risk for recurrent skin infections with HSV.
NCT03151148: Targeted Microbiome Transplant in Atopic Dermatitis
The purpose of this study is to examine the safety and effectiveness of a new therapy, commensal lotion containing infection fighting bacteria, on decreasing or eliminating the infection causing bacteria found on the skin of atopic dermatitis patients ages 18-60 years.
NCT00006150: Study of Clinical Features and Genetics of Hyperimmunoglobulin E Recurrent Infection
The Hyper IgE Syndromes (HIES) are primary immunodeficiencies resulting in eczema and recurrent skin and lung infections. This study seeks to enroll patients and families with confirmed or suspected diagnosis of HIES for extensive phenotypic and genotypic study as well as disease management.
NCT03019328: Early Peanut Introduction: Translation to Clinical Practice
Children with moderate to severe eczema are potentially at high risk of peanut allergy. This research study seeks to determine the best approach to early peanut introduction for the prevention of peanut allergy in high risk infants ages 4-11 months.
Read about NIAID research on eczema (atopic dermatitis).
Visit the NIH website to see resources about children participating in clinical trials.
Contact
Volunteer or get more information
Toll free: 1-800-411-1222
TTY: 1-866-411-1010
Se habla Español.