Funding News Edition: June 05, 2019 See more articles in this edition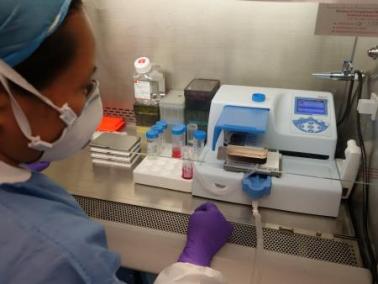 It might be safe to say that people are more familiar with grants than with research and development (R&D) contracts. If that's the case with you, this article will help you get acquainted with the latter and perhaps build your enthusiasm when you see solicitations well-suited to your scientific strengths.
We support many academic investigators under R&D contracts, and most large research institutions should have experience with federal government contracts as well.
Read on for what contracts are, how they differ from grants, and how to determine whether a solicitation is right for you.
What Are Contracts and When Are They Used?
Contracts describe a defined government requirement for a product or service with specific deliverables and deadlines, and work done under a contract requires programmatic guidance by NIAID staff.
For example, we use R&D contracts to address specific programmatic needs, such as clinical trials under networks, product development, statistical and data coordinating centers, and developing animal models and product testing.
While "research" can be acquired under a contract, the research goals and objectives are clearly stated up front in the request for proposals (RFP).
NIAID also uses broad agency announcements (BAAs) to solicit contracted research. An RFP focuses on a specific requirement while a BAA focuses on scientific study and experimentation directed toward advancing the state of the art or increasing knowledge or understanding. Further, NIAID defines the Statement of Work (SOW) for an RFP whereas the applicant (officially referred to as the offeror) develops the SOW for a BAA. The decision to use a contract is based on whether or not the work to be done is for the direct benefit or use of the federal government.
In contrast, grants are more free-form than either BAAs or RFPs because they allow you to go where the science leads you within your terms of award.
When we choose whether an opportunity should be a contract solicitation or a grant opportunity, we consider the scientific need and legal requirements.
Contracts, Grants—What's the Difference?
The table below covers the major contrast points between contracts and grants. Here are some reference links that may come in handy as you review the table:
Opportunity Stage

Factor

Contract Solicitation

Grant Opportunity

NIAID's goal

Acquisition

Assistance

Science type

Mostly applied and translational research

Mostly translational and clinical research

Scope

Specific goals or objectives, and we may also specify approaches

General or specific program areas, e.g., specific goals and objectives in a request for applications (RFA)

Opportunity type

RFP or BAA

RFA or program announcement (PA), including PA with set-aside funds (PAS) and program announcement with special receipt, referral, or review considerations (PAR)

Proposal or Application Stage

Factor

Contract Proposal

Grant Application

What your organization sends

No fixed template or format, but the proposal must comply with the solicitation's instructions

SF 424 grant application package

What you describe

Your plan to accomplish the solicitation's stated requirements

Your choice of aims, objectives, and approaches or if responding to an RFA, its goals and objectives 

Initial Review Stage

Factor

Contract Proposal

Grant Application

Objective

Identify which proposals will be in the competitive range. Since the government is required to award contracts based on "best value," the offeror with the best score may not be picked if its costs are significantly higher than other offerors' proposals.

Identify competitive applications and assign overall impact scores, which are usually the sole determinant by which grants are funded.

Review criteria

Solicitation-specific

Standard five review criteria, though some RFAs have additional criteria

Discussions

Reviewers discuss and score all proposals that meet any stated mandatory qualification criteria and meet material terms and obligations of the solicitation. Reviewers evaluate the proposals against the evaluation criteria that is included in the solicitation.

Reviewers may elect not to discuss some percentage of the applications based on preliminary scores they provide before the review meeting. The percentage of applications not discussed varies for different funding opportunities based on the number of applications received and awards to be made.

Scoring

Reviewers assign points based on strength or weakness relative to each technical evaluation criterion. These criteria are specific to each solicitation and have point values assigned.

The sum of the points assigned to each criterion is the overall technical score for the proposal.

 

Reviewers score applications using a scoring range of 1 to 9 for each of the NIH standard review criteria plus any funding opportunity-specific criteria. They also give each application an overall impact/priority score on a similar scale from 1 to 9. 

In some situations—e.g., grant applications reviewed at NIH's Center for Scientific Review—the overall scores from a single study section meeting are percentiled to provide an objective ranking that can be compared across different review panels and study sections.

Grants received in response to an NIAID-specific funding opportunity announcement are typically reviewed at NIAID by special emphasis panels and are not percentiled.

Size of Review Panel

As small as possible.

To keep the number of reviewers to a minimum, NIAID selects reviewers with broad expertise, rather than adding to the group with ad hoc technical specialists. Reviewers must evaluate, prepare a review, and provide a score for all proposals, not just the one or two for which he or she was assigned as primary reviewer.

Few restrictions, although conflicts of interest may limit reviewer selection.

Ad hoc reviewers are brought in as needed and are assigned to specific applications.

After Initial Review Stage

Factor

Contract Proposal

Grant Application

Negotiations

For most R&D acquisitions, we negotiate with the offerors who submitted the most highly rated proposals. Those offerors are given the opportunity to address deficiencies, significant weaknesses, and adverse past performance information to which they have not yet had an opportunity to respond. Also, we may provide offerors an opportunity to address other aspects of their proposal that could, in the opinion of the contracting officer, be altered or explained to enhance materially the proposal's potential for award. (The term "offeror" is equivalent to the term "applicant" for grants.)

Applications go to NIAID's Advisory Council. If necessary, program staff advise applicants based on discussion at the meeting and reviewer critiques to address concerns raised in the summary statement , e.g., change in approach, missing scientific expertise, change in Specific Aims.

Funding decisions

Based on a comparative assessment of proposals against all source selection criteria in the solicitation

Based mostly on overall impact/priority score or percentile rank, program priorities, and availability of funds

Funded Stage

Factor

Contract

Grant

During the project period

Contracts are legally binding, so follow specified deadlines and provide agreed-upon deliverables.

Pursue your Specific Aims. Follow new leads as they arise and stay within your scope and terms of award.

NIAID program involvement

Greater programmatic oversight and monitoring to assure adherence to milestones and timelines

Generally, less or no program involvement for investigator-initiated applications (except for cooperative agreements)

Prior approvals

Prior approval from the contracting officer is required in certain instances (e.g., requests for subcontracts, equipment purchasing). The contracting officer's representative is much more involved in prior approvals than program staff are for grants, respectively.

Rights and uses

The contractor usually has the right to data first produced in the performance of the contract.

NIAID generally also has unlimited rights in data delivered under the contract and data generated in the performance of the contract.

You have primary rights to your data and NIAID has the right to access that data.

Renewal

When the contract is over, it's over; depending on the need, NIAID may decide to recompete the requirement or post similar solicitations in the future.

Some grant types are renewable. Others are not.
How To Decide if a Solicitation Is for You
If you're viewing the NIAID Extramural R&D Solicitations list and spot a solicitation relevant to your interests, weigh these factors:
How closely does the opportunity map to your area of expertise?
Do your capabilities match the requirements? Could you take on subcontractors or collaborators to fill gaps?
Are you comfortable with the greater NIAID oversight for contracts compared with grants?
Do you feel confident you can provide the deliverables required within the solicitation's deadlines—and at a competitive price?
If you aren't sure or want more advice, check with your business office. Your organization has probably handled contracts before and may have special rules for you to follow.
Also, you may be able to find a colleague who can share insights based on his or her experiences with R&D contracts.
Or if you have questions about a specific solicitation, you can ask the NIAID Office of Acquisitions' contract specialist listed in the solicitation.
Note that unlike the list of contacts for a grant opportunity, you should not contact anyone in our program divisions for advice before the award stage. There are regulations that dictate who can communicate with offerors or potential offerors.
Also, unlike a grant, you enter into a legally binding contractual agreement to deliver a product or service at a certain time at a certain cost. You're expected to give us a defined, tangible output, not ​a biomedical research discovery.
Even if you end up deciding a solicitation is not for you, knowing how your organization handles contracts and what factors to watch for when considering future opportunities will benefit you in the long run.
Find current NIAID R&D contract opportunities at Extramural R&D Solicitations. You may also want to see a preview of potential future solicitations at Concepts: Potential Opportunities.
Continue reading about other funding sources at Approaches for Staying Funded.