Funding News Edition: March 16, 2022 See more articles in this edition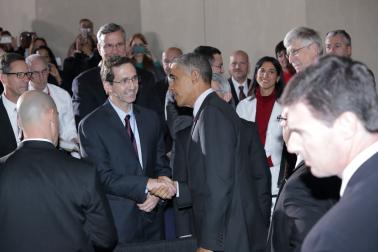 NIAID's Dale and Betty Bumpers Vaccine Research Center (VRC) will undergo a change in leadership as VRC Director John R. Mascola, M.D. retires at the end of this month. NIAID Director Dr. Anthony Fauci announced the news in the February 16, 2022 statement Leadership Transition at the NIAID Vaccine Research Center.
Since joining VRC in 2000, Dr. Mascola served as VRC's deputy director until 2013, and was then appointed as VRC's director and chief of the Virology Laboratory. Under his leadership and direction, VRC has made numerous advances, including playing a key role in the HIV Antibody Mediated Prevention (AMP) trials, which serve as a proof-of-concept for development of monoclonal antibodies to prevent HIV infection, and collaborating with Moderna to develop the mRNA-1273 COVID-19 vaccine.
Dr. Mascola also provided leadership for VRC's scientific and clinical research activities and developed vaccine research programs for diseases of public health importance, including HIV, influenza, Ebola/Marburg, malaria, and COVID-19. Additionally, throughout his time at the Institute, he has been one of Dr. Fauci's principal advisors on vaccines and related biomedical research affairs.
Effective March 1, VRC Deputy Director Dr. Richard Koup is serving as acting director while a nationwide search for a permanent replacement gets underway.
Find more information on VRC's mission and primary areas of research focus at Vaccine Research Center.