Funding News Edition: March 03, 2021 See more articles in this edition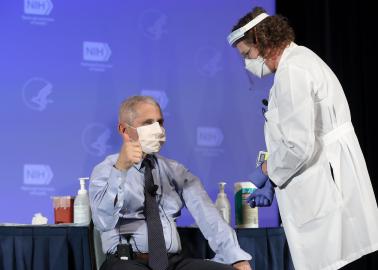 In his opening remarks to NIAID's Advisory Council on January 25, 2021, NIAID Director Dr. Anthony Fauci shared key staff transitions, legislative updates, and COVID-19 news. We summarize his remarks here, and link to Council subcommittee discussions and approved concepts for potential funding opportunities.
Find video of Dr. Fauci's full presentation at NIAID Advisory Council Meeting—January 2021. We covered his budget and payline announcements in our February 3, 2021 article "Budget Updates From January 2021 NIAID Advisory Council Meeting."
Staff Transitions
After welcoming NIAID Council Members, Dr. Fauci summarized some of President Biden's recent health-related appointments and nominations for the secretary of HHS, U.S. surgeon general, director of CDC, members of the National Security Council, experts joining the White House Coronavirus Task Force, and more.  
Dr. Francis Collins will continue as NIH director. Dr. Fauci was honored with an added role as chief medical adviser to the President.
NIAID has experienced many recent changes in leadership positions. Dr. Fauci shared the full list starting at the nine-minute mark in the video linked above. Here are just a few of the staff updates he mentioned:
Dr. Jill Harper is the new deputy director for science management and operations. Dr. John "JJ" McGowan retired from this role.
Laura Gent is NIAID's new budget officer, deputy director, and current acting director of the Office of Mission Integration and Financial Management. Wayne Crum retired from these roles.
Joyelle Dominique is the new director of our Office of Global Research. 
John Tierney has been appointed director of the Office of Clinical Research Policy and Regulatory Operations in the Division of Clinical Research.
Dr. LeShawndra Price is the new director of the Office of Research Training and Special Programs in the Division of Extramural Activities. Dr. Paula Strickland retired from this role.
Legislative Updates
Starting at the 27-minute mark in the video linked above, Dr. Fauci covered party shifts in the 117th Congress. He listed chair and ranking members for House committees. At the time, leadership for Senate committees had not been established. Find current details at Committees of the U.S. Congress.
He also described recent COVID-19-related legislative activities for NIAID, including the following:
September 23, 2020 hearing for the Senate Health, Education, Labor, and Pensions Committee
September 25, 2020 virtual tour of NIAID's Vaccine Research Center for Republican House members
September 30, 2020 key briefings on COVID-19 disparities for Congressional caucuses
COVID-19 News
To illustrate the spread of COVID-19, Dr. Fauci presented maps, graphs, and figures. Find this portion of his presentation starting at the 34-minute mark in the video.
Citing infection and death rates, he showed graphs for three major infection surges. The hospitalizations graph followed a similar pattern, with record numbers of COVID-19 patients pushing hospital staff to the limits.
A significant amount of research effort is focused on post-COVID-19 syndrome. NIAID hosted a virtual Workshop on Post-Acute Sequelae of COVID-19 on December 3 and 4, 2020.
The U.S. government has helped develop or facilitate clinical trials for six different vaccines using three vaccine platforms. Dr. Fauci mapped out the extraordinary 11-month timeline from virus sequencing to safety trials and eventual vaccinations.
At the close of his presentation, Dr. Fauci cited the National Strategy for the COVID-19 Response and Pandemic Preparedness and recommended actions to control and end the pandemic.
Subcommittee Summaries
At each Council session, scientific subcommittees review and approve concepts for NIAID initiatives: targeted research funding opportunities. While not all approved concepts become funding opportunities later, our concepts highlight NIAID research interests and can be good topics for your investigator-initiated applications.
Video. NIAID scientific staff presented our January concepts and subcommittees discussed them in the following videos:
Text. Read summaries of the approved concepts:
Find older concepts and learn more about the approval process at Concepts—Potential Opportunities. To receive an email when we post new concepts, go to NIAID Email Updates, open the Research Funding category, and choose the Concepts topic.
Save the Date
The next NIAID Advisory Council meeting will be on June 7, 2021. You can catch the live video stream of Council's open session at NIH VideoCasting or find the archived video afterward.