Feature Articles
Opportunities and Resources
In The News
Advice Corner
New Funding Opportunities
---
Feature Articles
Get Resources and Services From NIAID's Biodefense Laboratory Network
Now in its 10th year, NIAID's biodefense laboratory network offers useful resources to NIAID-sponsored investigators studying biodefense and emerging infectious disease agents.  

You can request use of the network's biocontainment facilities or get animal models, pathogens, imaging services, laboratory and analytical support, specialized equipment, and more. For example, you could perform research protocols under biosafety level (BSL) 3 containment or even join a network lab for a full collaboration on research studies.

As shown on the following map, the National Biocontainment Laboratories (NBLs) and Regional Biocontainment Laboratories (RBLs) offer biocontainment facilities up to BSL 4 and BSL 3 respectively.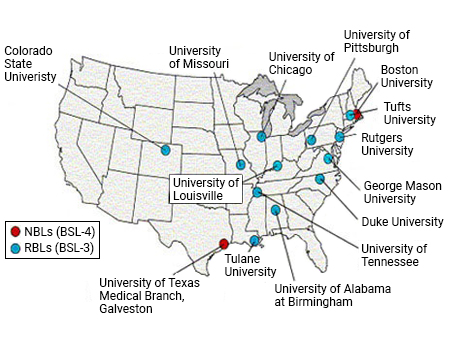 The NIAID-funded construction of these labs followed the most stringent guidelines, and as a result, these laboratories are state of the art with the latest building automation systems for safe biocontainment. All labs have been approved and registered for select agent research by CDC.
Each NBL and RBL offers distinct resources and services for the research community. Review what each site has to offer at National Biocontainment Laboratories and Regional Biocontainment Laboratories and choose the Available Services link for each lab. There you will also see a list of the specific pathogens that the lab is registered to handle.
To get more information on a particular site's offerings or to propose a collaboration, use that site's contact information as shown on the laboratory list.
---
Opportunities and Resources 
For Offerors: One Omnibus Broad Agency Announcement, Multiple Research Areas
A recent NIAID broad agency announcement (BAA) provides offerors a chance to submit proposals for several distinct research areas. Specifically, those that align with the objectives of the Institute's Division of Allergy, Immunology, and Transplantation (DAIT) and Division of Microbiology and Infectious Diseases (DMID).
Research Areas
The BAA solicits proposals for five research areas; three for DAIT and two for DMID. You may respond to one, any combination of, or all of the areas. 

We list them here, but read the solicitation for complete descriptions or the related Guide notice for more of an overview. Both resources are linked below.
DAIT
Research Area 001: Adjuvant Development Program
Research Area 002: Development of Radiation/Nuclear Medical Countermeasures
Research Area 003: Development of Radiation/Nuclear Predictive Biomarkers and Biodosimetric Devices
DMID
Research Area 004: Development of Broad-Spectrum Therapeutic Products for Biodefense, Anti-Microbial Resistant Infections and Emerging Infectious Diseases
Research Area 005: Advanced Development of Vaccine Candidates for Biodefense and Emerging Infectious Diseases
Proposal Requirements
You must present separate detailed technical and business proposals designed to meet the technical objectives described for each research area proposed. 

You will also need to develop and propose the Statement of Work (SOW), including the specific technical requirements and performance specifications.
BAA Versus RFP
If you're wondering what the difference is between the two, here's the answer in a nutshell.
A request for proposals (RFP) focuses on a specific service or deliverable the government wishes to acquire while a BAA typically focuses on scientific study and experimentation directed toward advancing the state of the art or increasing knowledge or understanding. 
Additionally, NIAID defines the SOW for an RFP whereas the offeror develops the SOW for a BAA.
Get Additional Info and Help
Read the March 3, 2017 solicitation for full details about the Omnibus BAA, including the research areas (as noted above), budget and award information, proposal due dates, contacts for each research area, and submission instructions. 
You may also refer to the related March 17, 2017 Guide notice, which addresses some of what the solicitation covers.
If you have general questions about the BAA, contact George Kennedy in NIAID's Office of Acquisitions. Direct specific questions about the research areas to the contracting officer point of contact in the solicitation.
---
Consider Grand Challenges From the Gates Foundation
If you're working on NIAID-related topics, check out new Grand Challenges Explorations grants from the Bill and Melinda Gates Foundation. Open to applicants from all disciplines and organizations, these awards support innovative early-stage projects in global health and development. 
Initial grants provide $100,000 in direct costs over an 18-month project period. If your project shows promise, you may pursue follow-up funding of up to $1 million in total costs over a two-year period.
To apply for a grant in Round 19 of this program, submit a two-page proposal by May 3, 2017. 
Improving Timeliness of Routine Immunizations in Low-Resource Settings
Through this challenge, the Gates Foundation seeks to increase the rate at which people in low-resource settings, including remote and nomadic populations, receive immunizations at recommended intervals. Related objectives include reducing missed opportunities for vaccination and documenting the timeliness of vaccination. 
In your application, detail the design of your innovation and a plan for evaluating it using established metrics. Consult New Approaches for Improving Timeliness of Routine Immunizations in Low-Resource Settings for further information.
Innovations for Integrated Diagnostics Systems
This challenge solicits proposals for technological and process enhancements to existing integrated laboratory networks in developing areas. Proposed innovations must offer cost savings and increased efficiency to the overall system, including sample collection, local testing, specimen transport for centralized processing, and return of test results. Early-stage feasibility studies are encouraged.

Read Innovations for Integrated Diagnostics Systems for additional requirements and a list of approaches that will not be considered for funding.
Learn More
For application instructions and descriptions of other challenges now soliciting proposals, see Grand Challenges Explorations.
---
In The News 
Apply To Study Pulmonary Non-Tuberculous Mycobacterial Infections
Pulmonary non-tuberculous mycobacterial (NTM) infections that are not associated with AIDS are on the rise in the U.S., and NIAID seeks new research projects to study the disease process and its effects. Our ultimate goal is to contribute to the development of improved drugs, diagnostics, and possibly a vaccine or other immune interventions.

At present, our interest is in basic and translational research in non-AIDS associated pulmonary NTM infections. High-priority areas of interest include:
Elucidating host/pathogen interactions leading to NTM infections and disease
Identifying molecular targets against which drugs and immune active agents can be directed
Establishing relevant animal models to study NTM infections
Developing technologies to aid in detecting these infections
For additional high-priority topics, read the March 7, 2017 Guide notice. 
Investigators interested in pursuing research in these areas can apply now using our parent funding opportunity announcements (R01, R21, R03).

Reach out to Dr. Christine Sizemore, NIAID's scientific contact for this research area, if you have any questions.
---
News Briefs
Sign Up for June NIAID Grants Management Workshop in Barcelona, Spain
The next NIAID Post-Award Grants Policy and Management Training Workshop will take place in Barcelona, Spain, from June 6 to 8, 2017. You can review the Agenda and Register now!
NIAID Defines Areas of Interest for K01 Awards
NIAID will support Mentored Research Scientist Award (K01) grants only in the areas of epidemiology, computational modeling, and outcomes research in infectious, immunologic, or allergic diseases. Propose the majority of your application's Specific Aims in these areas. Contact Dr. Shawn Gaillard if you have any questions.
NIH Continues To Operate Under a Continuing Resolution
Government operations will continue through April 28, 2017, at 99.8099 percent of the fiscal year (FY) 2016 enacted level, as authorized by the Further Continuing and Security Assistance Appropriations Act, 2017.

All legislative mandates that were in effect in FY 2016 remain in effect. Read the March 17, 2017 Guide notice to learn more. 
---
Advice Corner 
NIAID Helps New Investigators With a Higher Payline 
New investigators, defined as investigators who have not previously received an R01 or similar independent research project grant (RPG), typically share one major strength and one major weakness.

The strength is that they are more likely to be familiar with the latest techniques and scientific approaches and have hands-on experience that could be applied to innovative ideas. The weakness is that they have little or no grantsmanship experience, so their first R01 application may not be written as well as those of their more experienced colleagues. 

Thus, many new investigators have great, pioneering ideas but do not describe them effectively in their grant applications, which can negatively impact their priority score in peer review.
For this reason, NIAID adjusts the payline for new investigators upward such that they experience the same success rate as established investigators on R01 applications. This procedure reflects NIH-wide policy to support new investigators (see New and Early-Stage Investigator Policies).
Keep in mind it is not peer reviewers who award NIH grants. NIAID and its divisions consider peer review scores as well as our strategic priorities, current research portfolio, and recommendation of our advisory Council before making grant awards. Learn more at Understand the Review Process.
In practice, the result is a difference of about 4 percentile points between our new and established investigator paylines. Currently, our interim payline for R01 applications from established investigators is set at the 10 percentile, while we will pay R01 applications from new and early-stage investigators to the 14 percentile.
Advice and Resources From NIAID
If you are a new investigator preparing to submit an R01 application, head to Information for New Investigators. That page shares instructions, tips, and advice tailored specifically to new investigators.
For example, we explain there that new investigator status does not extend to multi-PI applications if any of the PIs on the application are established. Similarly, being a PI on an awarded multi-PI application will end your new PI status.
Finally, here are three important insights for new investigators that we've covered in the past and want to reiterate:
R21 and R03 grants are not meant to be stepping stones to an R01 for new investigators. If your project's scope merits an R01, then apply for an R01.
Always request the full amount of money you need to complete a proposed project. Reviewers may see you as naïve rather than thrifty if you skimp.
Resubmitted applications are more likely to be funded than new applications, so if your application isn't funded, use the reviewer comments in your summary statement to revise and resubmit. The resubmission is still subject to the new investigator payline.
Getting your first R01 isn't easy, but if your Specific Aims are significant and your Research Plan is well constructed, being a new investigator shouldn't hold you back.
---
Reader Questions 
You can ask us a question at deaweb@niaid.nih.gov. After responding, we may ask your permission to include your question in the newsletter. 
"What is a continuing resolution?"—anonymous reader
When Congress fails to pass an appropriations bill by the end of the fiscal year, it can instead pass a continuing resolution (CR) to provide budget authority for federal agencies to continue operating until regular appropriations are enacted. 

A CR generally continues policy provisions from the previous fiscal year's appropriations legislation and provides funding at a level equal to or slightly lower than was enacted in the previous fiscal year.

While under a CR, NIAID:
Can make only a limited number of new grant awards
May fund existing awards at a reduced level until the budget passes
Must fund our existing programs
Is prohibited by law from launching new initiatives or activities outside the scope of the existing authorization
See Background on NIAID Funding Opportunity Planning and the Budget Cycle to learn more.
"How should I time my renewal application?"—anonymous reader
Grantees typically apply for renewal in the last year or two before the grant ends. Within that broad range, good planning is critical. Some investigators wait until the last possible receipt date to submit their renewal applications without a break in funding, though often it's best to apply earlier.

If you have sufficient data, consider submitting your application one or more review cycles early. Applying early gives you time to revise and resubmit if you do not get a fundable score.
For more guidance, read "Deciding When to Apply for a Renewal" on Apply for a Renewal. Go to Timelines & Due Dates for receipt dates and funding timeframes.
---
New Funding Opportunities 
See other announcements at Opportunities & Announcements.​​