Funding News Edition: September 05, 2019 See more articles in this edition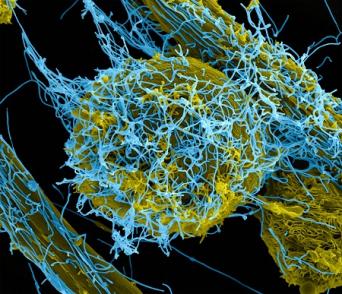 It might be safe to say that you're aware of the continuing Ebola epidemic in the Democratic Republic of the Congo (DRC), but perhaps less so of NIAID's efforts to help stem the tide of outbreaks. If that's the case, here's a brief overview of our activities.
Ebola Treatment Study Halted Early Due to Promising Results
You may have seen or heard positive news last month about two of four experimental treatments being tested as part of the PAmoja TuLinde Maisha (PALM) trial. An independent data and safety monitoring board recommended that the trial be stopped and all patients be randomized to receive either REGN-EB3 or mAb114 due to promising preliminary results.
For more information on the PALM trial and its termination, read the August 12, 2019 NIAID News Release.
Becoming a GeneXpert
NIAID gained significant experience in using the GeneXpert assay during the 2014 to 2016 outbreak response and in multiple clinical trials run by The Partnership for Research on Ebola Virus in Liberia, more commonly known as PREVAIL. Since then NIAID has provided remote technical assistance to diagnosticians in DRC, particularly on the use of the GeneXpert assay.
Current Clinical Trials
In addition to direct outbreak support, NIAID is conducting various trials to evaluate Ebola medical countermeasures, such as the following.
PREVAIL 5 or PREVAC (Partnership for Research on Ebola VACcination)
The Partnership is evaluating Merck's VSV-ZEBOV candidate (the one currently being administered in DRC) as well as a prime-boost regimen from Johnson & Johnson that includes Ad26.ZEBOV and MVA-BN-Filo. NIAID supported preclinical and early clinical development of the Johnson & Johnson combination vaccine regimen.
The study is ongoing in West Africa and is evaluating the rapidity, intensity, and duration of the immune responses generated by the various vaccination strategies, as well as the safety and tolerability of the various vaccines, particularly in children.
For more information, see the April 6, 2017 NIAID News Release and Researching Ebola in Africa.
Ebola Vaccine Research
NIAID and Okairos, which GlaxoSmithKline acquired in 2013, developed an Ebola vaccine candidate (licensed to Sabin Vaccine Institute on August 6) that uses a chimpanzee adenovirus (chAd3) vector, or carrier, to deliver Ebola genetic material. The chAd3-EBO-Z vaccine, designed to protect against the Ebola Zaire virus species, proved to be efficacious in monkeys as well as safe and immunogenic when evaluated in numerous Phase 1 clinical trials, including at the NIH Clinical Center. 
The vaccine candidate was also tested in multiple Phase 2 trials in both adults and children, including the Phase 2 PREVAIL 1 trial in Liberia. The PREVAIL findings indicated the vaccine was well-tolerated and induced an immune response in recipients. NIAID and Sabin also are using the chAd3 platform to develop vaccines against Sudan and Marburg viruses.
NIAID and the Walter Reed Army Institute of Research (WRAIR) are conducting a clinical trial in Kampala, Uganda to examine the safety and dosage of an investigational vaccine called chAd3-EBO-S, which is designed to protect against Sudan virus (another species of Ebolavirus).
The Institute and WRAIR are also conducting another Phase 1 trial of a vaccine designed to protect against Marburg virus (chAd3-Marburg) at the WRAIR Clinical Trials Center in Silver Spring, Maryland.
Stay Informed