Funding News Edition: October 08, 2020 See more articles in this edition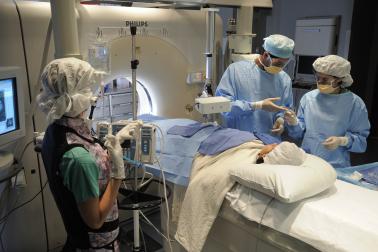 The fifth installment of our series provides pointers on assembling an effective team to help you reach your research goals. This is an essential step since top-notch expertise lies at the heart of your project's feasibility. Therefore, expect reviewers to scrutinize your team's credentials closely.  
For an R01 application to succeed in peer review, you must convince reviewers that your team is able to complete your proposed research. You'll need to convince them to be your advocates, so develop your application with a strategy to get their support.
Here we take you further into the project design, focusing on people, while working within the iterative framework you've been relying on to plan effectively.
Make the Pieces Fit
Most projects rely on various types of expertise to carry out the different parts of the research.
For each experiment, you'll need to figure out the know-how required and make sure you can secure it. You may want to consider bringing in expert co-investigators, consultants, or even another PI (using a multiple PI project approach; read more below at Up for a Multiple PI application?). To get there, review our chart on taking an Iterative Approach to Application Planning.
As you design your Specific Aims and experiments, you'll assess the expertise needed while making sure you stay within your targeted budget.
Though we won't delve into budget planning until later in this article series, know you will need to consider money when you plan for personnel, typically your biggest expense.
In times of tight budgets, many investigators feel their best bet is a modular budget (up to $250,000 in annual direct costs). This is not always the case, and applicants should construct a budget that is appropriate for the proposed aims and objectives.
Once you have determined who they are, your institution can give you the salary levels for each type of worker. Then you can calculate costs based on their level of effort (which you will also need for your application's Budget Justification).
In your application, you will specify all senior/key personnel* (including collaborators and consultants) by name (or "to be determined") and justify their roles and levels of effort to be contributed to the project. Be sure to thoroughly describe what each person will be doing and include Letters of Support.
Keep in mind that those listed on your senior/key personnel list cannot be used as potential reviewers when it comes time for the peer review of your application.
*Postdocs, students, and technical staff are not generally considered senior/key personnel unless they provide unique critical expertise.
The Art of Collaboration
The technical staff you hire may work on your grant full-time. Others, especially senior-level collaborators, will sometimes be willing to work part-time on your project for "credit" (e.g., the ability to be associated with a cutting-edge project, their own scientific curiosity, the potential of authorship on future publications), rather than be paid a part of their salary.
It's often a good idea to expand your pool of expertise by recruiting expert consultants and collaborators, especially those who are known and respected in the field. You'll want to secure collaborators to complement, and not overlap with, your expertise and experience.
If you are a new investigator, adding these highly experienced people to your team will not only fill gaps in your expertise and training but also help build reviewers' trust in your future success.
But while collaborations are common, there are some drawbacks.
For one, you will not have absolute control over executing parts of the research plan. For example, the timing of your collaborators' actions will not be under your control. Or something may come up and they may back out at the last minute.
Another issue—which you should decide on at the outset—is the ownership and access to data as well as the order of authors on future publications. Your collaborators will want to use the data they generate for their grants too and may see themselves as the lead. Note that collaborators differ from consultants:
Consultants usually provide professional advice or services that fill small gaps, for example, reviewing data, supplying software, or discussing technical approach. They often receive a set fee (as a direct cost) rather than salary support from your grant.
Collaborators play an active role in the research. A grant may pay part of their salary through a subaward or consortium agreement.
If you decide to include outside consultants or collaborators (or both), secure a formal written agreement at the planning stage that addresses the negotiated arrangements for meeting the requirements of the grant. Learn more at Team Roles and Agreements.  
Here are some questions to consider:
Is the collaborator in your institution?

If not, what inter-institutional agreements may be necessary?
You might want to look at multiple PI agreements as an example.

What intellectual property and data sharing plan arrangements do you need to make?
What are the expectations for authorship and co-authorship on publications?
Up for a Multiple PI Application?
The single PI model does not always work best for multidisciplinary, collaborative research. Another way to enhance expertise is to consider a multiple PI application. Note the following:
The multiple PI option is usually appropriate only if you are in different fields and could not complete the research without the other person.
Multiple PI is different from co-investigator; learn more at Team Roles and Agreements, linked above.
A multiple PI application can be very useful for research that needs a team science approach, which brings complementary and integrated expertise to a project and be a powerful strategy for success.
Think carefully before you decide to go this route, especially if you are a new investigator since multiple PI applications have big consequences for you:
If your application includes an established PI, it won't qualify for the new investigator payline. You'll qualify for it only if all PIs are new.
Once the multiple PI application is funded, you'll lose your new PI status, i.e., you'll no longer be able to apply as a new investigator.
You must have time to devote to the project and be at the stage where you can assume duties as a PI. This is not a mentored career development award. The established investigator(s) listed as PIs on your application must also intend to devote the time and effort at the level of the PI.
We can think of a number of reasons that multiple PI applications are often better suited to people who are more established researchers.
It's important that new investigators establish their own "scientific identity," which can be more difficult in a multiple PI situation.
It can be more challenging to write a multiple PI application because it is more complex. It can be harder to manage too.
You are more locked into the research you proposed when another person is involved than you are when you are on your own.
For applications designating multiple PIs, you'll need to include a detailed leadership plan that describes the governance and organizational structure of the leadership team and justifies the rationale for using a multiple PI approach. Bringing in another PI who is highly regarded in the field but has expertise similar to yours is not a good idea.
If you are proposing multidisciplinary research, either on your own or as part of a multiple PI project, think about the expertise on the review panel. Be clear about why the inclusion of a multidisciplinary approach can accomplish more, and have a higher impact, than if this approach were not used.
Not yet ready for an R01? Explore other ways of participating on a grant besides being a PI that will allow you to demonstrate leadership capabilities, e.g., leading a subproject within a larger project.
Related Links
NIAID
Previous "Winning" installments
NIH