Funding News Edition: August 05, 2020 See more articles in this edition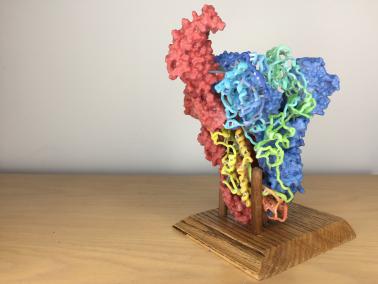 Readers who have followed our series thus far have conducted a self-assessment and received guidance on finding a research niche. The next step: developing and evaluating objectives, or Specific Aims as NIH calls them.
After deciding the area and emphasis of research you want to pursue, it's time to design a high-impact project that you can complete within the project period of the grant, generally four to five years for an R01 grant.
Your project should tackle important research within your niche and must be able to move your field forward. Beware of concepts that can't be strongly supported with your own preliminary data or published data from other laboratories.
At the Drawing Board
You'll start to refine your ideas by drafting your Specific Aims. Like your topic, they should build on your experience.
Thinking high level, ask yourself what objectives you could reasonably achieve within the timeframe of a grant. Start broadly by emphasizing significance, then focus on generating experiments with clear endpoints reviewers can readily assess.
While you could design a project around two to four Specific Aims, many applicants gravitate toward three. Centering your application on a few concrete Specific Aims keeps you clear of the very common mistake of appearing overly ambitious. Accomplishing more than originally proposed is far preferable to proposing more than you are able to accomplish. 
There Are Good Aims and There Are Poor Aims
Take a look at the following examples.
| | |
| --- | --- |
| Type of Specific Aim | Weakness |
| Poses a question like "Does A cause B?" | Your project may come to an end if A doesn't cause B. Instead, design an Aim where the result doesn't depend on only one outcome, but where one or more different outcomes would also be of interest. For example, "Does A cause B or non-B?" Ensure the "non-B" outcomes make sense based on both your central hypothesis and preliminary data. |
| Descriptive, for example, "We will measure levels of X in 1,000 samples of Y to characterize the pattern of expression of X." | Though doable, it is rarely a highly significant finding in itself and you should avoid it unless you have no other choice. Such descriptive findings should usually be part of your preliminary data, not part of your proposal. |
Check the Bigger Picture
Although it may seem too early to think about specific experiments, cost of those experiments, needed expertise, and resources, these variables go hand-in-hand with designing a project that is both impactful and feasible. If the project is not feasible, you will need to rethink your experiments or even your Specific Aims.
Because you have several items to juggle, we recommend using the following iterative process:
Staying in your niche, propose a project that:

Addresses a highly significant problem.
Is innovative and can create new knowledge.

Check NIH's Research Portfolio Online Reporting Tools—commonly known as RePORT—to see the types of research being funded.
Draft Specific Aims and one or more hypotheses. You may want to ask a colleague to review your Aims.
Review the mission statements of the various NIH institutes to identify a potential funding institute that would likely embrace your research.
Outline experiments.
Assess feasibility.

See whether you have access to all needed resources and expertise.
Make sure the project is not growing too big for your targeted time and budget.

If you hit a roadblock, refocus and revise your plans.
Hypothetically Speaking . . .
You need a central hypothesis since that's what reviewers expect and what anchors your Specific Aims to a common theme, not just a common field of research. Following a central hypothesis also keeps you focused with both writing the application and actually doing the research if the grant is funded. A strong hypothesis should be well-focused and testable by the Specific Aims and experiments.
Some people write their Specific Aims first and then develop a hypothesis; others do the reverse. Use the approach that works best for you and your proposed research.
Size Up Your Specific Aims
Here's how to put your Specific Aims to the test.
Take Aim
Start assessing your Specific Aims by taking a hard look at the significance and innovation of your planned research. Ponder the questions below, and you'll see that most of them take into consideration how initial peer reviewers might regard your Specific Aims. It's important to do this since reviewers are the main audience for your application. We will cover more about this important group of scientists in a later issue.
Ask yourself:
Are my Specific Aims written clearly and easy to understand?
Would my reviewers see my proposed project as tackling an important problem in a significant field?
Would they view my Specific Aims as capable of opening up new discoveries in the field?
Would my reviewers regard the work as new and unique?
Would they view my Specific Aims as likely to exert a significant influence on the research field(s) involved?
You'll want to get outside opinions for a fresh perspective. Don't assume others, including your reviewers, will consider a research area to have the same priority that you do. Also discuss your draft Aims with colleagues who are and are not in your field. If they can understand your project and get excited about it, you have a better chance your reviewers will as well.
It is particularly useful to have your application reviewed by a colleague who has been successful in getting NIH funding, or better yet, has served on an NIH study section.
Oh Innovation, Where Art Thou?
We emphasized the importance of proposing hypothesis-driven research with well-defined and feasible Specific Aims. But where does this leave innovative ideas that are less likely to fit inside "the box"?
Keep these points in mind:
Hypothesis-driven research does not necessarily constrain paradigm-shifting or "outside-the-box" research, nor does it necessarily mean sticking with the current paradigm. Paradigm-shifting and outside-the-box concepts can still lend themselves to focused hypotheses that can help guide the crafting of solid Specific Aims. Such focused hypotheses need not be tied to a broader theory or paradigm; they may simply provide a rationale that can be used to test the strength of the proposed Aim or experiment.
For projects predominantly focused on innovation and outside-the-box research, investigators always have the option to use grant mechanisms, other than R01s, that may better suit their needs [e.g., exploratory/developmental research (R21) grants, NIH Director's Pioneer Award Program (DP1), and NIH Director's New Innovator Award Program (DP2)].
How To Handle Innovation in Your Application
Although innovation is one of the five peer review criteria, many experienced investigators report that it's difficult to succeed in review with "high-risk" research, but don't let that deter you. If your proposal challenges commonly held beliefs, be sure that you include sufficient evidence in your preliminary data to convince the reviewers that a second look from your perspective is worth the risk.
Also, keep in mind that innovation may also include techniques or methodologies that in themselves may not be paradigm shifting. If you apply a technique that is well accepted in a different field, but novel to your field, reviewers may still view your application as innovative.
High-risk research is often highly innovative. Your job is to make the reviewers feel confident that the risk is worth taking. In sum, the research you propose should push the frontier of knowledge just ahead of what's known.
Related Link