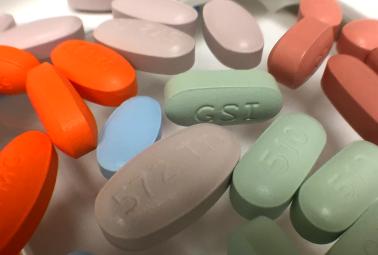 The National Institutes of Health has awarded approximately $34 million annually over the next five years to fund six independent Centers for HIV Structural Biology. The National Institute of Allergy and Infectious Diseases (NIAID) committed approximately $30 million in funding, with an additional $4 million from the NIH Office of AIDS Research.
The Centers program, established in 2007 by the National Institute of General Medical Sciences (NIGMS), was transitioned to NIAID in 2019 as part of the transfer of the NIGMS HIV/AIDS portfolio to the NIAID Division of AIDS (DAIDS). Last year, NIAID solicited applications to RFA AI-21-030: Centers for HIV Structural Biology using the U54 specialized center funding mechanism. The U54 mechanism was utilized to allow enhanced NIAID program oversight and encourage the involvement of NIH intramural researchers. The new Centers largely maintained the structure of the existing Centers while refocusing on research topics that support NIAID priorities of HIV prevention, therapy and cure. In addition, a new Developmental Core was added to foster mentoring and training of young scientists in HIV research.
The Center researchers integrate techniques from structural biology, biochemistry and cell biology to capture in unprecedented detail the three-dimensional structures of HIV proteins and nucleic acids and their interactions with cellular components. This information provides an entirely new perspective on HIV infection and immune control that helps elucidate how the different components interact and reveal new approaches for disrupting those interactions, potentially leading to new targets for HIV therapies and preventative vaccines. In total over 300 scientists from dozens of institutions in the US and abroad will participate in the studies put forward by the Centers. 
The six applications selected for funding include research across the HIV life cycle, aiming, for example, to elucidate the mechanism the HIV envelope protein uses to enter a target cell, the interactions of virus structures with host proteins that either facilitate or antagonize infection, and the way that the HIV RNA genome folds into complex assemblies with other viral components before being packaged into newly formed virions.
The following awardees will receive the indicated funds annually for five years: 
Duke University
Duke Center for HIV Structural Biology (DCHSB)
Director: Priyamvada Acharya
Award: $5.5 million
Seattle Children's Hospital
Behavior of HIV in Viral Environments (B-HIVE)
Co-Directors: Bruce Torbett, Stefan Sarafianos
Award: $6.3 million 
University of California, San Francisco
HIV Accessory and Regulatory Complexes (HARC)
Director: Nevan Krogan
Award: $5.7 million
University of Michigan
Center for Structural Biology of HIV RNA (CRNA)
Director: Alice Telesnitsky
Award: $5.5 million
University of Pittsburgh
Pittsburgh Center for HIV Protein Interactions (PCHPI)
Directors: Angela Gronenborn, Tatyana Polenova
Award: $5 million
University of Utah
Center for the Structural Biology of HIV Infection, Restriction, and Viral Dynamics (CHEETAH)
Director: Wesley Sundquist
Award: $5.5 million