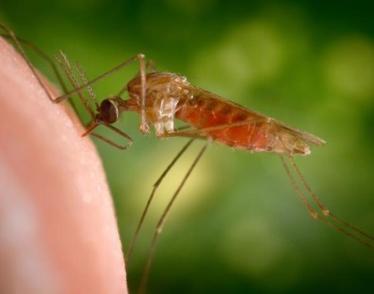 Genetic changes in malaria parasites sampled over seven years reveal how multi-drug resistance spread in Southeast Asia, according to a recently published analysis of genome sequence data. The findings have implications for managing effective malaria treatment options and mitigating global health risk, according to the authors of the study.
Malaria is treated with the fast-acting drug artemisinin in combination with other longer-acting drugs, such as piperaquine or mefloquine (called artemisinin-based combination therapy, or ACT). In 2013, a therapy combining artemisinin and piperaquine began failing in some malaria patients in Cambodia, indicating the parasites were resistant to both drugs. Scientists previously identified genetic mutations in the malaria parasite that cause resistance to either artemisinin or mefloquine, and they recently identified an additional mutation as a marker of resistance to piperaquine. Experts can track the spread of resistance by looking for these three mutations in malaria parasite samples.
In this study, investigators went a step further to discover various lineages or ancestries of each marker of resistance that indicate different epidemiological origins. They identified numerous lineages of artemisinin resistance in parasites sampled between 2007 and 2013 throughout Southeast Asia. However, one lineage, KEL1, accounted for 91 percent of parasites resistant to artemisinin. In 2008, the KEL1 lineage merged with PLA1, the major lineage associated with piperaquine resistance, through genetic recombination. This co-lineage spread rapidly and extensively before the first clinical reports of treatment failure emerged in 2013. It spread from western Cambodia, where it rose from 16 percent frequency in 2008 to more than 60 percent frequency in 2012, to northern Cambodia. This co-lineage is also likely responsible for the resistant parasites appearing in northeastern Thailand and Laos in 2014-2015 and in Vietnam in 2016, according to the authors.
Malaria is still treatable in Southeast Asia with alternative drug combinations. However, the aggressive spread of the KEL1/PLA1 co-lineage suggests that artemisinin-piperaquine-resistant parasites are gaining biological fitness, which could increase the risk that they become untreatable and spread to Africa, according to the authors. To mitigate this risk, the investigators call for high-resolution genetic surveillance of all observed malaria cases in the most vulnerable locations.
Experts from the Wellcome Trust Sanger Institute and the Big Data Institute at Oxford University led the study with help from collaborators at NIAID; the National Center for Parasitology, Entomology and Malaria Control in Cambodia; and Mahidol University in Thailand. NIAID scientists helped design the retrospective genetic study and collected parasite samples for sequencing.
Reference:
R Amato et al. Origins of the current outbreak of multidrug resistant malaria in Southeast Asia: a retrospective genetic study. The Lancet Infectious Diseases DOI: 10.1016/S1473-3099(18)30068-9 (2018).