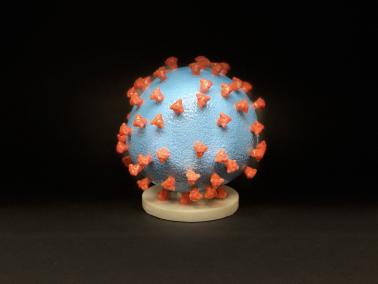 When the human body encounters a potentially deadly pathogen, like the virus that causes COVID-19, the immune system mounts a complex response. Characterizing that response—involving a variety of immune cells, as well as protective proteins called antibodies and chemical messengers called cytokines—can help scientists better understand how a disease progresses and, eventually, find ways to speed an ill person's recovery.
Today, a new NIAID-supported study has begun to track the immune responses of people hospitalized with COVID-19 in 10 research sites across the United States. Investigators in NIAID's Human Immunology Project Consortium (HIPC) in collaboration with researchers in the Asthma and Allergic Diseases Clinical Research Consortium (AADCRC) and other NIAID-funded groups, aim to determine how certain immunological measures correspond to, or may even predict, the clinical severity of COVID-19. Participants will be followed for up to 12 months after their hospitalization to assess how well they recover and whether they develop durable immunity to the virus.  The Immunophenotyping Assessment in a COVID-19 Cohort, or IMPACC, study also will investigate the relationship between COVID-19 severity and the amount of virus found in nasal secretions or in the lower airways. Data collected in the IMPACC study will help inform recommendations for COVID-19 care and, hopefully, identify new targets and optimal timing for experimental treatments.
Led by protocol chair Nadine Rouphael, M.D., chair of the HIPC Clinical Subcommittee and an associate professor at the Emory University School of Medicine, with the support of Clinical & Data Coordinating Center (CDCC) lead Al Ozonoff, Ph.D., of Boston Children's Hospital's Precision Vaccines Program, and associate professor at Harvard Medical School, IMPACC will enroll as many as 2,000 individuals who have been hospitalized with COVID-19. Researchers will enroll participants within 36 hours of their admission to the hospital and follow them for up to one year. Investigators will collect blood and nasal swabs from study participants throughout their hospitalization and during follow-up clinic visits after they have been discharged. When possible, researchers will also examine lower airway secretions collected from patients requiring a ventilator for breathing support. Participants can be co-enrolled in other studies, such as those evaluating experimental treatments for COVID-19. 
Biologic samples from all study participants will be sent to a number of Core Laboratories, led by investigators from HIPC and NIAID's AADCR, for detailed analysis of various aspects of the immune response to the virus that causes COVID-19.  By analyzing the immune responses of a variety of hospitalized patients, researchers aim to better understand at an immunological level why some cases of COVID-19 worsen while other patients recover. For example, researchers may be able to determine if antibodies develop at a different rate in people who experience severe symptoms of COVID-19, if specific antibodies or other immune components are associated with a faster recovery, or if they are necessary to clear the virus from the body. As participants recover, investigators will continue to evaluate their immune responses to discover any factors that may provide long-term protection against re-infection. This effort is one of many clinical projects working to better understand how this novel disease affects people differently and determine optimal ways to treat COVID-19.
For more information on this study, please visit ClinicalTrials.gov using identifier NCT04378777. For more information on the U.S. government response to the COVID-19 pandemic, visit www.coronavirus.gov.