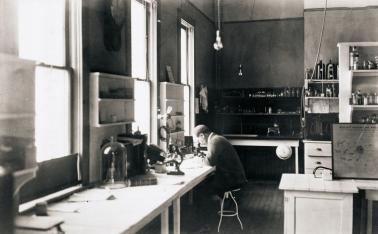 One of the forerunners to Rocky Mountain Laboratories – the Schoolhouse Lab at Canyon Creek, just west of Hamilton, Montana – is a focal point this month for a new online exhibit from the Office of NIH History and Stetten Museum at the National Institutes of Health in Bethesda, Maryland.
For much of the past two years, Michele Lyons, associate director and curator at the NIH Museum, collected and organized historical information and photos to recognize the 100th anniversary of the Montana laboratory that developed a vaccine against Rocky Mountain spotted fever.
Though the exact date the Schoolhouse Lab opened isn't known, it is thought to have been on or about September 20, 1921. Earlier, the researchers had conducted their work in Victor, beginning around 1912. The present RML site in Hamilton opened in May 1928.
The Schoolhouse Lab building still stands and since 1995 has been used as a stage for community theater productions managed by the Hamilton Players.
The exhibit is available online from the NIH's Stetten Museum here: Canyon Creek Schoolhouse Laboratory 100th Anniversary.
The site meanders thoughtfully and in great detail through the realization that an unknown infectious disease was afflicting Bitterroot Valley residents in the early 1900s. It includes information about who thought of the name Rocky Mountain spotted fever, how the vaccine was made, key researchers on the project – some of whom died from the disease – and even a bit about RMSF national notoriety. A historical highlight was the first use of the new vaccine on May 24, 1924, when Dr. Roscoe Spencer inoculated himself.
"I came across the anniversary in mid-2020 while looking at a list of important Public Health Service and NIH dates for another project," Lyons said. Three things stood out to her as to why she felt the Schoolhouse Laboratory 100th anniversary needed recognition.
"First, the schoolhouse laboratory was really the beginning of RML," Lyons said. "The people there developed a vaccine for such a deadly disease when they didn't even know about molecular biology or have much technology. That really blew my mind.
"Second, the whole endeavor grew out of cooperation. There were state and federal governments at an organizing level, and entomologists and physicians at a professional level.
"Lastly, the cache of excellent and sometimes gross photos showing their research and how they made the vaccine gave life to the project," Lyons said.
"The sheer bravery of the researchers, especially before the vaccine," struck her as heroic, she said. "I could not imagine dedicating myself to investigating a disease with an 80% fatality rate with basically no protection other than my co-workers' eyes to see if a tick was on me," Lyons said. "I wanted to honor those who died doing this research; their sacrifice should not be forgotten."
It has not been forgotten, thanks to her efforts. The site includes eight sections, a timeline and nearly 80 photos, most taken by the researchers or their colleagues.