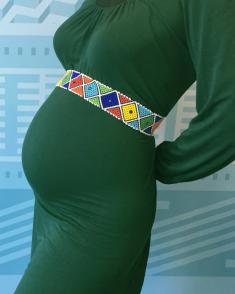 An NIH study into how pregnancy affects the body's processing of drugs for HIV and tuberculosis (TB) in women being treated for HIV infection recently enrolled its 1,001st study participant, enabling investigators to build one of the world's largest data sets of its kind. The study has generated and published data on more than 20 of the most commonly used HIV drugs, known as antiretrovirals, as well as many commonly prescribed TB therapies and contraceptives used after giving birth. These data have helped provide a foundation for national and international HIV treatment guidelines for women living with HIV who are pregnant or have recently given birth.
The NIH-funded International Maternal Pediatric Adolescent AIDS Clinical Trials (IMPAACT) Network is conducting the ongoing study, called IMPAACT P1026s, in Botswana, Brazil, South Africa, Thailand, Uganda and the United States. The trial is co-sponsored by NIAID, the Eunice Kennedy Shriver National Institute of Child Health and Human Development, and the National Institute of Mental Health, all part of NIH.
Pregnant women are usually excluded from the clinical trials that are conducted to bring a new drug to market, yet a woman's body often processes medications differently during and shortly after pregnancy than at other times due to the biological changes that occur to accommodate pregnancy. As a result, the safety and dosing requirements of a new drug licensed for use by nonpregnant adults may differ for pregnant women. This has been the case for both antiretrovirals and drugs for treating TB, the most common HIV co-infection.
Developing appropriate dosing regimens for antiretroviral and TB drugs in pregnant women is critical to the health of both the mother and fetus. Overdosing can lead to unexpected medical problems for the mother and a higher risk of adverse effects on the fetus. Under-dosing can lead to inadequate control of HIV or the TB bacterium, a higher rate of HIV or TB transmission to the fetus and the mother's sexual partner, and a higher risk for development of drug resistance in the mother.
In addition, few clinical trials are studying interactions between antiretroviral drugs and TB drugs during pregnancy, and between certain antiretrovirals and hormonal contraceptives postpartum, a period that lasts up to 6 months after giving birth. This information is necessary for the development of guidelines on the safe and effective use of these combinations of medicines in pregnancy and postpartum.
To address these gaps, IMPAACT P1026s has been generating data since 2003 on how pregnancy affects the way a woman's body processes antiretroviral and TB drugs taken separately or together, or—after pregnancy—with hormonal contraceptives. Below are some of the study's most important findings to date.
For many HIV drugs, the standard adult dose results in lower drug levels in the blood during pregnancy than after pregnancy and in adults who are not pregnant. This is particularly true of certain protease inhibitors.
Giving pregnant women with HIV a higher dose of some protease inhibitors results in more beneficial drug levels in the blood.
Although the HIV drug cobicistat works as a booster to increase blood levels of other HIV drugs in non-pregnant adults, it does not have this effect in pregnant women. This finding was the basis for a recent FDA change in licensing for cobicistat-boosted elvitegravir that recommends this drug combination not be used to treat HIV in pregnant women.
Postpartum women who take both the HIV drug efavirenz and the contraceptive etonogestrel have blood levels of etonogestrel that may be too low to prevent pregnancy.
For more information about IMPAACT P1026s, look it up in clinicaltrials.gov using study identifier NCT00042289, or visit the IMPAACT website. Please note that the study's name will change to IMPAACT P2026s later in 2019.
More broadly, an NIH-led task force is identifying and addressing gaps in knowledge and research on safe and effective therapies for pregnant women and nursing mothers.