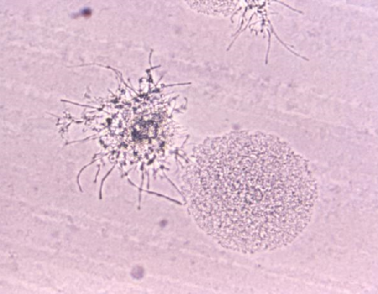 Credit
CDC/ Dr. W.A. Clark
As bacteria evolve and develop resistance to available antibiotics, healthcare providers' arsenal of effective drugs shrinks. Some researchers are taking a second look at older, established antibiotics, hoping that these "forgotten" medicines may still be effective when applied to infections in new ways or in new combinations. NIAID is currently supporting one such study, which is investigating an older antibiotic, fosfomycin, given via an intravenous (IV) infusion. The trial is part of a larger effort to identify new tools for fighting stubborn bacterial infections.
Fosfomycin is a broad-spectrum antibiotic that has been used by healthcare professionals in the United States for more than 45 years. It is usually given by mouth to treat uncomplicated urinary tract infections. In Europe, the IV formulation of fosfomycin is used to treat different types of infections, including serious multi-drug resistant infections. Because the intravenous formulation of the drug is delivered directly into the bloodstream, it reaches the target organs and begins fighting infections faster than the oral version, an important consideration for difficult-to-treat drug-resistant infections.
The intravenous form of fosfomycin is not yet approved by the Food and Drug Administration for widespread use in the U.S. However, researchers have been conducting clinical trials of IV fosfomycin, known as ZTI-01, to better understand how it can be effectively administered to treat different kinds of infections. Earlier trials of ZTI-01 showed promise: A small, NIAID-supported Phase 1 trial of ZTI-01 in the U.S. showed no adverse effects in participants, and a larger industry-sponsored Phase 2/3 trial, known as the ZEUS trial, found evidence that ZTI-01 could be used to treat adults hospitalized with complicated urinary tract infections or acute kidney infections.
To explore treatment options for bacterial lung infections, the new NIAID-sponsored trial aims to determine how ZTI-01 penetrates different lung compartments and to provide data on the safety of the dosing regimen. For ZTI-01 to effectively treat lung infections, such as hospital-acquired and ventilator-associated bacterial pneumonia, it needs to physically reach the harmful bacteria in sufficient concentrations to kill them.
The trial, which will take place at the NIAID-supported Vaccine and Treatment Evaluation Unit at Duke University in Durham, North Carolina, will enroll as many 36 healthy adult volunteers. Each participant will receive three, 6-gram doses of ZTI-01, each administered as an hour-long IV infusion. The infusions will be given eight hours apart. Each participant will be monitored for side effects, will undergo a bronchoscopy, and will give blood samples at regular intervals, so investigators can test for the presence of the drug in both their lungs and their blood. Different groups of patients will receive these tests at varying lengths of time after receiving their infusion. This will give the researchers data on how the drug penetrates the respiratory system over time, helping them to gauge how long it will take for the drug to reach an infection and begin to affect it. 
The data from this trial may help researchers to determine concentrations of ZTI-01 in the blood and in the pulmonary system. If the safety of the selected dosing regimen is established in this trial, ZTI-01 could be later evaluated in patients with serious lower respiratory tract infections.
To learn more about this trial, please visit ClinicalTrials.gov, and search the study identifier NCT03910673.