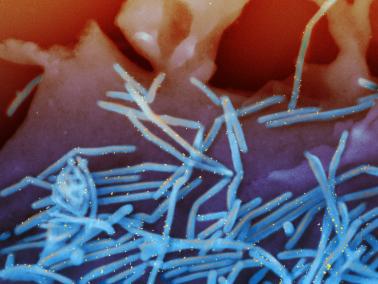 Nearly a third of infants who are hospitalized with a severe form of a common childhood lung infection called bronchiolitis develop asthma a few years later. However, clinicians have been unable to predict which infants with severe bronchiolitis are at high risk for developing asthma and to understand why. Now, a NIAID-funded study published in the journal Nature Communications has taken a step toward accomplishing this.
The study identifies which infants hospitalized with bronchiolitis caused by respiratory syncytial virus (RSV) are at highest risk for developing asthma by age 5 years. RSV infection in infants hospitalized with bronchiolitis is the most impactful risk factor for developing asthma later in childhood. The study was led by Yoshihiko Raita, M.D., M.P.H., M.M.Sc., a postdoctoral research fellow in the department of emergency medicine at Massachusetts General Hospital in Boston. Further research is needed to validate the findings and develop interventions to prevent asthma in these children.
The study included 221 infants hospitalized with RSV bronchiolitis who were enrolled at one of 17 sites in the nationwide, NIAID-funded 35th Multicenter Airway Research Collaboration, also known as the MARC-35 study. These infants were selected at random from the more than 900 infants who comprise the MARC-35 study cohort. The primary goals of the MARC-35 study are to clarify the mechanisms that underlie the bronchiolitis­‒asthma link and to develop targeted strategies to prevent childhood asthma.
In biological samples taken from the upper part of each infant's throat while they were in the hospital, the investigators gathered and analyzed data on the 40 most abundant microbe species, the 3,000 most variable gene transcripts, and the 100 most variable metabolites. The scientists also gathered data on each infant's age, sex, birth weight, history of breathing problems, lifetime antibiotic use, parental asthma, allergic sensitization (the precursor to becoming allergic), positive-pressure ventilation use, and virus data.
To discover hidden patterns and clusters within these robust sets of data, the investigators used a type of artificial intelligence called "unsupervised machine learning." After integrating the clinical, virus, and molecular data, the machine learning algorithms uncovered four distinct subtypes of RSV bronchiolitis, each characterized by a specific clinical presentation, dominant bacterial species of the upper airway, immune response, and metabolites. This is the first time this type of integrated analysis has been done for RSV bronchiolitis.
The RSV bronchiolitis subtype that placed infants at highest risk for asthma by age 5 years was characterized clinically by allergic sensitization, coinfection with rhinovirus, and parents with asthma. The infants in this group also had more of the pathogenic bacteria Streptococcus pneumoniae and Moraxella catarrhalis in their upper airways than infants with other subtypes of RSV bronchiolitis. Finally, the immune systems of infants at highest risk for asthma released more of the signaling proteins interferon alpha and interferon gamma in response to viral infection than infants with other subtypes.
In conjunction with earlier research, these findings suggest that the interaction between viral infection, unique microbes, and interferon signaling may play a role in the development of asthma among infants, according to the investigators.     
Given the relatively small number of participants in their study, Dr. Raita and colleagues indicate that it will be important to validate their findings in a larger group of infants. If validated, the findings may provide an evidence base for clinicians to identify infants with severe RSV bronchiolitis who are at high risk for developing childhood asthma, according to the scientists. However, effective tools to prevent childhood asthma are still under research. The new study may open a door to clarifying the mechanisms behind asthma development in infants with different subtypes of RSV bronchiolitis and developing mechanism-specific interventions for asthma prevention.
Reference: Y Raita, et al. Integrated omics endotyping of infants with respiratory syncytial virus bronchiolitis and risk of childhood asthma. Nature Communications DOI: 10.1038/s41467-021-23859-6 (2021)