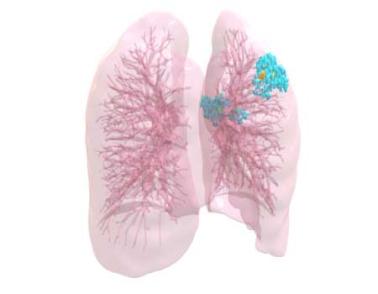 More than a century has passed since the March 24, 1882, announcement by Robert Koch that Mycobacterium tuberculosis (Mtb) bacteria cause tuberculosis (TB), but the disease still ranks as one of the world's great killers, claiming some 1.4 million lives in 2019 alone. Today, the National Institute of Allergy and Infectious Diseases (NIAID) joins the World Health Organization and others in acknowledging the need for continued, concerted efforts to combat TB, even as we stand in the shadow of the COVID-19 pandemic, which threatens to slow or reverse progress in global TB control. The 2021 World TB Day theme, The Clock is Ticking, reminds us that time is of the essence. We cannot delay the research needed to identify, develop, test, and deliver new or improved TB diagnostics, treatments, and vaccines. On this World TB Day, NIAID stands with the global health community in a renewed commitment to ending this disease.
Active, latent, and drug-resistant TB  
TB-causing bacteria spread through the air and the disease usually affects the lungs, although other organs and parts of the body can be involved. Most people infected with Mtb can co-exist with the bacterium for months, years or a lifetime without ever developing symptoms (termed latent TB infection.) By some estimates, up to a quarter of the world's population has latent Mtb infection. People with latent TB infection cannot transmit the bacteria to others. However, they have a 5-to-10% lifetime risk of developing active TB. Symptoms of active pulmonary TB disease include cough, fever, and weight loss. Malnourished individuals, smokers, people receiving immunosuppressive therapies, and those with compromised immune systems, including those with untreated HIV infections, are at increased risk of developing active TB.
Drugs are available to treat TB, but treatment regimens are complex, lengthy, and often accompanied by toxic side effects. Incomplete therapy can drive the rise of multidrug-resistant (MDR) and extensively drug-resistant (XDR) TB. Treatment for MDR-TB can last two years and is not always successful. Cases of XDR-TB may not respond to drug treatment at all. In 2019, there were an estimated 206,000 cases of confirmed MDR-TB worldwide, of which 12,000 were XDR-TB. Shortening the length of effective TB treatment regimens would have important benefits for individuals with TB and could also slow the emergence of MDR and XDR-TB.
In 2020, a landmark Phase 3 clinical trial (Study 31/A5349) demonstrated that a four-month daily treatment regimen containing high-dose rifapentine and moxifloxacin is as safe and effective as the existing standard six-month daily regimen at curing drug-susceptible pulmonary TB disease. The trial, conducted at 13 clinical sites in 34 countries, was led by the U.S. Centers for Disease Control and Prevention's Tuberculosis Trials Consortium and supported in part by the NIAID AIDS Clinical Trials Group. This regimen is the first successful short-course treatment regimen for drug-susceptible TB disease in more than 40 years (NCT02410772). In addition, a safety trial of two short-course preventative treatments containing rifapentine is being planned by NIAID-supported investigators for household contacts of TB cases in Brazil (NCT04703075).
NIAID has contributed to the scientific development of new, more powerful drugs recently introduced for the treatment of drug-resistant TB (bedaquiline, delamanid, and pretomanid) and is supporting an international study to determine the optimum duration of treatment required for MDR-TB treatment using several new drugs (NCT03828201).
Evaluation of new TB diagnostics to advance detection
NIAID supports the development of new diagnostics for TB, including diagnostics to identify drug-resistant TB.  NAID is supporting three centers under the Feasibility of Novel Diagnostics for TB in Endemic Countries (FEND for TB) network to evaluate early-stage TB. These three centers will provide clinical site capacity in 12 TB-endemic countries and will evaluate many different assays and biomarkers, including diagnostics for triage testing and rapid point-of-care diagnosis and drug susceptibility testing. These diagnostics will be suitable for use in a variety of settings and will include testing for different patient populations, including children and people living with HIV.
The NIAID TB Portals Program: Opening doors to global TB data analysis
Established in 2014, the NIAID TB Portals Program (TBPP) is a multi-national collaboration for TB data sharing and analysis to advance TB research. Collaborators from 16 countries across four continents bring expertise in medicine, information technology, genomics, data visualization and other fields to the creation of this online, open-access platform. Data from TB cases is collected and stripped of all personally identifying information. Once anonymized, the information can be explored and analyzed using the platform tools, which include: a Case Browser, containing more than 3,800 finalized TB case records with clinical information, radiological images, and Mtb genomic information;  DEPOT, which allows users to create and compare virtual TB case cohorts, as well as the GAP and RAP tools, which permit genomic and radiological analysis respectively. In 2020, the WHO's "Global Strategy for Tuberculosis Research and Innovation" featured the  TBPP platform as a resource in promoting and improving data sharing.
The newest tool in the TB Portal Program platform is the interactive 3D viewer, which debuted on World TB Day 2021. The viewer allows users to display and manipulate 3D models generated from the medical images housed in the TB Portals.
Basic research opens new avenues
NIAID conducts and supports research to understand the biology and metabolism of replicating and non-replicating Mtb during infection and disease. The knowledge generated through such basic research can lead to:
discovery of new antibiotics for TB treatment
improved ways of using current first- and second-line TB drugs
identification of bacterial and human cell components that can be targeted for use in TB diagnostics, therapeutics, and vaccines, and
improved animal models of disease to efficiently study the safety and efficacy of TB chemotherapeutic approaches and vaccine candidates.
Among the projects in basic and translational research supported by NIAID are ones exploring fundamental human immune pathways and ways that Mtb bacteria evade those immune responses. The research may lead to new TB therapies that do not directly target the bacteria with antibiotics, but rather manipulate and strengthen the body's response to Mtb.
An important component of the NIAID's TB basic research program is the Tuberculosis Research Units (TBRUs). The TBRUs integrate epidemiology, immunology, microbiology, and clinical research to study the interaction of Mtb with the human host to improve the understanding of the stages of TB infection that precede active pulmonary disease. This program supports immunological studies and biomarker discovery projects with the long-term objective of improving TB management by informing therapeutics, vaccines and diagnostics development.
NIAID also provides technical expertise and state-of-the-art TB research preclinical services, as well as genomic, structural biology, systems biology, and computational biology services to researchers globally. These include in vitro and in vivo testing of drug candidates; determining 3D structures of drug and vaccine targets; animal model efficacy studies for vaccine, adjuvant, and immune modulator development; research reagents; bioinformatics resources; and systems-level predictive models for in silico experimentation.
Vaccine research advances provide a shot of hope
A broadly effective vaccine capable of preventing Mtb infection or active TB disease would have a profound impact on TB cases worldwide. The Bacillus Calmette-Guerin (BCG) TB vaccine is 100 years old in 2021 and remains the only commercially available TB vaccine. BCG vaccine protects infants and children from disseminated TB disease and death, but this protection does not extend to adults with pulmonary TB, the most common form of the disease. Thus, improving BCG and developing new vaccines remains a priority goal. A large stride toward this goal was taken by investigators in NIAID's Vaccine Research Center and their colleagues, who used non-human primates to demonstrate that intravenously delivered BCG was significantly better at preventing disease than the same vaccine delivered via the standard skin injection. Since the publication of this finding in 2020, investigators have continued work using this model to define immune correlates and mechanisms of protection. A clinical development program has begun with a recombinant strain of BCG for use in a proposed Phase I trial of BCG vaccination by intravenous route.
NIAID supported early-stage studies of a candidate TB vaccine called M72/AS01 E (manufactured by GlaxoSmithKline.) According to results of a Phase 2b trial published in 2019, the candidate significantly reduced the incidence of pulmonary TB disease in HIV-negative adults with latent TB infection for three years following vaccination.
In collaboration with the Bill and Melinda Gates Foundation, NIAID is funding studies to analyze clinical samples collected in trials of BCG and M72/AS01 E vaccines. These studies aim to define the immunological basis of the observed protection from TB disease. Defining how and which immune responses correlate with high degrees of disease protection allows investigators to design new and improved TB vaccines.
To further advance the development of potential TB vaccines, NIAID established three Immune Mechanisms of Protection Against Mycobacterium tuberculosis (IMPAc-TB) Centers in 2019. Multi-disciplinary research teams in the Centers are elucidating the immune responses involved in preventing initial TB infection, establishing latent TB infection, or transitioning from latent infection to active TB disease. Findings are informing development of novel TB vaccine candidates.
Eye on the future
The clock is indeed ticking, and on World TB Day 2021, NIAID takes time to reflect on the dedication of scientists, clinicians, trial volunteers, and others who work tirelessly to make TB a disease of the past. We stand with global health partners in firm resolve to apply cutting-edge research, investment, and collaboration to make that day come soon.