Infectious Diseases Fellow
Contact:
For contact information, search the NIH Enterprise Directory.
Education:
Internal Medicine/Pediatrics Residency, University of Oklahoma School of Community Medicine, Tulsa, OK
Doctor of Medicine, University of Texas School of Medicine at San Antonio, San Antonio, TX
Bachelor of Science, The Ohio State University, Columbus, OH
Languages Spoken:
Spanish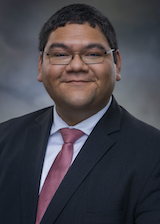 Biography
Janitzio is a combined adult/pediatric infectious diseases fellow, with an interest in the immunopathogenesis of helminthic infections. He is working in Elise O'Connell's group to study the immune response to subarachnoid neurocysticercosis, including the role of autoantibody formation in disease. His clinical interests include parasitic infection, neglected tropical diseases, and infections affecting under-represented and under-served communities.