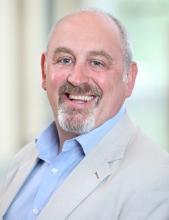 Chief, Vaccine Immunology Program
Major Areas of Research
B cell immunobiology of influenza
Development of high throughput analyses aimed at defining the B cell immunogenetics
Development and deployment of high throughout analysis that characterize HIV, RSV and Influenza humoral responses
Featured Research Program
View all research conducted at the Vaccine Research Center (VRC)
Program Description
Vaccine discovery and development requires intimate knowledge of the immune responses elicited by experimental immunization during clinical evaluation. The Vaccine Immunology Program (VIP) has assembled functional groups that engage in basic and translational B cell immunobiology research (including high throughput automated immunoglobulin and transcriptome analyses) in addition to standardized end-point analyses for clinical trials. The goal was to bring these functional groups under a single program in order to facilitate the coordinated development and deployment of state-of-the-art technologies and analyses, which can be utilized effectively for vaccine discovery, early development and testing of clinical products.
In recent years, the VIP-research group has focused upon in-depth analyses of VRC influenza vaccine trials, specifically the complex immunobiology characterizing the B cells recognizing influenza HA-stem region.  For example, from an influenza group 1 H5N1 vaccine trial the VIP-research team have described common immunoglobulin lineages that consistently and reproducibly occur within human populations and are capable of neutralizing group 1 and 2 influenza strains by targeting the HA-stem region. 
Also, within the VIP reside both the translational and clinical testing laboratories (including Vaccine Immunology Testing Laboratory (VITL) which are responsible for the development, implementation and eventual deployment of qualified virus neutralization, humoral and cellular analyses appropriate for prospective licensure of VRC-NIAID vaccines. In addition, within the Collaboration for AIDS Vaccine Discovery (CAVD), funded by the Bill and Melinda Gates Foundation, Dr. McDermott is an investigator in the Comprehensive Cellular- Vaccine Immune-Monitoring Corsortium (CC-VIMC) led by Dr Koup.
In this role, the VIP-translational research team has applied novel B cell repertoire analyses designed to specifically analyze the next generation of HIV vaccine strategies.  The VIP laboratories are currently preparing for the analyses of the first in-person clinical trial (in collaboration with CAVD and IAVI) of immunogens aimed at driving HIV CD4bs specific B lineages to ultimately elicit highly mutated neutralizing VRC01-class antibodies.
In conclusion, VIP continually extends its capabilities and technologies in order to better understand the immune response elicited by products developed at the VRC-NIAID-NIH and beyond.  Overall the goal of the Program is to improve the understanding of T- and B-cell immunobiology to further efficacious vaccination strategies directed towards HIV, Influenza and other potentially preventable diseases.
Biography
Dr. Adrian McDermott has been an experimental virologist and immunologist for over 25 years.  He has gained experience in the fields of immunogenetics, vaccinology and infectious disease immunology. He has been constantly fascinated in the hierarchy of immune responses associated with protection from viral disease and how this can be translated into vaccine design, particularly for HIV and influenza. During his tenure at the International AIDS Vaccine Initiative (IAVI) he led novel work in pre-clinical immunology, directed a large consortium dedicated to the investigation of factors associated with protection elicited by live attenuated SIVs, identified, designed and evaluated unique replicating vector platforms for delivery of T and B cell immunogens. He also extended his post-doctoral work with Dr. David Watkins, which developed the low dose-multiple exposure SIV NHP challenge model for the improved assessment of vaccines in the face of virus challenge. This work has been subsequently standardized and widely employed, as the 'SIV acquisition model', which allows the evaluation of HIV vaccine strategies in terms of 'protection from multiple exposures' in the NHP.  Since arriving at the Vaccine Research Center (VRC)-NIH in 2011, Dr. McDermott has directed the Immunology Core Laboratory and currently leads a multi-disciplinary program that performs basic vaccine discovery B cell research through to the assessment and clinical evaluation of lead vaccine candidates.  His group has published in-depth analyses of influenza and HIV vaccine strategies, which are aimed at the discovery and development of a safe, effective vaccines.
Selected Publications
Corrigan AR, Duan H, Cheng C, Gonelli CA, Ou L, Xu K, DeMouth ME, Geng H, Narpala S, O'Connell S, Zhang B, Zhou T, Basappa M, Boyington JC, Chen SJ, O'Dell S, Pegu A, Stephens T, Tsybovsky Y, van Schooten J, Todd JP, Wang S; VRC Production Program, Doria-Rose NA, Foulds KE, Koup RA, McDermott AB, van Gils MJ, Kwong PD, Mascola JR. Fusion peptide priming reduces immune responses to HIV-1 envelope trimer base. Cell Rep. 2021 Apr 6;35(1):108937.
Doria-Rose N, Suthar MS, Makowski M, O'Connell S, McDermott AB, Flach B, Ledgerwood JE, Mascola JR, Graham BS, Lin BC, O'Dell S, Schmidt SD, Widge AT, Edara VV, Anderson EJ, Lai L, Floyd K, Rouphael NG, Zarnitsyna V, Roberts PC, Makhene M, Buchanan W, Luke CJ, Beigel JH, Jackson LA, Neuzil KM, Bennett H, Leav B, Albert J, Kunwar P; mRNA-1273 Study Group. Antibody Persistence through 6 Months after the Second Dose of mRNA-1273 Vaccine for Covid-19. N Engl J Med. 2021 Apr 6. doi: 10.1056/NEJMc2103916.
Hopp CS, Sekar P, Diouf A, Miura K, Boswell K, Skinner J, Tipton CM, Peterson ME, Chambers MJ, Andrews S, Lu J, Tan J, Li S, Doumbo S, Kayentao K, Ongoiba A, Traore B, Portugal S, Sun PD, Long C, Koup RA, Long EO, McDermott AB, Crompton PD. Plasmodium falciparum-specific IgM B cells dominate in children, expand with malaria, and produce functional IgM. J Exp Med. 2021 Apr 5;218(4):e20200901.
Creanga A, Gillespie RA, Fisher BE, Andrews SF, Lederhofer J, Yap C, Hatch L, Stephens T, Tsybovsky Y, Crank MC, Ledgerwood JE, McDermott AB, Mascola JR, Graham BS, Kanekiyo M. A comprehensive influenza reporter virus panel for high-throughput deep profiling of neutralizing antibodies. Nat Commun. 2021 Mar 19;12(1):1722.
Majdoubi A, Michalski C, O'Connell SE, Dada S, Narpala SR, Gelinas JP, Mehta D, Cheung C, Winkler DF, Basappa M, Liu AC, Görges M, Barakauskas VE, Irvine MA, Mehalko J, Esposito D, Sekirov I, Jassem AN, Goldfarb DM, Pelech S, Douek DC, McDermott AB, Lavoie PM. A majority of uninfected adults show pre-existing antibody reactivity against SARS-CoV-2. JCI Insight. 2021 Mar 15;146316.
Widge AT, Rouphael NG, Jackson LA, Anderson EJ, Roberts PC, Makhene M, Chappell JD, Denison MR, Stevens LJ, Pruijssers AJ, McDermott AB, Flach B, Lin BC, Doria-Rose NA, O'Dell S, Schmidt SD, Neuzil KM, Bennett H, Leav B, Makowski M, Albert J, Cross K, Edara VV, Floyd K, Suthar MS, Buchanan W, Luke CJ, Ledgerwood JE, Mascola JR, Graham BS, Beigel JH; mRNA-1273 Study Group. Durability of Responses after SARS-CoV-2 mRNA-1273 Vaccination. N Engl J Med. 2021 Jan 7;384(1):80-82.
Visit PubMed for a complete publication list