Chief, Clinical Trials Program
Major Areas of Research
Clinical evaluation of candidate vaccines and monoclonal antibodies targeting HIV, Influenza, Ebola, Zika, Chikungunya, Malaria, and other emerging infectious diseases
Translational immunology and vaccine research
Advanced clinical development including strategic planning, facilitation, support, implementation and oversight of external clinical trials​
The VRC conducts basic, translational, and clinical research. The primary mission of the VRC Clinical Trials Program (CTP) is to carry out the clinical research component of this triad both through intramural conduct of clinical trials at the NIH Clinical Center and through a broad range of support for external trials conducted by VRC collaborators and partners. These trials include evaluation of candidate vaccines and monoclonal antibodies targeting HIV, influenza, and other emerging infections. A secondary mission of the CTP is to conduct translational immunology research.
Since 2001, the CTP has launched over 50 research protocols involving candidate vaccines and monoclonal antibodies targeting HIV, smallpox, influenza, West Nile virus, Ebola, Marburg, severe acute respiratory syndrome (SARS), malaria, chikungunya, and Zika involving over 10,000 clinical trial volunteer enrollments.
The CTP has also advanced vaccine candidates into both domestic and international Phase Ib, II, and IIb trials. Advanced product development and larger clinical trials require partnership with external clinical trial networks operated or supported by other federal agencies, academia, non-profit organizations, or the private sector. The CTP plays an important role in the planning, conduct, oversight, and analysis of external network clinical trials.
Featured Research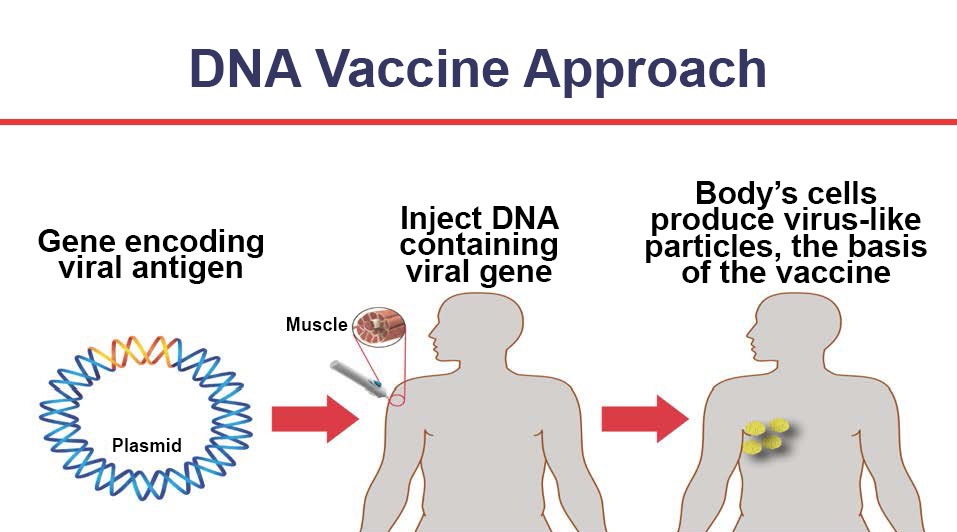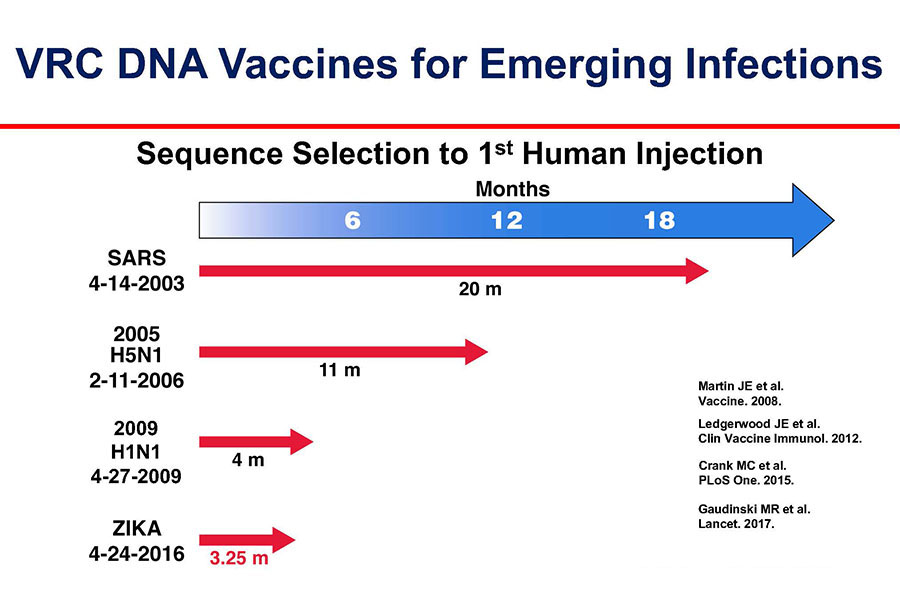 Credit:
J. Ledgerwood/NIAID VRC
Julie E. Ledgerwood, D.O., is the Chief Medical Officer and Chief of the Clinical Trials Program for the Vaccine Research Center, NIAID. Dr. Ledgerwood has 16 years of clinical research experience and is responsible for VRC clinical research strategic planning, research activities, regulatory strategy, compliance and regulatory operations. She leads a team of 64 clinical researchers and regulatory experts and has conducted more than 60 Phase 1-2b clinical trials studying vaccines and monoclonal antibodies targeting pathogens such as HIV, influenza, Ebola, malaria, Chikungunya, and Zika in over 13 countries. She has authored more than 85 publications and received numerous awards for her work.  Dr. Ledgerwood completed her internship at Oklahoma State University Medical Center, residency in internal medicine at Johns Hopkins Bayview Medical Center in Baltimore and fellowship in allergy and immunology at the NIH. She is board-certified in allergy and immunology by the American Board of Allergy and Immunology.
Charla A. Andrews, ScM, MS (RAC-US)
Scientific Advisor
Preeti J. Apte, M.H.A.
Recruitment and Outreach Specialist
Allison Beck, PA-C
Medical Officer
Nina Berkowitz, M.P.H.
Team Lead Protocol Operations
Catina R. Boyd, C.P.T., R.M.A, C.A.N.
Clinical Research Technician/Phlebotomist
Cristina Carter, M.D.
Clinical Fellow
Maria Claudia Burgos Florez, M.Sc.
Protocol Specialist
Grace Chen, M.D.
Deputy Chief
Emily Coates, Ph.D.
Scientist
Josephine Cox, Ph.D.
Clinical Laboratory Coordinator
Pamela Costner, R.N., B.S.N., C.D.E.
Research Nurse/Study Coordinator
Jennifer Cunningham, B.S.N.
Research Nurse
Aba Mensima Eshun, R.N., B.S.N.
Research Nurse
Martin Gaudinski, M.D.
Medical Director
Ingelise Gordon, R.N.
Clinical Operations Manager
Carmencita Graves, M.Sc, M.B.A.
Management Analyst
Mercy Guech, Ph.D.
​​Scientific Advisor
Somia Hickman, PhD
Protocol/Regulatory Specialist
Cynthia Starr Hendel, C.R.N.P., C.C.R.C.
Nurse Practitioner
Renunda T. Hicks
Recruitment & Outreach Specialist
LaSonji Holman, R.N., M.S.N., F.N.P.
Nurse Practitioner
Katherine Houser, PhD
Scientific Advisor
Brenda D. Larkin, R.N., B.S.N., C.C.R.C.
Strategic Advisor for Special Projects
Rebecca Lampley, MS
Project Manager
Lam Ngan Le, M.B.A., C.C.R.P.
IRB specialist​
Floreliz Mendoza, R.N.
Research Nurse/Study Coordinator
Laura Novik, R.N., B.S.N., M.A.
Senior Study Coordinator
Mark O'Callahan, BS
Project Manager
Abidemi Ola, R.N., MSN., F.N.P.
Nurse Practitioner
Iris R. Pittman, B.A., C.C.R.P.
IRB Specialist
Sarah H. Plummer, R.N., M.S.N., N.P.
Chief, Clinical Development Unit
Ro Shauna S. Rothwell, Ph.D.
Protocol Specialist
Jamie Saunders, R.N., B.S.N.
Research Nurse/Study Coordinator
Ellie Seo
Clinical Trials Pharmacist
Sandra Sitar, M.S.
Director of Communications and Public Affairs
Stephanie Taylor, B.A.
Management Analyst
Cora Trelles Cartagena, B.S.W.
Recruitment and Outreach Specialist​
Olga Trofymenko, M.D.
QA/QC Specialist
Olga Vasilenko, M.S., C.C.R.P.
Clinical Research Information Specialist
Xiaolin Wang, R.N., B.S.N.
Clinical Research Nurse
William Whalen, R.N., B.S.N.
Research Nurse
Pernell V. Williams
Clinical Operations Research Assistant
Galina Yamshchikov, M.S.
Senior Project Manager​
Lynch RM, Boritz E, Coates EE, DeZure A, Madden P, Costner P, Enama ME, Plummer S, Holman L, Hendel CS, Gordon I, Casazza J, Conan-Cibotti M, Migueles SA, Tressler R, Bailer RT, McDermott A, Narpala S, O'Dell S, Wolf G, Lifson JD, Freemire BA, Gorelick RJ, Pandey JP, Mohan S, Chomont N, Fromentin R, Chun TW, Fauci AS, Schwartz RM, Koup RA, Douek DC, Hu Z, Capparelli E, Graham BS, Mascola JR, Ledgerwood JE; VRC 601 Study Team. Virologic effects of broadly neutralizing antibody VRC01 administration during chronic HIV-1 infection. Sci Transl Med. 2015 Dec 23;7(319):319ra206.  
Ledgerwood JE, Coates EE, Yamshchikov G, Saunders JG, Holman L, Enama ME, DeZure A, Lynch R, Gordon I, Plummer S, Hendel CS, Pegu A, Conan-Cibotti M, Sitar S, Bailer RT, Narpala S, McDermott A, Louder M, O'Dell S, Mohan S, Pandey JP, Schwartz RM, Hu Z, Koup RA, Capparelli E, Mascola JR, Graham BS; VRC 602 Study Team. Safety, Pharmacokinetics, and Neutralization of the Broadly Neutralizing HIV-1 Human Monoclonal Antibody VRC01 in Healthy Adults. Clin Exp Immunol. 2015 Dec;182(3):289-301.
Ledgerwood JE, DeZure AD, Stanley DA, Novik L, Enama ME, Berkowitz NM, Hu Z, Joshi G, Ploquin A, Sitar S, Gordon IJ, Plummer SA, Holman LA, Hendel CS, Yamshchikov G, Roman F, Nicosia A, Colloca S, Cortese R, Bailer RT, Schwartz RM, Roederer M, Mascola JR, Koup RA, Sullivan NJ, Graham BS; the VRC 207 Study Team. Chimpanzee Adenovirus Vector Ebola Vaccine - Preliminary Report. N Engl J Med. 2014 Nov 26.
Kibuuka H, Berkowitz NM, Millard M, Enama ME, Tindikahwa A, Sekiziyivu AB, Costner P, Sitar S, Glover D, Hu Z, Joshi G, Stanley D, Kunchai M, Eller LA, Bailer RT, Koup RA, Nabel GJ, Mascola JR, Sullivan NJ, Graham BS, Roederer M, Michael NL, Robb ML, Ledgerwood JE; the RV 247 Study Team. Safety and immunogenicity of Ebola virus and Marburg virus glycoprotein DNA vaccines assessed separately and concomitantly in healthy Ugandan adults: a phase 1b, randomised, double-blind, placebo-controlled clinical trial. Lancet. 2014 Dec 22.
Chang LJ, Dowd KA, Mendoza FH, Saunders JG, Sitar S, Plummer SH, Yamshchikov G, Sarwar UN, Hu Z, Enama ME, Bailer RT, Koup RA, Schwartz RM, Akahata W, Nabel GJ, Mascola JR, Pierson TC, Graham BS, Ledgerwood JE; VRC 311 Study Team. Safety and tolerability of chikungunya virus-like particle vaccine in healthy adults: a phase 1 dose-escalation trial. Lancet. 2014 Dec 6;384(9959):2046-52.
Seder RA, Chang LJ, Enama ME, Zephir KL, Sarwar UN, Gordon IJ, Holman LA, James ER, Billingsley PF, Gunasekera A, Richman A, Chakravarty S, Manoj A, Velmurugan S, Li M, Ruben AJ, Li T, Eappen AG, Stafford RE, Plummer SH, Hendel CS, Novik L, Costner PJ, Mendoza FH, Saunders JG, Nason MC, Richardson JH, Murphy J, Davidson SA, Richie TL, Sedegah M, Sutamihardja A, Fahle GA, Lyke KE, Laurens MB, Roederer M, Tewari K, Epstein JE, Sim BK, Ledgerwood JE, Graham BS, Hoffman SL; VRC 312 Study Team. Protection against malaria by intravenous immunization with a nonreplicating sporozoite vaccine. Science. 2013 Sep 20;341(6152):1359-65.