Mali is a landlocked west African nation with a highly stratified climate: hot and arid in the north and wet and humid in the south. Malaria is one of the country's principal causes of death and suffering and is responsible for more than 30 percent of all outpatient hospital visits, according to the World Health Organization.
NIAID has over 30 years of research collaboration with scientists and institutions in Mali. The University of Sciences, Techniques, and Technology of Bamako (USTTB) is one of NIAID's significant partners. The portfolio includes intramural projects, extramural grants, and contracts. Research topics have focused largely on malaria, vector biology, tuberculosis, HIV/AIDS, filariasis, leishmaniasis, and febrile illnesses. In 2021, NIAID and USTTB formally extended their relationship through an agreement to continue ongoing collaborative research activities. This long-standing partnership has made Mali a leader in the global effort to fight malaria, as well as deepened their understanding of other diseases.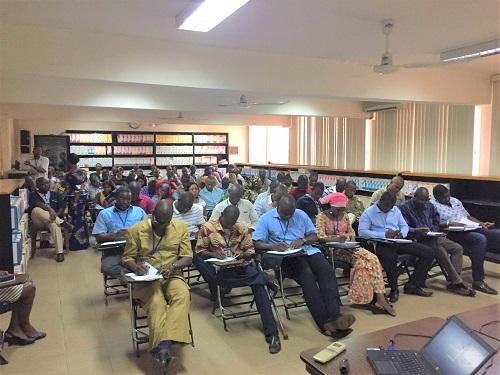 Since its establishment in 2001 by NIAID intramural investigators and USTTB scientists, the Mali International Center for Excellence in Research (ICER) has focused on endemic and emerging diseases, including malaria, filariasis, leishmaniasis, Lassa fever, and Ebola. The University Clinical Research Center (UCRC), established in 2014, is a joint initiative between the Ministry of Health, Ministry of Higher Education and Scientific Research, USTTB, and NIAID to enhance the clinical research capacity in Mali.
NIAID-Funded Activities
NIAID researchers began working with Malian counterparts in the late 1980s. To better facilitate and improve the growing partnership, NIAID placed staff in Bamako to work in close association with the faculty of Pharmacy at USTTB.
Select milestones in NIAID collaborations with USTTB include the following:
Select Scientific Advances
The Laboratory of Immunogenetics (LIG)-ICER team conducts observational studies and clinical trials in the rural communities of Kalifabougou and Torodo, Mali. For example, in 2011, an observational cohort study was initiated to investigate the epidemiology, immunology and infection biology of Plasmodium falciparum malaria. A recent publication from the cohort study illustrates how coupling epidemiology and immunology data can reveal new facets of immunity against malaria that might be exploited to develop novel tools to prevent this disease. In 2021, the LIG-ICER team initiated the first clinical trial in a malaria-endemic setting to test the safety and protective efficacy of an anti-malaria monoclonal antibody.
Using surveillance tools to evaluate the potential of elimination of both onchocerciasis and lymphatic filariasis, Mali ICER scientists performed serologic assessment of more than 6,000 people in a formerly highly endemic region of Mali that sits at the border with Senegal. The data and the modelling of it suggest that elimination of onchocerciasis and lymphatic filariasis is exceedingly likely despite potential cross border transmission.
The mosquito ecology group has been studying how mosquitoes that transmit malaria survive in the Sahel over the seven-month dry season, when no larval sites are available for mosquito reproduction. Studies have revealed that Anopheles coluzzii, one of the three primary malaria vectors in the area, undergoes dry season dormancy (aestivation). A. coluzzii, A. gambiae, and other mosquito species engage in long-range windborne migration up to 300 meters above ground. New experiments have revealed that mosquitoes readily survive high altitude flights, and are able to subsequently lay eggs and take blood meals upon returning to the ground. Thus, mosquitoes infected with malaria can transmit infection to human or animal hosts that are hundreds of kilometers away. These studies using newly developed methods to track mosquitoes over time and space have shed light on the ecology of mosquito-borne diseases. 
Pre-existing antibodies to malaria may interfere with the effectiveness of malaria vaccines. Reticulocyte-binding protein homolog 5 (RH5) is a leading blood-stage vaccine candidate for the malaria species Plasmodium falciparum. To determine how pre-existing antibodies interact with vaccine-induced RH5 antibodies, total and RH5-specific immunoglobulin Gs (IgGs) were collected from malaria-exposed Malians and malaria-naive Malians who received the RH5 vaccine. Investigators found that RH5 antibody levels in people previously exposed to malaria are much lower than antibody levels induced by vaccination. In addition, in vitro growth inhibition assays (GIA) show that antibodies from prior infection act in an additive or synergistic manner with antibodies induced by the RH5 vaccine. These results are unique to RH5 and not seen with other vaccine candidates, such as AMA1. Thus, this study supports RH5 as a favorable candidate for vaccine trials in malaria-endemic regions.
The Emerging Pathogens Laboratory was founded in 2010 with initial focus on Lassa virus epidemiology and ecology. A more comprehensive understanding of the ecology of viruses is essential to assess risk for local and national public health and animal health in Mali. Since then, scientists have established the prevalence of Lassa virus in the rodent reservoir Mastomys natalensis and determined human exposure to Lassa virus in southern Mali. Scientists have isolated Malian Lassa virus strains and studied their pathogenicity in animal models. Vaccine candidates and treatment options for Lassa fever were developed and have successfully gone through preclinical trials. The program was expanded to include other emerging/re-emerging pathogens causing hemorrhagic fever, respiratory and encephalitic syndromes in humans, including bunyaviruses, filoviruses and flaviviruses. Scientists have established in-country diagnostics for several emerging/re-emerging viruses with the potential for community transmission, including Ebola virus and SARS-CoV-2.
Highlights
Watch
as a NIAID and Malian research team search for tickborne relapsing fever in a remote Malian village.