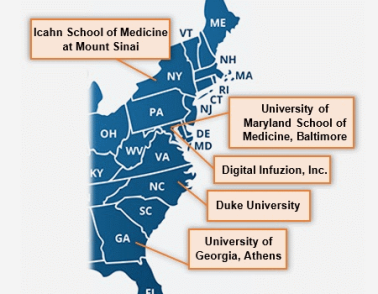 CIVICs is a network of research centers that will work together in a coordinated, multidisciplinary effort to develop more durable, broadly protective and longer-lasting influenza vaccines. The CIVICs program will include three Vaccine Centers, one Vaccine Manufacturing and Toxicology Core, two Clinical Cores, and one Statistical, Data Management, and Coordination Center (SDMCC). 
Main Areas of Focus
The Vaccine Centers will focus on designing novel vaccine candidates and delivery platforms with an emphasis on cross-protective vaccine strategies that could be used in healthy adults as well as populations at high risk for the most serious outcomes of influenza, such as children, older adults, and pregnant women. The Vaccine Centers will also focus on new ways to study influenza viruses and the human immune response to influenza through computer modeling, animal models and human challenge trials.
The most promising candidate vaccines will advance to clinical trials conducted by the Clinical Cores. The Vaccine Manufacturing and Toxicology Core will work with the Vaccine Centers to develop and manufacture the vaccine candidates for clinical testing. Vaccine candidates will first be evaluated for safety and immunogenicity in small Phase 1 clinical trials conducted among healthy adult participants. Successful vaccine candidates may eventually be advanced to larger Phase 2 clinical trials in healthy adults, or in specific age groups or at-risk populations.
The CIVICs Statisitical, Data Management, and Coordination Center (SDMCC)  will provide assistance in designing statistically sound preclinical experiments and clinical trials. The SDMCC will also perform data analyses, make results available across the CIVICs program, ensure that CIVICs data is available in publicly accessible databases, and provide a public portal for communication to the scientific community and general public about CIVICs program goals and accomplishments.