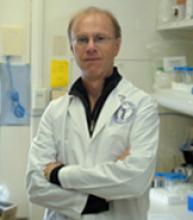 Chief, Laboratory of Molecular Immunology
Chief, Molecular Signaling Section
Major Areas of Research
Host defense and inflammation
G protein-coupled chemoattractant receptors
Genetic risk factors in infectious and immune-mediated diseases
Primary immunodeficiency disease
Program Description
This laboratory studies G protein-coupled receptors of the immune system. These include a large family of chemokine receptors and a smaller group of classical chemoattractant receptors, which together differentially regulate specific leukocyte trafficking in support of innate and adaptive immune responses.
The goal of the lab is to delineate the precise mechanisms by which the receptors relay chemotactic signals to cells and to identify their exact physiologic roles both in immunoregulation and in immunologically mediated disease. The approaches used are to isolate specific chemoattractant receptors by molecular cloning, to examine their signal transduction properties both in model cell systems and in primary cells, and to study their biology in mouse models and, where possible, in patients through direct clinical research.
Further, the lab has a program in human immunogenomics in which genetic polymorphisms discovered in candidate chemoattractant or chemoattractant receptor genes are checked for effects on biochemical function and for associations with specific diseases. Major discoveries include the following:
Identification of the first CXC, CC, and CX3C chemokine receptor subtypes, as well as numerous other members of the chemokine receptor family, and characterization of their ligand and leukocyte specificities
Characterization of the f-Met-Leu-Phe receptor (FPR) family
Identification of CCR5 and demonstration that CCR5 is a major HIV receptor in vivo by analysis of the defective genetic variant CCR5Δ32
Characterization of the first viral mimics of chemokine receptors
Discovery of novel genetic risk factors in atherosclerosis, HIV/AIDS, West Nile virus infection, and kidney transplant rejection
Characterization of G6PC3 deficiency, a novel immunodeficiency syndrome characterized by severe congenital neutropenia and recurrent bacterial infections
Development of novel therapeutic approach for patients with the primary immunodeficiency disorder WHIM syndrome
There are projects ongoing in the lab extending each of these observations.
Biography
Dr. Murphy obtained an A.B. from Princeton University in 1975 and an M.D. from Cornell University Medical College in 1981. He trained in internal medicine at New York University from 1981 to 1985, serving as chief resident from 1984 to 1985, and in infectious diseases at NIAID from 1985 to 1988.
He began his research career as a medical staff fellow in the Bacterial Diseases Section of the NIAID Laboratory of Clinical Investigation in 1986 and was promoted to senior investigator with tenure in the Laboratory of Host Defenses (LHD) in 1992. In 1998, he was promoted to the Senior Biomedical Research Service and named chief of the LHD Molecular Signaling Section.
In 2003, Dr. Murphy's research group was reorganized as part of the new Laboratory of Molecular Immunology, where he served first as acting chief from 2003 to 2006 and then as chief from 2006 to the present. Dr. Murphy's research interests include immunoregulation by chemokines and related chemoattractants.
Awards
NIH Merit Award (1992); NIH Director's Award (1994, 1996); NIH Senior Biomedical Research Service (1998); American Society for Clinical Investigation (1992); Association of American Physicians (1997); Pillar of Immunology Award, Journal of Immunology(2009); the Henry Kunkel Society (2006); NIAID Merit Award (2009); NIAID Mentor of the Year Award (2010); Fellow, American Academy of Microbiology (2013); Marie Bonazinga Award of the Society of Leukocyte Biology (2013)
Memberships
American Association for the Advancement of Science
American Society for Clinical Investigation
American Society of Biochemistry and Molecular Biology
Association of American Physicians
American Association of Immunologists
Society for Leukocyte Biology
The Henry Kunkel Society
Editorial Boards
Cellular Immunology
Journal of Leukocyte Biology
Viral Immunology
inScight
Journal of Innate Immunity
UCSD-Nature Molecule Pages
Faculty of 1000
Research Group
Jenny Dworzak
Ji-Liang Gao
Zhanzhuo Li
Joy Liu
David McDermott
Aurelie Tomczak
Daniel Velez
Joe Wan
Don Weaver
Joohee Lee
Paejonette Jacobs
Erin Yim
Nora Taranto
Marie Siwicki
Sergio Martin
Selected Publications
Schneider EH, Fowler SC, Lionakis MS, Diaz V, Munasinghe J, Peiper SC, Gao JL, Murphy PM. Regulation of motor function and behavior by atypical chemokine receptor 1. Behavior Genet. 2014. In press.
McDermott DH, Liu Q, Velez D, Lopez L, Anaya-O'Brien S, Ulrick J, Kwatemaa N, Starling J, Fleisher TA, Priel DA, Merideth MA, Giuntoli RL, Evbuomwan MO, Littel P, Marquesen MM, Hilligoss D, DeCastro R, Grimes GJ, Hwang ST, Pittaluga S, Calvo KR, Stratton P, Cowen EW, Kuhns DB, Malech HL, Murphy PM. A phase 1 clinical trial of long-term, low-dose treatment of WHIM syndrome with the CXCR4 antagonist plerixafor. Blood. 2014 Apr 10;123(15):2308-16.
Lionakis MS, Swamydas M, Fischer BG, Plantinga TS, Johnson MD, Jaeger M, Green NM, Masedunskas A, Weigert R, Mikelis C, Wan W, Lee CC, Lim JK, Rivollier A, Yang JC, Laird GM, Wheeler RT, Alexander BD, Perfect JR, Gao JL, Kullberg BJ, Netea MG, Murphy PM. CX3CR1-dependent renal macrophage survival promotes Candida control and host survival. J Clin Invest. 2013 Dec 2;123(12):5035-51.
Lionakis MS, Fischer BG, Lim JK, Swamydas M, Wan W, Richard Lee CC, Cohen JI, Scheinberg P, Gao JL, Murphy PM.Chemokine receptor Ccr1 drives neutrophil-mediated kidney immunopathology and mortality in invasive candidiasis. PLoS Pathog. 2012;8(8):e1002865.
Liu Q, Chen H, Ojode T, Gao X, Anaya-O'Brien S, Turner NA, Ulrick J, DeCastro R, Kelly C, Cardones AR, Gold SH, Hwang EI, Wechsler DS, Malech HL, Murphy PM, McDermott DH. WHIM syndrome caused by a single amino acid substitution in the carboxy-tail of chemokine receptor CXCR4. Blood. 2012 Jul 5;120(1):181-9.
Wan W, Lim JK, Lionakis MS, Rivollier A, McDermott DH, Kelsall BL, Farber JM, Murphy PM. Genetic deletion of chemokine receptor Ccr6 decreases atherogenesis in ApoE-deficient mice. Circ Res. 2011 Aug 5;109(4):374-81.