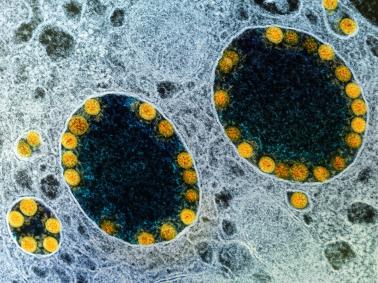 The AViDD Centers will conduct innovative, multidisciplinary research to develop candidate COVID-19 antivirals, especially those that can be taken in an outpatient setting, as well as antivirals targeting specific viral families with high potential to cause a pandemic in the future. These include paramyxoviruses, bunyaviruses, togaviruses, filoviruses (including Ebola viruses and Marburg virus), picornaviruses (including enteroviruses and other cold-causing viruses), and flaviviruses (including the viruses that cause yellow fever, dengue and Zika). 
The AViDD Centers will conduct research on the early-stage identification and validation of novel viral targets, with an eye to identify small molecules and biotherapeutics that directly block viral targets. As drug candidates are identified and evaluated for properties such as potency and breadth, the most promising will enter late-stage preclinical development. Importantly, the Centers will draw on the resources of their industry partners to accelerate research, making use of the companies' chemical libraries and expertise in moving candidates into the product development pipeline.
Antiviral Program for Pandemics
The AViDD center awards are a part of the Antiviral Program for Pandemics (APP), an intensive research program designed to speed development of therapeutics for COVID-19. APP is led by NIAID, the National Center for Advancing Translational Sciences (NCATS) and the Office of Research Infrastructure Programs, all part of NIH; and the Biomedical Advanced Research and Development Authority (BARDA), part of the Department of Health and Human Services (HHS).
---