Prion Cell Biology Unit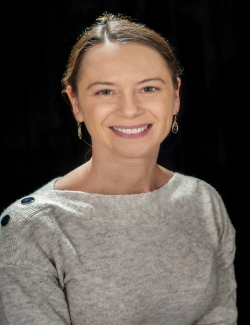 Major Areas of Research
Prion diseases
Prion redox biology
Prion protein processing and function
Cerebral organoid models of prion infection and disease
Program Description
The Prion Cell Biology Unit is focused on elucidating the underlying cellular pathways causing neuronal death and dysfunction during prion diseases, as well as understanding the basic cellular functions of the prion protein. We are specifically interested in investigating: the role of the prion protein in cellular redox homeostasis; how perturbations in redox balance influence disease progression and toxicity; the influence of the prion protein on neural stem cell self-renewal and differentiation; and the functional outcomes of prion protein post-translational modifications. 
The Unit is also dedicated to advancing the tools and techniques available for studying prion diseases. We recently developed a human cerebral organoid model of prion infection that recapitulates certain features of human disease (see figure). The cerebral organoid model is being utilized to investigate the cellular and sub-cellular responses induced by infection with different sporadic Creutzfeldt-Jakob Disease (CJD) sub-types. We are additionally applying this technology to understanding the role of hereditary PRNP mutation in the causation of prion diseases.

Biography
Education
Ph.D., University of Bath (UK)
Dr. Haigh received her Ph.D. in Biochemistry from the University of Bath (UK). Her thesis focused on the cellular function of the prion protein and genetic control of its expression.
In July 2006, she relocated to The University of Melbourne (Australia) as a senior research officer in the Department of Pathology to continue her research into prion diseases. She subsequently held the positions of honorary research fellow at the Mental Health Research Institute of Victoria (Australia), senior research fellow in the Department of Medicine at the University of Melbourne (Australia), senior scientist for the Australian National CJD Registry, and additionally managed the prion containment facility within the Melbourne Brain Centre.
In 2017, Dr. Haigh was recruited to the National Institute of Allergy and Infectious Disease at the Rocky Mountain Laboratories in Hamilton (MT) and established the Prion Cell Biology Unit of which she is currently the chief.
Selected Publications
Foliaki ST, Schwarz B, Groveman BR, Walters RO, Ferreira NC, Orrù CD, Smith A, Wood A, Schmit OM, Freitag P, Yuan J, Zou W, Bosio CM, Carroll JA, Haigh CL. Neuronal excitatory-to-inhibitory balance is altered in cerebral organoid models of genetic neurological diseases.  Mol Brain. 2021 Oct 11;14(1):156. doi: 10.1186/s13041-021-00864-w.
Groveman BR, Ferreira NC, Foliaki ST, Walters RO, Winkler CW, Race B, Hughson AG, Zanusso G, Haigh CL.  Human cerebral organoids as a therapeutic drug screening model for Creutzfeldt-Jakob disease.  Sci Rep. 2021 Mar 9;11(1):5165. doi: 10.1038/s41598-021-84689-6.
Foliaki ST, Groveman BR, Yuan J, Walters R, Zhang S, Tesar P, Zou W, Haigh CL.  Pathogenic Prion Protein Isoforms Are Not Present in Cerebral Organoids Generated from Asymptomatic Donors Carrying the E200K Mutation Associated with Familial Prion Disease.  Pathogens. 2020 Jun 18;9(6):482. doi: 10.3390/pathogens9060482.
Carroll JA, Groveman BR, Williams K, Moore R, Race B, Haigh CL.  Prion protein N1 cleavage peptides stimulate microglial interaction with surrounding cells.  Sci Rep. 2020 Apr 20;10(1):6654. doi: 10.1038/s41598-020-63472-z.
Groveman, BR, Foliaki, S, Orru, CD, Zanusso, G, Carroll, JA, Race, B, Haigh, CL. Sporadic Creutzfeldt-Jacob Disease infection of human cerebral organoids. Acta Neuropathologica Communications. 2019 7:90.
Collins SJ, Tumpach C, Groveman BR, Drew SC, Haigh CL. Prion protein cleavage fragments regulate adult neural stem cell quiescence through redox modulation of mitochondrial fission and SOD2 expression. Cell Mol Life Sci. 2018 Mar 24. doi: 10.1007/s00018-018-2790-3.
Research Group