The NIAID Clinical Genomics Program at the National Institutes of Health (NIH) is a broadly collaborative program that builds upon large-scale gene sequencing analysis to promote multi-disciplinary, cutting-edge basic and clinical genomics research. Our goal is to better understand, diagnose, and treat disorders of the immune system in collaboration with clinical agents.
News & Events
News
July 2017 Launch of Dr. Holland's Centralized Sequencing Initiative
Feb 2017 Trip to UK for collaboration meetings with Genomics England, Wellcome Trust, and Sanger Center.
More funded exomes are available. Please email us if interested.
Events
Weekly Brown Bag Lunch Series
Weekly Genomics and Immunology Science Brown Bag Lunch Series, Tuesdays, 12 Noon, Building 10, Room 2C310
Currently Available Resources
Researchers involved with the Clinical Genomics Program study many diseases of the immune system that are rare and not well understood but often shed light on basic immune function and common immune disorders. This research is carried out across multiple labs, disease processes, and with many different tools.
The Clinical Genomics Program centralizes resources to be used for genomics and related research. Contact us to discuss use of any of the currently available resources:
MiSeq machine and reagents
SciClone automation and liquid handling platform
Funding for sequencing
Help with genomic analysis
Genetic counseling, pedigree collection, educational material development
International outreach help when screening for phenotypes/genotypes
Participating NIH Researchers
Collaborations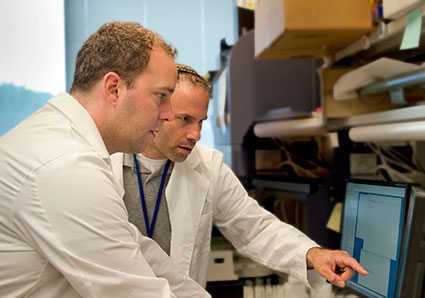 Collaboration is a key element of the Clinical Genomics Program mission to accelerate scientific discovery related to the understanding, diagnosis, and treatment of genetically based immune disorders. The program cultivates both public and private collaborations with institutions and investigators from around the world in an effort to foster scientific discovery. Listed below are some of the institutions, companies, and partnerships developed among Clinical Genomics Program researchers:
Merck
Regeneron
Novartis
Broad
Cambridge
Yale
University of Michigan
Qatar Women and Children's Hospital
Kansas City Children's Mercy Hospital
Cincinnati Children's Hospital
Boston's Children's Hospital
University of Pennsylvania
Tubitak (Turkey)
University Hospitals in Ankara, Hacettepe, Marmara, and Istanbul
Treatment Trials
Collaborations that uncovered the underlying genetic and cellular causes of specific immune disorders have, in some cases, resulted in novel treatments. Three such novel treatments are being actively investigated through a clinical treatment trial at NIH:
Immunologic Effects of Supplemental Monosaccharide and Nucleoside Derivatives in Patients With Inherited Disorders of Glycosylation, 15-I-0159
Phase 1/2 trial of amino acid supplementation in patients with atopic disease with or without a defect in the mTORC1 pathway