The pathology and histology teams work together to conduct morphologic assessments and molecular assays using in-life and postmortem samples attained during research studies that develop and use established animal models of high-consequence emerging human viruses. The clinical pathologic and histopathologic data are interpreted by the pathologists using historical controls, or within-study controls, to generate reports that address specific pathology-associated aims of each study. The findings facilitate the development of future studies and contribute to publications in high-quality peer-reviewed journals.
Main Areas of Focus
Participate in study planning to ensure successful execution of pathology-related specific aims (i.e., appropriate animal model selection, assay selection, and sample allocation)
Conduct postmortem examinations in laboratory animal models under biosafety level 4 (BSL-4) conditions 
Review protocol development of molecular assays to detect emerging viral pathogens and relevant biomarkers in tissue in collaboration with our histotechnologists
Interpret clinical pathology data
Interpret cytology findings in blood smears and cytospin samples (i.e., bronchoalveolar lavage fluid, cerebrospinal fluid, and urine)
Interpret histopathologic lesions in tissue sections 
Interpret immunohistochemical (IHC) findings in tissue sections
Interpret in situ hybridization (ISH) findings in tissue sections
Conduct histopathology scoring based on lesion type or staining characteristics in tissues to generate semiquantitative histopathology data for (statistical) significance testing 
Conduct and interpret electron microscopic tissue examinations 
Produce publication-quality pathology reports
Contribution to the writing and publication of manuscripts and present pathology data
Capabilities and Specialized Equipment
Full-service gross dissection, processing, embedding, microtomy, staining, and coverslip application

Mopec MB-600 adjustable elevating grossing station with backdraft ventilation
Tissue-Tek VIP-6 automated thermoregulated vacuum infiltration processor
Tissue-Tek TEC-6 ergonomic embedding console and cryo module workstation
Leica Biosystems HistoCore-MultiCut standard semiautomated rotary microtome
Leica Biosystems HI1210 lighted thermoregulated water flotation bath
Leica Biosystems ST5020/CV5030 integrated autostainer and coverslip applicator
Leica Biosystems IP-C/IP-S chemical-resistant inkjet printers for cassettes/slides 

Immunohistochemistry (IHC)

ThermoScientific-Shandon Sequenza staining system, chromogenic/fluorescent

In situ hybridization (ISH)

Advanced Cell Diagnostics-BioTechne RNAscope HybEZ-II staining system

Digital pathology whole-slide image scanning and biomarker quantitation

Leica Aperio AT2 high-throughput digital slide scanner

Publication-quality image capture of brightfield photomicrographs 

Olympus BX Series multimodule microscope and integrated DP74 camera 

Publication-quality image capture of fluorescent photomicrographs 

Leica SP5 TCS-2 confocal microscope and integrated DMI6000 camera with five internal fluorescent detectors, two HyD high-sensitivity detectors, and transmitted light detector with laser lines 405, 458, 476, 488, 514, 561, 594, and 633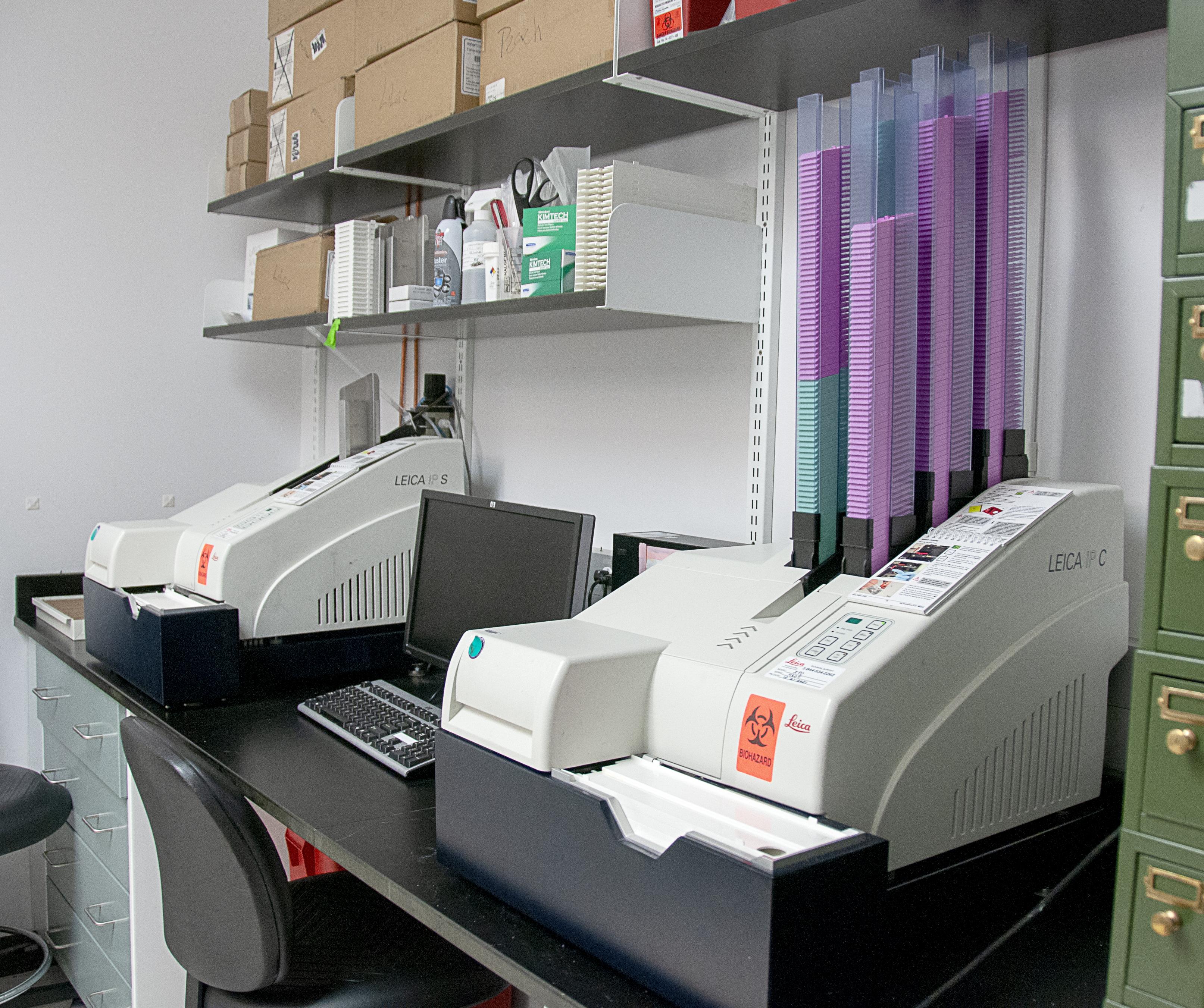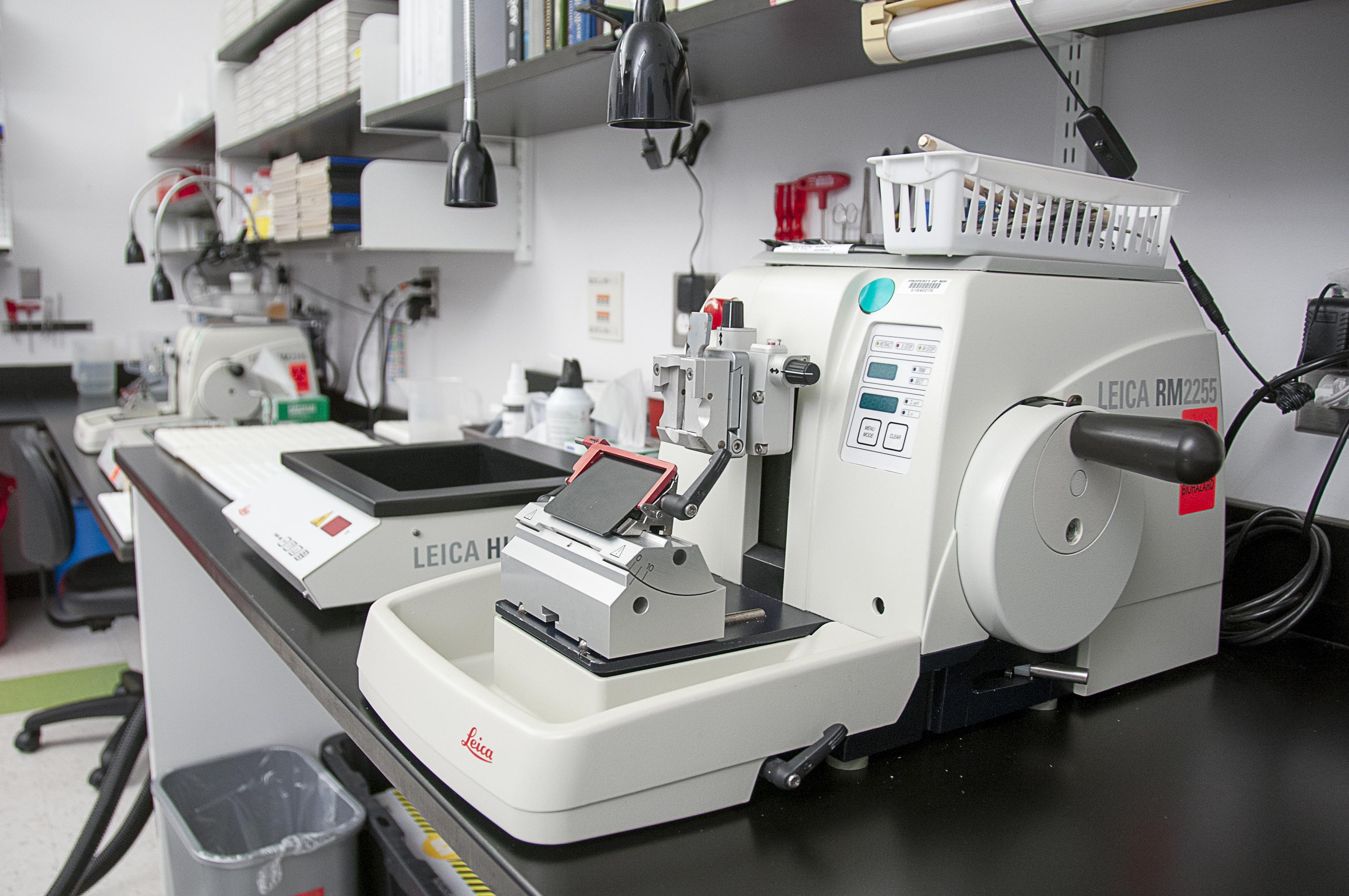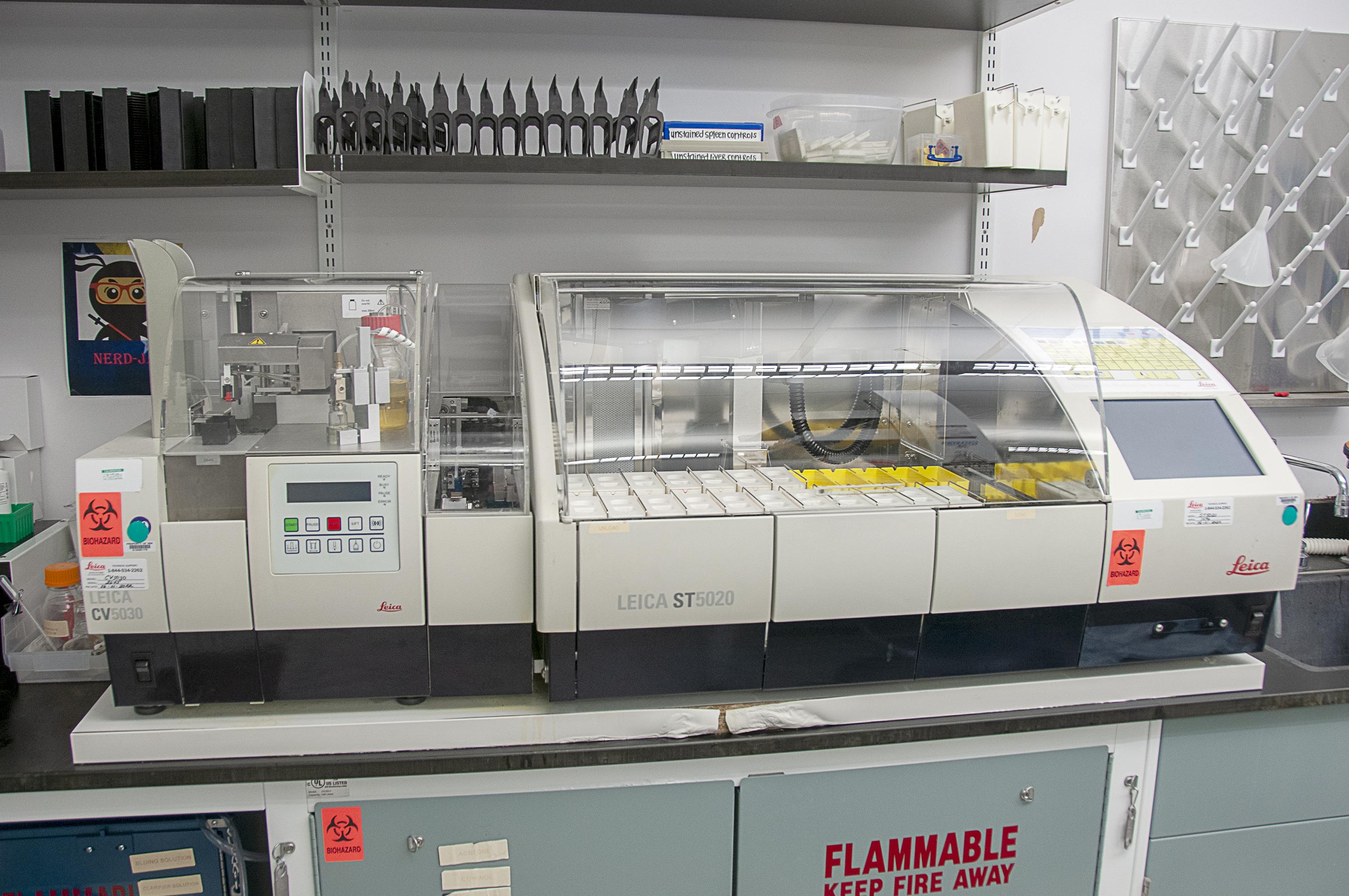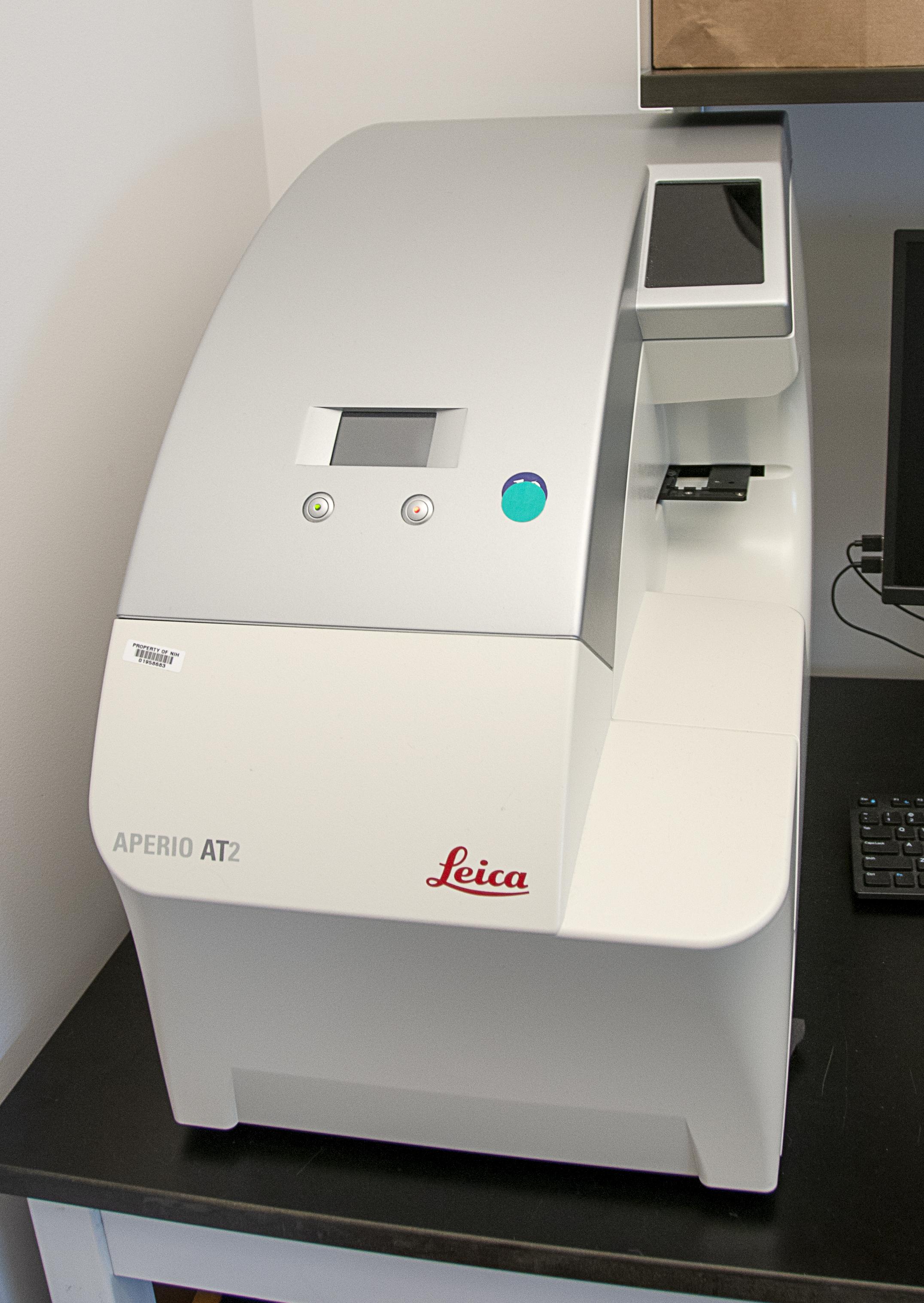 Location
Integrated Research Facility at Fort Detrick (IRF-Frederick)
IRF-Frederick
Standards
All procedures are well-documented and adhere to standard operating procedures (SOPs), methods, or study-approved plans and agreements.
Collaboration Opportunities
Studies relevant to human disease
Use of surrogate systems to test clinical hypotheses
Use of biological systems to answer questions regarding disease pathogenesis and strategies for intervention including antimicrobials, vaccines, and other countermeasures
Developing and incorporating cutting-edge technologies to understand infectious diseases
Read more about how to work with the IRF-Frederick.