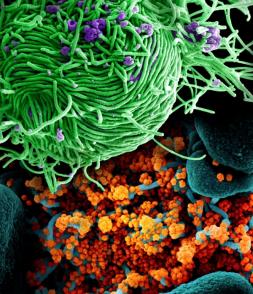 The Integrated Research Facility at Fort Detrick (IRF-Frederick) serves as a collaborative resource that facilitates multidisciplinary research to understand, treat, prevent, and eradicate diseases caused by novel, emerging, and highly virulent viruses. The IRF-Frederick is part of the NIAID's Division of Clinical Research (DCR) within NIH.
The IRF-Frederick collaborates with internal (NIAID) and extramural investigators to conduct research on viruses, such as those causing high-consequence disease (e.g., Ebola virus and SARS-CoV-2) and those included on the NIAID Priority Pathogens list. Additional resources in a dedicated biosafety level 2/3 (BSL-2/3) imaging facility study simian/simian-human immunodeficiency virus (SIV/SHIV).
The IRF-Frederick has the capability to conduct BSL-2, BSL-3, and BSL-4 research. It is one of the few facilities in the world able to perform medical imaging to evaluate animals in BSL-4 containment. In addition to animal models of disease, the IRF-Frederick uses innovative approaches—including high-throughput drug screening, targeted genomic sequencing, custom immunological and serological analyses, and organ-chip model development—to examine pathogenesis of viral pathogens.
Learn how to work with the IRF-Frederick.
Main Areas of Focus
Facilitating the development of effective countermeasures to mitigate major public-health events related to emerging or reemerging infectious diseases or biological weapons attacks
Advancing medical diagnostics and cutting-edge technologies for high-consequence pathogens
Using imaging technologies to understand infectious disease pathogenesis and to assist in the rational design of medical countermeasures and therapeutic strategies
Supporting clinical trials and research studies that lead to improved patient outcomes
Building local, national, and international capacity to respond to diseases caused by NIAID Priority Pathogens and other emerging viral pathogens
Resources for Researchers
The IRF-Frederick has the following capabilities and collaborative research support opportunities available to internal (NIAID) and extramural researchers. Contact information is included, so researchers can reach out to someone to guide them through the process.
Perform a keyword search of opportunities offered by the IRF-Frederick.