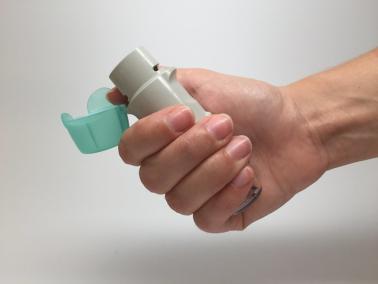 NIAID supports targeted research to understand the underlying immune responses that lead to asthma. NIAID research focuses on understanding how environmental exposures interact with a person's genetic makeup to cause immune responses that contribute to the development of asthma or increase its severity.
Current Clinical Research Studies Seeking Volunteers
The following are selected clinical trials supported by NIAID and investigating various aspects of asthma. The links lead to full study descriptions, eligibility criteria, and contact information.
Cockroach Immunotherapy in Children and Adolescents (CRITICAL) (NCT03541187)
The primary objective of this study is to determine if asthma severity in children ages 6 to 16 years can be improved by cockroach subcutaneous immunotherapy treatment. Scientific evidence has shown that, over the past two decades, the combination of cockroach allergy and cockroach exposure is one of the most important factors contributing to the dramatic increase in asthma morbidity seen in inner-city children with asthma.
Registry for Asthma Characterization and Recruitment 2 (NCT02513264)
The overall goal of this registry is to create a database of participants who are potentially eligible for future Inner-City Asthma Consortium clinical research studies. People ages 1 to 55 years with clinician-diagnosed asthma may be eligible to participate.
A Trial of Mepolizumab Adjunctive Therapy for the Prevention of Asthma Exacerbations in Urban Children (MUPPITS-2) (NCT03292588)
The purpose of this study is to see if treatment with a medication called Nucala (mepolizumab), given along with standard asthma care, makes children less likely to have asthma attacks. Children ages 6 to 17 years who were diagnosed with asthma may be eligible to participate with parent/guardian consent.
Study of the Inflammation and Airway Changes That Occur After Exposure to Allergen in Asthmatics (ACE) (NCT02230189)
People ages 18 to 55 years may be eligible to participate in this study that investigates microRNAs in response to allergen challenge in the lungs of people with well-controlled asthma, people with allergies but no asthma, and people with neither allergies nor asthma.
Airway Temperature (RATE) (NCT02401074)
The primary focus of this exploratory study is to determine if there is an increase in tissue temperature in airway mucosa during asthma exacerbation. Findings from this study should help to advance the development of new therapeutic strategies for these debilitating diseases. People ages 18 to 60 years with well-controlled airway allergy with mild-intermittent asthma may be eligible to participate.
Sorting and Expression Profiling of Airway Cells From Humans (The SEARCH Study) (NCT02791542)
Healthy and asthmatic participants ages 18 to 70 years may be eligible to participate in this study that seeks to identify enhancers that are important in regulating key airway epithelial cell genes, to determine how enhancer activity changes in asthma, and to develop approaches for targeting the activity of these enhancers.
Preventing Asthma in High Risk Kids (PARK) (NCT02570984)
This clinical trial is designed to test whether a treatment aimed at blocking IgE (ant-IgE or omalizumab) can prevent the progression to childhood asthma in high risk 2 to 4-year-old children. IgE is critical in the development of allergic diseases and asthma.  Other outcomes include the development or persistence of other allergies, including food allergy and atopic dermatitis. Participants will be treated with anti-IgE (omalizumab) for two years, and then observed off treatment for two years.
Lung-Resident Memory Th2 Cells in Asthma (NCT03455959)
People ages 18 to 55 years who have a clinical history of allergic symptoms to an indoor allergen present in their home environment (e.g., cat, dog, dust mite) and confirmed skin reactivity may be eligible to participate in this study that has the potential to change the therapeutic approach to allergic asthma.
Upper Airway Microbial Development During the First Year of Life (NCT01978288)
This study tests the hypothesis that an increase in pathogenic bacteria within the infant airway leads to increased airway inflammation, decreased airway function, and ultimately airway obstruction throughout the first one to two years of life. The study population is infants whose mother has asthma and infants of parents without genetic tendency to develop asthma, eczema, or seasonal allergies.