One of the missions of the CFAR Program is to foster CFAR–CFAR collaborations. Over the past few years, several inter-CFAR collaborations have been formed by the CFARs.
Please see below for brief descriptions on some of the existing CFAR–CFAR Collaborations:
CFAR HIV Continuum of Care Working Group (formerly CFAR ECHPP Working Group)
The CFAR HIV Continuum of Care Working Group was formed in 2011 with the DC D-CFAR serving as the coordinating CFAR. Initially called the CFAR ECHPP Working Group (CEWG), the goal was to promote the conduct of HIV implementation science research by CFAR investigators in collaboration with their local Departments of Health (DOHs) in support of the CDC Enhanced Comprehensive HIV Prevention Planning (ECHPP) initiative. In 2014, the WG was renamed the CFAR HIV Continuum of Care Working Group when the ECHPP program ended and the WG focused on addressing the challenges of the HIV care continuum. The WG was also expanded to include the National Institute of Mental Health-supported AIDS Prevention Centers (APCs). To date, the principal activities of the WG have included
CFAR Administrative Supplements – The ECHPP-1 supplements were awarded in September 2011 to support CFAR investigators in the nine highest AIDS prevalence cities (Atlanta, Chicago, DC, Houston, Los Angeles, Miami, New York City, Philadelphia, and San Francisco) to collaborate with their local DOHs to conduct research on HIV prevention and care interventions in support of the ECHPP initiative. The ECHPP-2 supplements were awarded to these nine CFARs in August 2012 to support implementation science focused on the HIV care continuum, including HIV testing, linkage to care, retention and re-engagement in care, and adherence to ARVs. The ECHPP-3 supplements were awarded in summer 2013 to investigators at 10 CFARs to develop pilot interventions with their local DOHs to address the HIV continuum of care. Two ECHPP-4 supplements were recently awarded in summer 2014.
National CFAR/APC Meetings – The first National CFAR/APC ECHPP Meeting was held in DC in November 2012 with 100 participants from 20 CFARs, 10 DOHs, and all 5 APCs; the meeting Goals were to present results of the ECHPP-1 projects and the aims and methods of the ECHPP-2 projects. The second National CFAR/APC HIV Continuum of Care Meeting was held in DC in February 2014 with 85 participants from all 19 CFARs, 15 DOHs, and all 5 APCs; the meeting Goals were to present results of the ECHPP-2 and APC-1 projects and the aims and methods of the ECHPP-3 and APC-2 projects. It is hoped that the third National CFAR/APC HIV Continuum of Care Meeting will be convened in 2015 to present the results of the ECHPP-3 and APC-2 projects.
JAIDS supplements – The first JAIDS supplement was published in November 2013 and included articles summarizing results from the ECHPP-1 projects from the nine CEWG cities. A second JAIDS supplement is now being developed with a working publication date of May 2015 to include articles summarizing results from the ECHPP-2 and APC-1 projects.
For further information, please visit the DC D-CFAR website, or contact Dr. Alan E. Greenberg at aeg1@gwu.edu or Ms. Rebecca Barasky at rbarasky@gwu.edu.
CFAR Network of Integrated Clinical Systems (CNICS)

The CFAR Network of Integrated Clinical Systems (CNICS) project is a new resource that can contribute substantially to the contemporary HIV research agenda. Established in 2002 and funded as an R24 research platform in 2006, CNICS is a clinic-based research network that reflects the outcomes of clinical decisions and management options used in the care of HIV-infected individuals at eight CFAR sites: UAB, University of Washington, University of California at San Francisco (UCSF), University of California at San DIego, Case Western Reserve, Fenway Community Clinic (Brown/Harvard), University of North Carolina, and Johns Hopkins. The CNICS project supports a database that serves as a central repository of verified and quality-controlled data from the electronic medical records (EMRs) at each site. The clinical data is linked to patient reported outcomes obtained at regular intervals, geospatial data, and to biologic specimens stored in repositories and readily available for use in translational research projects. The mission of CNICS is to provide access to the specimen and data repository to any investigator who submits an approved concept proposal. In this fashion, CNICS is a "peer-reviewed open access" research platform available to investigators worldwide. As of mid 2014, CNICS contained 29,797 patients; 81 percent male and 19 percent female. Visit our website at www.uab.edu/cnics for further information, including ongoing studies, descriptions of data and specimens, and information on how to submit concepts for review.
CFAR Social and Behavioral Sciences Research Network (SBSRN)
The purpose of the CFAR Social and Behavioral Sciences Research Network (SBSRN) is to foster cross CFAR collaborations between behavioral and social scientists; to share strategies on how behavioral and social scientists communicate with basic scientists; to provide a forum for the exchange of the most recent information in the behavioral sciences regarding HIV/AIDS; and to mentor the next generation of behavioral social scientists.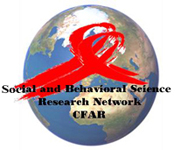 The 3rd National CFAR SBSRN Scientific Meeting was held on October 20–22, 2008, in Seattle, Washington. The 4th Annual SBSRN Scientific Meeting was co-hosted by the Lifespan/Tufts/Brown and Harvard CFARs in Boston, Massachusetts, in 2009. CFAR SBSRN 4th National Scientific Meeting. The 5th Annual Scientific Meeting was hosted by the Emory CFAR in Atlanta, Georgia, in 2010. These meetings are being supported by an R13 (MH081733).
For more information, please contact: Michael Blank, Ph.D., Arnel Montenegro, M.P.H., or Tiffany Brown.
Inter-CFAR HIV/AIDS Related Malignancy (iCHARM) Working Group
Despite dramatic declines in HIV mortality rates due to the success of HAART, death due to cancer continues to rank as the second or the third cause of mortality among HIV-infected patients. HAART has reduced the incidence of some AIDS-associated cancers such as Kaposi's sarcoma. However, HAART's impact on the incidence of other malignancies such as NHL has been marginal, and the incidence of some cancers, such as anal, lung, and Hodgkin's lymphomas, appear to have increased in the post HAART era. The developing world, specifically sub-Saharan Africa, is facing an HIV-associated cancer crisis; some reports have indicated that certain AIDS-defining cancers have increased 10 to 100 fold in the context of HIV infection. The CFAR program emphasizes the importance of interdisciplinary collaboration nationally and internationally, especially between basic and clinical investigators, translational research in which findings from the laboratory are brought to the clinic and vice versa.
In order to address the evolving need in HIV-associated malignancy research, some members of the CFAR community came together and established the inter-CFAR HIV/AIDS Related Malignancy (iCHARM) Working Group. iCHARM focuses on developing collaborations across CFARs and with National Cancer Institute (NCI)-designated Cancer Centers (CC) at institutions that also contain CFARs to address ongoing challenges of HIV-associated malignancies. Goals of this group include leveraging existing resources, and developing training and funding opportunities in basic, clinical, and epidemiologic issues concerning HIV/AIDS-related cancers in both the domestic and international arenas.
In 2007, the NCI supplement "CFAR and Comprehensive Cancer Center (CCC) collaborations in domestic and international studies of HIV-associated malignancies" was awarded to the University of Pennsylvania (UPenn) and UCSF CFARs to initiate a cooperative program of developmental pilot funding to address emerging opportunities AIDS-related malignancies and HIV- and viral-associated cancers. Seven iCHARM developmental pilot projects were awarded, topics included basic, epidemiologic, and clinical research. Additional funds were provided through the UCSF CFAR to the Uganda Cancer Institute to assist in developing infrastructure for HIV/AIDS malignancy research in sub-Saharan Africa. In 2008, 10 supplemental funding grants to the Developmental Core were awarded by NCI to individual CFARs to support pilot projects between a CFAR investigator and a CC investigator and 7 more were awarded in 2009. The goal of this supplement is to build closer ties between CFARs and NCI-designated CCs. In 2010, NCI awarded seven supplemental funding grants for HIV-associated malignancy research at CFARs with CCs. This 2010 supplement is intended to support promising areas of scientific investigation which will add further to our understanding of the pathogenesis of HIV-associated malignancies and at the same time increase collaborative partnerships with low- and middle-income countries.
For more information, please contact Paul Volberding, M.D., or Jim Hoxie, M.D.
Inter-CFAR Collaboration on HIV Research in Women
The Inter-CFAR Collaboration on HIV Research in Women is a network of CFAR investigators dedicated to promoting cutting-edge science in HIV research and women, developing new strategies for future research to address HIV-related issues unique to women, and promoting career development and professional growth among junior investigators interested in this field. The working group has identified the following areas of interest: 1) networking among investigators with similar research interests; 2) Developing collaborative grant proposals; 3) merging existing research cohorts; 4) mentoring and reviewing grant proposals in development; 5) meeting annually at research symposia; and 6) external review for CFAR Developmental Awards related to women and HIV. A smaller sub-committee, comprised of National Institutes of Health (NIH) members and representatives from the individual CFARs, is responsible for organization and implementation of the CFAR Symposium on HIV Research in Women. The 2012 CFAR Joint Symposium on HIV Research in Women was hosted by the Lifespan/Tufts/Brown CFAR on September 18-20. The goal of the program is to identify gaps in knowledge in HIV and women's research and generate collaborative activity between CFARs and other research networks. For more information please contact Alan Landay, Grace John-Stewart, Susan Cu-Uvin, or Kate Murray. We are interested in addressing issues relevant to HIV and women at both a domestic and international level.
For more information, please see the Inter-CFAR Collaboration on HIV Research in Women website.
CFAR Global AIDS Research Consortium (CGARC)
The CFAR Global AIDS Research Consortium (CGARC) is a coalition of CFAR-affiliated investigators with HIV-related research efforts in developing countries around the world. The mission of CGARC is to create synergistic interactions between CFAR institutions via joint programs and research efforts that span multiple CFARs. CGARC efforts thus far have included creating an inventory of international HIV research and care initiatives among existing CFAR centers, compiling a list of researchers from multiple Centers who are willing to review CFAR-related international grant applications, and developing an agreement for CFAR sites to work together on joint targeted evaluation projects for funding. In collaboration with the NIH Office of AIDS Research and the International AIDS Society a supplement program was launched entitled "Creative and Novel Ideas in HIV Research (CNIHR)" targeted to early stage researchers not yet engaged in HIV/AIDS research.
For more information, please contact: Michael Saag, M.D., Donna Porter, Ph.D., King Holmes, M.D., Ph.D., or Susan Mello. For information about the list of CFAR international grant reviewers, please contact Bryna Block.
CFAR HIV/TB Co-Infection Consortium
The HIV/TB Co-Infection Consortium was introduced at the 2004 National CFAR Directors meeting at Harvard, and was followed by a national symposium co-hosted by the UPenn and Harvard CFARs entitled "Confronting TB-HIV Co-infection" in June 2005. This led to a supplement to the Journal of Infectious Diseases entitled "HIV/TB Coinfection: Current State of Knowledge and Research Priorities" (15 August 2007, vol 196, S1). Subsequently, an inter-CFAR HIV/TB collaborative working group was formed, with the three goals of 1) developing a shared research agenda around five areas of focus (molecular pathogenesis, immunology of coinfection, diagnostics, therapy and clinical trials, implementation science); 2) identifying resources at individual CFARs that can be shared across CFARs; and 3) developing common or complementary research themes that could lead to joint inter-CFAR projects. Working group meetings were held in September 2009 at the Baylor CFAR, to identify action items for the CFAR agenda. A followup workshop was held in November 2012 at the UCSF CFAR, in conjunction with the National CFAR Directors meeting, which brought together young investigators from nearly all CFARs to present their ongoing HIV/TB projects, share strategies, develop collaborations, and engage with NIH Program. An HIV/TB Co-Infection website was created in 2010 as a central repository of investigators and resources at CFARs. The next HIV/TB workshop is planned for 2015 in conjunction with the National CFAR Directors meeting. For information please contact Ron Collman, M.D., Anne Goldfeld M.D., or Dorothy Lewis, Ph.D.
CFAR–CFAR Collaboration on HIV in Corrections (CFAR–CHIC)
The mission of the CFAR Collaboration on HIV in Prisoners is to support multi-disciplinary interactions among investigators to enhance research into the prevention, diagnosis, and treatment of HIV and associated conditions (including linkage to care after release) for incarcerated individuals.
Across the globe HIV rates in incarcerated populations tend to be greater than in the community. In the United States alone, one in seven HIV-infected individuals pass through a correctional facility each year, many of them undiagnosed. Within this pool of people, there are tremendous challenges, including an enormous burden of co-occurring disorders such as mental illness, addiction, viral hepatitis, sexually transmitted diseases, and substantial social challenges. Lack of linkage to care after release often leads to interruption of antiretroviral therapy and return to high-risk activities.
There are clearly many opportunities to conduct meaningful research in correctional populations. We hope to encourage cross-CFAR collaborations, including developing strategies to stimulate research, encouraging involvement, and mentoring the next generation of researchers to address the many complex challenges of HIV and associated conditions among prisoners.
For more information, please contact Josiah D, Rich, M.D., M.P.H., or David Wohl, M.D., or see The Center for Prisoner Health and Human Rights.
CFAR Biostatistics Network
Biostatistical methods play a central role in advancing HIV research. The CFAR Biostatistics Network (CBN) comprises statisticians collaborating with HIV investigators at CFARs nationwide. CBN meets annually at the Joint Statistical Meetings. Our most recent initiative is focused on building biostatistics capacity and infrastructure in sub-Saharan Africa, where considerable NIH-funded research is being conducted. NIAID recently cosponsored a conference on this topic, organized by Mizrak Gezmu and several CBN members, from which a White Paper was produced and will be published in the Journal of Statistics. A workshop is tentatively planned for June 2011 in Gabarone, Botswana.
In an effort to encourage cross-CFAR collaboration, CBN currently is developing a website to catalog member statisticians and their particular areas of expertise. For more information about CBN, contact Susan Ellenberg at UPenn or Joe Hogan at Brown.
CFAR Sub-Saharan Africa Working Group
The CFAR Sub-Saharan Africa Working Group (CFAR-SSA) was formed in 2011 under the leadership of the UCSF-GIVI CFAR. In November 2012 the leadership was transferred to the Johns Hopkins CFAR to build upon initial accomplishments and enthusiasm.
The goals of the CFAR-SSA working group include
Promote New Collaborative Research Opportunities: The CFAR-SSA will develop, improve, and promote multidisciplinary and inter-CFAR research conducted by its members directed at high-priority scientific and public health challenges.
Mentor Young SSA Investigators: The CFAR-SSA will provide a unique, collaborative, and cross-institutional capacity building setting for young investigators working in SSA.
The CFAR SSA WG has decided to select high-priority scientific focus areas every two years in order to better to coordinate resources for more coherent funding strategies and provide a framework for collaborative activities. Areas can evolve allowing for a balance of new ideas and input with targeted activities. The initial four focus areas area for 2013–2014 are as follows:
Cervical Cancer and Other HIV-related Malignancies
HIV/TB
PMTCT and Pediatric HIV
Key Populations (e.g. MSM, Substance Users, Sex Workers, Adolescents)
Please contact Jennifer Hoffmann for further details at jhoffm45@jhmi.edu
Inter-CFAR Cytometry Interest Group (CIG)
The inter-CFAR CIG originated from collaborative initial interactions between the Duke CFAR, Miami CFAR, and Emory CFAR. Miami hosted a Flow Cytometry Workshop at the 2013 CFAR Director's Meeting in Miami during which the concept of an inter-CFAR CIG was announced and very well received.
The inter-CFAR CIG is a collaborative project, open to participation by all CFARs and D-CFARs, that is designed to promote the overall CFAR mission by synergistically enhancing and coordinating high quality AIDS research projects. Broad participation in the inter-CFAR CIG will lead to greater transparency across CFARs with regards to cytometry methods, potential manuscripts and funding opportunities through new inter-CFAR collaborations, greater access to cytometry-based training and mentoring for new CFAR Investigators, and potentially CFAR-wide discounts on cytometry products by major vendors.
The Mission of the inter-CFAR CIG is to share protocols and recommendations for cytometry-based assays, foster new collaborations in cytometry, provide mentoring & training opportunities for cytometry-based methods, promote cytometry-focused international partnerships, and disseminate new cytometry tools across CFARs. The inter-CFAR CIG also promotes collaboration with industry for evaluating new technologies and strives to be a good steward of government funds by negotiating discounted pricing for flow cytometry reagents.
For further information, please contact Janet Staats at janet.staats@duke.edu
Inter-CFAR HIV and Aging Working Group
The Office of AIDS Research has established a Working Group on HIV and Aging comprised of experts in both HIV/AIDS and geriatrics, as well as representatives from the HIV affected community to identify new scientific opportunities and priorities in this field of research. The working group met in a face-to-face meeting in April 2011, and assigned breakout groups to address four specific areas: 1) Triggers and Underlying Mechanisms of Aging in those with HIV; 2) Biomarkers/Prognostic Indices of Aging and Illness; 3) Design and Conduct of Observational and Intervention Studies; and 4) Societal, Mental Health, Behavioral and Care giving Issues. The working group findings are summarized in a white paper: Acquir Immune Defic Syndr. 2012 July 1; 60(Suppl 1): S1–18. PMCID: PMC3413877 NIHMSID: NIHMS385985.
As an extension of this effort, several Centers for AIDS Research (CFARs) organized an "Inter-CFAR working group on Aging" is to assess what is known and unknown about aging among HIV infected persons, and what the priorities should be for research at the interface of HIV, aging, and multi-morbidity. The Inter-CFAR working group reached out to OAIC ("Pepper Centers") to collaborate on interdisciplinary research to evaluate similarities and differences of aging in HIV individuals versus aging in those without HIV infection.
In 2013, funding was received through an R24 mechanism (K High PI) to promote aging research among the CFAR investigators and engage OAIC researchers in the field of HIV. The resulting shared research platform seeks to enhance and accelerate investigation at the interface of HIV and aging through
Harmonizing processes for data collection across OAICs (Older Americans Independence Centers-Pepper Centers) and CFARs by providing a platform for data collection
Validating key instruments and measures of function and geriatric phenotypes in HIV+ over the age of 50
Supporting pilot projects in HIV and aging
Identifying and mentoring junior faculty interested in HIV and aging research
Disseminating information and data sharing opportunities with the larger research community
In October 2014, leadership from the HIV And Aging Working Group helped to organize the HIV and Aging: From Mitochondria to the Metropolis conference which served as a translational science meeting to address the basic science, clinical, and socio-behavioral aspects of aging with HIV/AIDS. This conference afforded the opportunities to
Hear from internationally-recognized HIV and Aging experts along with representatives from NIH, VA, and other funding agencies
Showcase posters focused on Aging and/or HIV
Network with leading scientists, educators, and clinicians working in the fields of gerontology and HIV-related studies
Currently, the Inter-CFAR Working Group on Aging is creating a scientific agenda prioritized for highest impact, highest need studies. The activities of the group should translate into new insights regarding the unique aspects of the impact of HIV on the aging process.
---