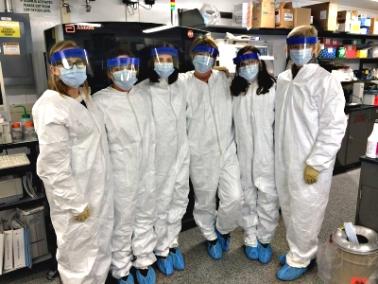 Predoctoral research trainees (graduate students pursuing doctoral research degrees) at NIAID engage in advanced research at the forefront of immunologic, allergic, and infectious diseases in a highly collaborative and interdisciplinary research environment. Predoctoral trainees conduct dissertation research in NIAID laboratories located in Maryland and Montana (Rocky Mountain Laboratories in Hamilton), providing a unique scientific training experience in basic, translational, and clinical research under the guidance and direction of an NIAID principal investigator. Trainees have the opportunity to engage and network with experts in diverse scientific research fields while taking advantage of the extensive resources at NIH.
Read more about the Division of Intramural Research and the Vaccine Research Center. Find more information about predoctoral training opportunities from the NIH Office of Training and Education (OITE).
Who Can Apply
Applicants must
Be enrolled or eligible to enroll in a graduate degree program (Ph.D., M.D., or equivalent graduate degree)
Aspire to conduct dissertation research in immunologic, allergic, and/or infectious diseases
Available opportunities may vary; see below for details.
How To Apply
Application instructions and eligibility requirements vary for the following:
Graduate Partnerships Program (GPP)
GPP Institutional Partnerships are pre-established partnerships that allow students to conduct dissertation research in an NIH laboratory in collaboration with one of the partnering, degree-granting institutions.
Candidates for institutional partnerships must be U.S. citizens or permanent residents.
Mentor selection process varies by program.
Applications are accepted from early August to early December.
GPP Individual Partnerships are designed to allow students currently enrolled in (or accepted to) a graduate program to conduct dissertation research in collaboration with an NIH laboratory. 
Prospective predoctoral trainees must obtain permission from their degree-granting institution to perform dissertation research at the NIH.
Prospective predoctoral trainees are encouraged to contact investigators directly before application submission.
For specific questions, contact the Predoctoral/Postdoctoral/Visiting Fellow Program Coordinator.
Why Train at NIAID?
"I earned a B.Sc. in Biochemistry from the University of Maryland in Baltimore, where I was a member of the Meyerhoff Scholarship Program. Throughout college I conducted retrovirus research and wanted to pursue the same field of study in graduate school. I matriculated to the Columbia University Medical Scientist Training Program in conjunction with the NIH Oxford-Cambridge Scholars Program which afforded me the fantastic opportunity to work with two researchers with varied resources and expertise. At the NIAID I joined the lab of Mark Connors, M.D. because of his expertise in both humoral and cell-mediated immunity. My thesis work examined the innate immune cell response against HIV-infected T cells though antibody-dependent cellular cytotoxicity which bridges both the humoral and cellular immune response. I continued this work with Quentin Sattentau, Ph.D. at the University of Oxford. I am currently a psychiatry resident and conduct health systems research. During my graduate studies I learned how to start projects using the strengths of a particular setting and also how to engage with distant collaborators. I continue to use these skills as I work with collaborators at multiple sites and develop new projects at my institution." - Adjoa Smalls-Mantey, M.D., D.Phil.