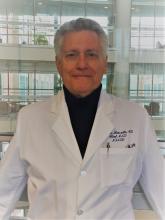 Chief, Mast Cell Biology Section
Major Areas of Research
Identification of mutations and polymorphisms in human disease that affect the mast cell compartment
Characterization of key signaling pathways in human mast cells that control mast cell responses
Application of this information to the diagnosis and treatment of allergic and immunologic diseases and clonal mast cell disorders
Program Description
The mast cell is the focus of the Mast Cell Biology Section (MCBS) research effort. This multifunctional inflammatory cell is involved in both innate and acquired immunity and plays a central role in the induction of allergic inflammation. An integrated program investigating mast cell biology includes studies into the growth and differentiation of mast cells, mast-cell signal transduction, and the products generated by mast cells that lead to disease. The MCBS program emphasizes basic research that may be translated into the clinic and from the clinic to the bench, where protocols include studies on the pathogenesis of anaphylaxis, physical urticarias and clonal mast cell disorders. Research efforts have contributed to the identification of mutations in mast cell disease, understanding signaling through KIT and the high affinity IgE receptor, and how alterations in the control of mast cell mediator production affect human disease.
Biography
Dr. Metcalfe received his M.D. at the University of Tennessee and an M.S. in microbiology at the University of Michigan, where he also did a residency in internal medicine. Dr. Metcalfe then trained in allergy and immunology during a fellowship at NIAID, followed by training in rheumatology while a Fellow in Immunology at the Robert Brigham Hospital in Boston. In 1995, he was appointed as the first Chief of the newly created Laboratory of Allergic Diseases at NIAID, a position he continued for 22 years until stepping down as Laboratory Chief in 2017. He is a past president of the American Academy of Allergy, Asthma, and Immunology, and a past chair of the American Board of Allergy and Immunology. Dr. Metcalfe is a Fellow of the American Academy of Allergy, Asthma, and Immunology and a member of the Association of American Physicians, Collegium Internationale Allergologicum, and American Clinical and Climatological Association. Dr. Metcalfe is a recipient of numerous awards including the Commendation, Outstanding Service and Meritorious Service Medals of the USPHS, an Outstanding Alumnus Award from University of Tennessee College of Medicine Alumni, the Distinguished Scientist Award from the Association the American Academy of Allergy and Asthma and Immunology, the Distinguished Scientist Award from the World Allergy Organization, the Lifetime Mentorship Award from the AAAAI and the ECNM Researcher of the Year.
Research Group
Dean D. Metcalfe, M.D., Section Chief
Ana Olivera, Ph.D., Staff Scientist (Associate Scientist)
Melody Carter, M.D., Staff Clinician (Senior Research Physician)
Hirsh D. Komarow, M.D.    , Staff Clinician (Associate Research Physician) 
Linda M. Scott, C.R.N.P., Nurse Practitioner
Hyejeong Bolan, R.N., Study Coordinator
A. Robin Eisch, R.N., Study Coordinator
Geethani Bandara, Ph.D., Biologist
Yun Bai, M.S., Biologist
Yuzhi Yin, Ph.D., Biologist
Guido Falduto, Ph.D., Visiting Fellow
Annika Pfeiffer, Ph.D., Visiting Fellow
Andrea Luker, Ph.D., Post-doctoral IRTA Fellow
Arnold S. Kirshenbaum, M.D., Special Volunteer
Ayelet Makovoz, B.A., Post-Baccalaureate IRTA
Selected Publications
Boyden SE, Desai A, Cruse G, Young, ML, Bolan HC, Scott LM, Eisch AR,  Long RD, Lee CR, Satorius CL, Pakstis AJ, Olivera A, Mullikin JC, Chouery E, Megarbane A, Medlej-Hashim M, Kidd KK, Kastner DL, Metcalfe DD, Komarow HD.  Vibration-induced mast cell degranulation caused by a mutation in ADGRE2. N Engl J Med 2016; 374: 656-663. PMID: 26841242
Cruse G, Yin Y, Fukuyama T, Desai A, Arthur GK, Bäumer W, Beaven MA, Metcalfe DD. Exon-skipping of FcεRIβ eliminates FcεRI expression in mast cells with therapeutic potential for allergy. Proc Natl Acad Sci USA 2016: 113:14115-14120. PMID: 27872312.
Carter MC, Desai A, Komarow HD, Bai Y, Clayton ST, Clark AS, Ruiz-Esteves KN, Long LM, Cantave D, Wilson TM, Scott LM, Simakova O, Jung MY, Hahn J, Maric I, Metcalfe DD.  A distinct biomolecular profile identifies monoclonal mast cell disorders in patients with idiopathic anaphylaxis. J Allergy Clin Immunol 2018; 141:180-188. PMID: 28629749.
Kim DK, Cho YE, Komarow H, Bandara G, Song BJ, Olivera A, Metcalfe DD. Mastocytosis-derived extracellular vesicles exhibit a mast cell signature, transfer KIT to stellate cells and promote their activation. Proc Natl Acad Sci USA 2018;115(45):E10692-E10701. doi: 10.1073/pnas.1809938115. Epub 2018 Oct 23. PMID 30352845.
Carter MC, Bai Y, Ruiz-Esteves KN, Scott LM, Cantave D, Bolan H, Eisch R, Sun X, Hahn J, Maric I,  Metcalfe DD. Detection of KIT D816V in peripheral blood of children with cutaneous mastocytosis suggests systemic disease. Br J Haematol 2018; 183:775-782. PMID: 30488427.
Lyons J, Chovanec j, O'Connell MP, Liu Y, Šelb J, Zanotti R, Bai Y, Kim J, Kim J, DiMaggio T, Schwartz LB,  Komarow HD, Rijavec M, Carter MC, Milner JD, Bonadonna P, Metcalfe* DD, Korošec* P. Heritable risk for severe anaphylaxis associated with increasing a-tryptase-encoding germline copy number at TPSAB1. J Allergy Clin Immunol 2020 Jul 24:S0091-6749(20)31029-0. doi: 10.1016/j.jaci.2020.06.035. PMID: 32717252*Senior co-authors