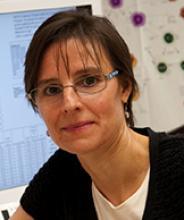 Chief, B-Cell Immunology Section
Major Areas of Research
Contribution of B cells to HIV pathogenesis
Characterization of virus-specific B-cell responses in HIV-infected individuals
Pathogenesis of B cells in immune-mediated diseases, particularly primary immune deficiencies
Program Description
The primary focus of our research program is to study the role of B cells in the pathogenesis of HIV disease, with the ultimate goal of filling gaps in knowledge regarding humoral immunity against the virus. This knowledge is critical to the development of an effective antibody-based vaccine and for advancement of immunotherapeutic interventions in HIV-infected individuals. Our approach involves assessing transcriptional, phenotypic, and functional attributes of B cells that circulate in the peripheral blood and those that reside in tissues, particularly lymph nodes and the bone marrow. A major focus of our research also includes identifying and characterizing various subsets of B cells in blood and tissues of healthy individuals that are overexpressed at various stages of HIV infection. We have shown that several of these subsets may be responsible for various manifestations associated with HIV disease, including hypergammablobulinemia, inadequate response to vaccination, as well as loss of homeostasis and lymphopenia. Another long-term goal is to apply our knowledge of B cells in HIV to other human diseases in which B cells play a pathogenic role.
Biography
Dr. Moir received her Ph.D. in immunology and microbiology from the University Laval, Quebec City, Quebec, Canada, in 1996. Her Ph.D. studies were supported by a scholarship from the National Health Research and Development Program of Canada. In 1996, Dr. Moir came to the NIAID Laboratory of Immunoregulation (LIR) as a Visiting Fellow. Dr. Moir was appointed to the position of Staff Scientist in 2006, with honorific title of Associate Scientist in 2010. In 2009, the National Institutes of Health (NIH) launched a new recruiting program named for the late Earl Stadtman, an NIH biochemist who mentored several Nobel laureates. Dr. Moir was selected as one of the 2014-2015 Earl Stadtman Investigators and received a tenure track investigator position in the LIR in August 2015.
Selected Publications
Kardava L, Sohn H, Youn C, Austin JW, Wang W, Buckner CM, Justement JS, Melson VA, Roth GE, Hand MA, Gittens KR, Kwan RW, Sneller MC, Li Y, Chun TW, Sun PD, Pierce SK, Moir S. IgG3 regulates tissue-like memory B cells in HIV-infected individuals. Nat Immunol. 2018 Sep;19(9):1001-1012.
Montezuma-Rusca JM, Moir S, Kardava L, Buckner CM, Louie A, Kim LJ, Santich BH, Wang W, Fankuchen OR, Diaz G, Daub JR, Rosenzweig SD, Chun TW, Li Y, Braylan RC, Calvo KR, Fauci AS. Bone marrow plasma cells are a primary source of serum HIV-1-specific antibodies in chronically infected individuals. J Immunol. 2015; 194:2561-8.
Kardava L, Moir S, Shah N, Wang W, Ho J, Wilson R, Buckner CM, Santich BH, Kim LJY, Spurlin EE, Nelson AK, Wheatley AK, Harvey CJ, McDermott AB, Wucherpfennig KW, Chun TW, Tsang JS, Li Y, Fauci AS. Abnormal B cell memory subsets dominate HIV-specific responses in infected individuals. J Clin Invest. 2014;124:3252-62.
Sadat MA, Moir S, Chun TW, Lusso P, Kaplan G, Wolfe L, Memoli MJ, He M, Vega H, Kim LKY, Louie A, Huang Y, Hussein N, Nievas E, Mitchell R, Garofalo M, Ireland DC, Grunes C, Cimbro R, Patel V, Holzapfel G, Salahuddin D, Bristol T, Adams D, Marciano BE, Hegde M, Li Y, Calvo KR, Stoddard J, Justement JS, Jacques J, Long Priel DA, Murray D, Sun P, Kuhns DB, Boerkoel CF, Chiorini JA, Di Pasquale G, Verthelyi D, Rosenzweig SD. A glycosylation defect with hypogammaglobulinemia and resistance to viral infections. N Engl J Med. 2014;370:1615-25.
Buckner CM, Moir S, Kardava L, Ho J, Santich BH, Kim LJ, Funk EK, Nelson AK, Winckler B, Chairez CL, Theobald-Whiting NL, Anaya-O'Brien S, Alimchandani M, Quezado MM, Yao MD, Kovacs JA, Chun TW, Fauci AS, Malech HL, De Ravin SS.CXCR4/IgG-expressing plasma cells are associated with human gastrointestinal tissue inflammation. J Allergy Clin Immunol. 2014;133:1676-85.
Moir S, Ho J, Malaspina A, Wang W, DiPoto AC, O'Shea MA, Roby G, Kottilil S, Arthos J, Proschan MA, Chun TW, Fauci AS.Evidence for HIV-associated B-cell exhaustion in a dysfunctional memory B-cell compartment in HIV-infected viremic individuals. J Exp Med. 2008;205:1797-1805.