Chief, HIV Immunovirology Unit
Major Areas of Research
Persistence of viral reservoirs in HIV-infected individuals receiving antiretroviral therapy
Viral dynamics and immunologic control of HIV replication in infected individuals
Development of therapeutic strategies aimed at achieving sustained virologic control in HIV-infected individuals in the absence of antiretroviral therapy
Our research program focuses on 1) delineating the role of viral reservoirs in the pathogenesis of HIV disease; 2) examining host and viral factors that contribute to the maintenance of HIV reservoirs; and 3) developing therapeutic strategies aimed at achieving durable virologic control in infected individuals in the absence of antiretroviral therapy. Our research program utilizes Bench-to-Bedside approaches. We conduct comprehensive genetic, immunologic, and virologic analyses of CD4+ and CD8+ T cells in diverse cohorts of HIV-infected individuals in order to address fundamental pathogenic questions, such as elucidating mechanisms of viral persistence, the role of the host immunity in containment of viral replication, and evaluating promising novel therapeutic agents in both ex vivo and in vivo settings. Based on findings from bench research, we also conduct phase I clinical trials in close collaboration with the NIAID HIV clinic, with the ultimate goal of developing safe, effective, and scalable therapeutic strategies that would allow HIV-infected individuals to control viral replication in the absence of daily antiretroviral drugs.
Dr. Chun received his Ph.D. from the Biochemistry, Cellular, and Molecular Biology Graduate Program from the Johns Hopkins University School of Medicine where he discovered and characterized latently infected, resting CD4+ T cells in HIV-infected individuals. He began his postdoctoral work in the Laboratory of Immunoregulation at NIAID as a research fellow in 1997. Subsequently, Dr. Chun was appointed to the position of staff scientist in 2001. Dr. Chun was selected as one of the Earl Stadtman Investigators and received a tenure track investigator position in the LIR in June 2016.
Members of the HIV Immunovirology Unit Research Group
Jana Blazkova, Ph.D., research fellow
Katherine E. Clarridge, M.D., clinical fellow (Immunopathogenesis Section)
Erin D. Huiting, postbac IRTA
J. Shawn Justement, senior research assistant
Eric W. Refsland, Ph.D., postdoctoral fellow
Victoria Shi, M.S., biologist
Marek Zorawski, postbac IRTA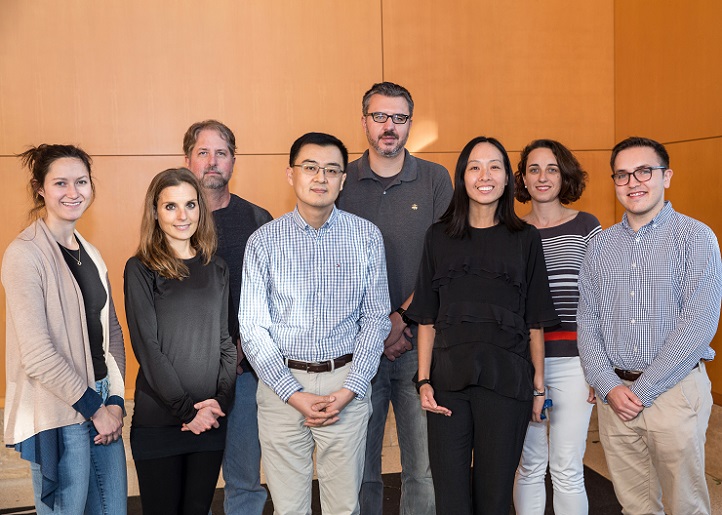 Clarridge KE, Blazkova J, Einkauf K, Petrone ME, Refsland EW, Sneller MC, Justement JS, Shi V, Huiting ED, Seamon CA, Lee GQ, Yu XG, Moir S, Sneller MC, Lichterfeld M, Chun TW. Effect of analytical treatment interruption and reinitiation of antiretroviral therapy on HIV reservoirs and immunologic parameters in infected individuals. PLoS Pathog. 2017;13:e1006792. [ePub ahead of print].
Sneller MC, Justement JS, Gittens KR, Petrone ME, Clarridge KE, Proschan MA, Kwan R, Shi V, Blazkova J, Refsland EW, Morris DE, Cohen KW, McElrath MJ, Xu R, Egan MA, Eldridge JH, Benko E, Kovacs C, Moir S, Chun TW, Fauci AS. A randomized controlled safety/efficacy trial of therapeutic vaccination in HIV-infected individuals who initiated antiretroviral therapy early in infection. Sci Transl Med. 2017 Dec 6;9(419).
Cummins NW, Rizza S, Litzow MR, Hua S, Lee GQ, Einkauf K, Chun TW, Rhame F, Baker JV, Busch MP, Chomont N, Dean PG, Fromentin R, Haase AT, Hampton D, Keating SM, Lada SM, Lee TH, Natesampillai S, Richman DD, Schacker TW, Wietgrefe S, Yu XG, Yao JD, Zeuli J, Lichterfeld M, Badley AD. Extensive virologic and immunologic characterization in an HIV-infected individual following allogeneic stem cell transplant and analytic cessation of antiretroviral therapy: A case study. PLoS Med. 2017 Nov 28;14:e1002461.
Nishimura Y, Gautam R, Chun TW, Sadjadpour R, Foulds KE, Shingai M, Klein F, Gazumyan A, Golijanin J, Donaldson M, Donau OK, Plishka RJ, Buckler-White A, Seaman MS, Lifson JD, Koup RA, Fauci AS, Nussenzweig MC, Martin MA. Early antibody therapy can induce long-lasting immunity to SHIV. Nature. 2017 Mar 23;543:559-63.
Bar KJ, Sneller MC, Harrison LJ, Justement JS, Overton ET, Petrone ME, Salantes DB, Seamon CA, Scheinfeld B, Kwan RW, Learn GH, Proschan MA, Kreider EF, Blazkova J, Bardsley M, Refsland EW, Messer M, Clarridge KE, Tustin NB, Madden PJ, Oden K, O'Dell SJ, Jarocki B, Shiakolas AR, Tressler RL, Doria-Rose NA, Bailer RT, Ledgerwood JE, Capparelli EV, Lynch RM, Graham BS, Moir S, Koup RA, Mascola JR, Hoxie JA, Fauci AS, Tebas P and Chun T-W. Effect of HIV Antibody VRC01 on Viral Rebound after Treatment Interruption. N Eng J Med. 2016 Nov;375(21):2037-50.