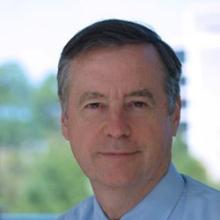 Chief, Clinical Research Section
Program Description
In addition to ongoing clinical research interests in the area of HIV-1 therapeutics and the immunopathogenesis of HIV-1 infection, since 2006 Dr. Davey's clinical research team in the Clinical Research Section (CRS) of LIR has also been actively involved in clinical trials of novel anti-influenza therapeutics, as well as observational studies of novel subtypes of seasonal or pandemic influenza. This has included leadership and active participation in the observational and interventional studies conducted through the INSIGHT Influenza network as well as the design and implementation of interventional trials (IRC 002 and IRC 005 being the most recent trials) being conducted through the Intramural Research Collaboration sponsored by the Division of Clinical Research, NIAID.
Phase I/II studies both of promising antiviral agents as well as immune-based therapies have been part of this initiative. In addition, CRS has played an active role in the development and testing of novel medical countermeasures involved in either prophylaxis or treatment of Ebola virus infection, as well as orchestrated the care at the NIH Clinical Research Center of health care workers occupationally exposed to that agent during the recent West African outbreak.
Biography
Dr. Davey received his M.D. from the Columbia University College of Physicians and Surgeons in 1980. He completed his internship and internal medicine residency at Boston University Hospital in 1983. He came to NIH as a fellow in NIAID's Infectious Diseases training program and received board certification in ID in 1986. He joined the Laboratory of Immunoregulation in 1987 as an attending physician in the NIAID/CCMD HIV Research clinic. In addition, he is deputy clinical director within NIAID and also serves as the medical director of the Special Clinical Studies Unit at the Clinical Center.
Selected Publications
Beigel JH, Tebas P, Elie-Turenne MC, Bajwa E, Bell TE, Cairns CB, Shoham S, Deville JG, Feucht E, Feinberg J, Luke T, Raviprakash K, Danko J, O'Neil D, Metcalf JA, King K, Burgess TH, Aga E, Lane HC, Hughes MD, Davey RT; IRC002 Study Team. Immune plasma for the treatment of severe influenza: an open-label, multicentre, phase 2 randomised study. Lancet Respir Med. 2017 Jun 5(6):500-511.
PREVAIL II Writing Group.; Multi-National PREVAIL II Study Team, Davey RT Jr, Dodd L, Proschan MA, Neaton J, Neuhaus Nordwall J, Koopmeiners JS, Beigel J, Tierney J, Lane HC, Fauci AS, Massaquoi MBF, Sahr F, Malvey D. A Randomized, Controlled Trial of ZMapp for Ebola Virus Infection. N Engl J Med. 2016 Oct 13;375(15):1448-1456.
Davey Jr. RT, Markowitz N, Beigel J, Wentworth D, Babiker A, Rehman T, Dewar R, Metcalf J, Uyeki T, Finley EB, Standridge B, Riska P, Lane HC, Gordin F, Neaton JD on behalf of the INSIGHT FLU005 IVIG Pilot Study Group. INSIGHT FLU005: An Anti-Influenza Hyperimmune Intravenous Immunoglobulin Pilot Study. J Infect Dis. 2016 Feb 15;213(4). pii: jiv453. [Epub ahead of print].
Regules JA, Beigel JH, Paolino KM, Voell J, Castellano AR, Muñoz P, Moon JE, Ruck RC, Bennett JW, Twomey PS, Gutiérrez RL, Remich SA, Hack HR, Wisniewski ML, Josleyn MD, Kwilas SA, Van Deusen N, Mbaya OT, Zhou Y, Stanley DA, Bliss RL, Cebrik D, Smith KS, Shi M, Ledgerwood JE, Graham BS, Sullivan NJ, Jagodzinski LL, Peel SA, Alimonti JB, Hooper JW, Silvera PM, Martin BK, Monath TP, Ramsey WJ, Link CJ, Lane  HC, Michael NL, Davey Jr. RT, Thomas SJ, rVSVΔG-ZEBOV-GP Study Group. A Recombinant Vesicular Stomatitis Virus Ebola Vaccine – Preliminary Report. N Engl J Med. 2015 Apr 1. [Epub ahead of print].
Davey RT Jr, Lynfield R, Dwyer DE, Losso MH, Cozzi-Lepri A, Wentworth D, Lane HC, Dewar R, Rupert A, Metcalf JA, Pett SL, Uyeki TM, Bruguera JM, Angus B, Cummins N, Lundgren J, Neaton JD; INSIGHT FLU 002 & 003 Study Groups. The association between serum biomarkers and disease outcome in influenza A(H1N1)pdm09 virus infection: results of two international observational cohort studies. PLoS One. 2013;8(2):e57121.