Clinical and Molecular Retrovirology Section
NIH Main Campus, Bethesda, MD
H. Clifford Lane, M.D.
Deputy Director for Clinical Research and Special Projects, NIAID
Director, Division of Clinical Research, NIAID
Clinical Director, NIAID
Acting Chief, Laboratory of Immunoregulation
Chief, Clinical and Molecular Retrovirology Section, LIR, DIR, NIAID
Acting Chief, Immunopathogenesis Section, LIR, DIR, NIAID
Contact: For contact information, search the NIH Enterprise Directory.
Specialty(s): Diagnostic Laboratory Immunology, Infectious Disease, Internal Medicine Provides direct clinical care to patients at NIH Clinical Center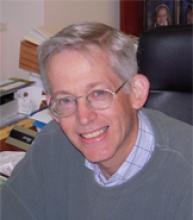 Major Areas of Research
Pathogenesis of HIV infection emphasizing mechanisms of immunodeficiency
Immunologic approaches to therapy for HIV infection
Emerging Infectious Diseases (COVID-19; Ebola)
Program Description
In the laboratory, Dr. Lane's early work involved studies aimed at dissecting the normal immunoregulatory mechanisms that control the human immune response to specific antigen challenges. When the AIDS epidemic emerged, he became one of the first investigators to study immunopathogenic mechanisms of HIV disease, ultimately making seminal observations that helped establish the field of HIV immunopathogenesis.
Dr. Lane has used investigational therapeutic interventions to further the understanding of HIV pathogenesis. He pioneered the strategies of immunologically compatible bone marrow transplantation and the adoptive transfer of lymphocytes and has examined the roles of cytokines in treating patients with HIV infection.
In the area of emerging infectious diseases, Dr. Lane has established clinical research programs in Mali, Mexico, Indonesia, Mexico, Liberia, Guinea and the Democratic Republic of the Congo to conduct studies in pandemic influenza, Ebola and COVID-19.
Biography
Education
M.D., 1976, University of Michigan
Dr. Lane received his M.D. from the University of Michigan in 1976. He then completed an internship and residency at the University of Michigan Hospital, Ann Arbor. In 1979, Dr. Lane came to the National Institutes of Health as a clinical associate in the Laboratory of Immunoregulation (LIR). In 1985, he was appointed deputy clinical director of NIAID; in 1989, he became the chief of the Clinical and Molecular Retrovirology Section of LIR, a position he still holds. In 1991, Dr. Lane became clinical director of NIAID and, in 2006, became NIAID Deputy Director for Clinical Research and Special Projects and Director of the Division of Clinical Research.
Selected Publications
Polizzotto, M., Nordwall, J., Babiker, A.G., Phillips, A., Vock, D.M., Eriobu, N., Khwaghe, V., Paredes, R.,Mateu, L.,Ramachandruni, S., [76 others], Lane, H.C (2022).  Hyperimmune Immunoglobulin for Hospitalized Patients With COVID-19.  The Lancet 399:530-540, 2022.
Higgs ES, Gayedyu-Dennis D, Fischer Ii WA, Nason M, Reilly C, Beavogui AH, Aboulhab J, Nordwall J, Lobbo P, Wachekwa I, Cao H, Cihlar T, Hensley L, Lane HC. PREVAIL IV: A Randomized, Double-Blind, 2-Phase, Phase 2 Trial of Remdesivir vs Placebo for Reduction of Ebola Virus RNA in the Semen of Male Survivors. Clin Infect Dis. 2021 Nov 16;73(10):1849-1856.
Beigel JH, Tomashek KM, Dodd LE, Mehta AK, Zingman BS, Kalil AC, Hohmann E, Chu HY, Luetkemeyer A, Kline S, Lopez de Castilla D, Finberg RW, Dierberg K, Tapson V, Hsieh L, Patterson TF, Paredes R, Sweeney DA, Short WR, Touloumi G, Lye DC, Ohmagari N, Oh MD, Ruiz-Palacios GM, Benfield T, Fätkenheuer G, Kortepeter MG, Atmar RL, Creech CB, Lundgren J, Babiker AG, Pett S, Neaton JD, Burgess TH, Bonnett T, Green M, Makowski M, Osinusi A, Nayak S, Lane HC; ACTT-1 Study Group Members. Remdesivir for the Treatment of Covid-19 - Final Report. N Engl J Med. 2020 Nov 5;383(19):1813-1826.
Imamichi H, Smith M, Adelsberger JW, Izumi T, Scrimieri F, Sherman BT, Rehm CA, Imamichi T, Pau A, Catalfamo M, Fauci AS, Lane HC. Defective HIV-1 proviruses produce viral proteins. Proc Natl Acad Sci U S A. 2020 Feb 18;117(7):3704-3710.
Mulangu S, Dodd LE, Davey RT Jr, Tshiani Mbaya O, Proschan M, Mukadi D, Lusakibanza Manzo M, Nzolo D, Tshomba Oloma A, Ibanda A, Ali R, Coulibaly S, Levine AC, Grais R, Diaz J, Lane HC, Muyembe-Tamfum JJ; PALM Writing Group, Sivahera B, Camara M, Kojan R, Walker R, Dighero-Kemp B, Cao H, Mukumbayi P, Mbala-Kingebeni P, Ahuka S, Albert S, Bonnett T, Crozier I, Duvenhage M, Proffitt C, Teitelbaum M, Moench T, Aboulhab J, Barrett K, Cahill K, Cone K, Eckes R, Hensley L, Herpin B, Higgs E, Ledgerwood J, Pierson J, Smolskis M, Sow Y, Tierney J, Sivapalasingam S, Holman W, Gettinger N, Vallée D, Nordwall J; PALM Consortium Study Team. A Randomized, Controlled Trial of Ebola Virus Disease Therapeutics. N Engl J Med. 2019 Dec 12;381(24):2293-2303.
Di Mascio M, Srinivasula S, Kim I, Duralde G, St Claire A, DeGrange P, St Claire M, Reimann KA, Gabriel EE, Carrasquillo J, Reba RC, Paik C, Lane HC. Total body CD4+ T cell dynamics in treated and untreated SIV infection revealed by in vivo imaging. JCI Insight. 2018 Jul 12;3(13):e97880.
Research Group
Affiliations 
INSIGHT (global), INA-RESPOND (Indonesia), La RED (Mexico), PREVAIL (Liberia), UCRC (Mali), PREGUI (Guinea), PALM (DRC)
Training Programs
Patents