Clinical Parasitology Unit
NIH Main Campus, Bethesda, MD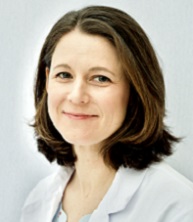 Diagnostic and biomarker development in neurocysticercosis
Understanding the immune and inflammatory response in neurocysticercosis
Improving outcomes in patients with subarachnoid neurocysticercosis
Use of molecular techniques for diagnosis of emerging helminth infections
Understanding the factors that contribute to refractory and relapsing leishmaniasis
Program Description
Dr. O'Connell's research focuses on invasive cestode infections, primarily neurocysticercosis. Patients with basilar subarachnoid neurocysticercosis (racemose disease) often suffer numerous relapses, in part due to the lack of adequate tests and clinical end points for clinicians to follow. Additionally, the exuberant inflammation in the subarachnoid space during relapses accounts for the significant morbidity and mortality. Our early work focused on the development of biomarkers that facilitate diagnosis and inform the clinician when a patient has been successfully cured. The role of inflammation, host genetics, and anthelmintic therapy in altering the course of disease are active areas of investigation. Clinically, we provide patients state of the art care while advancing our understanding of neurocysticercosis.
Dr. O'Connell is also Principal Investigator on a natural history protocol that seeks to better understand the factors that lead to relapse of cutaneous leishmaniasis, in collaboration with several other researchers.
Biography
Education
M.D., Loyola University Chicago
Dr. O'Connell received her medical degree from Loyola University of Chicago. She is a board-certified physician in Internal Medicine and Infectious Diseases and completed residency at Indiana University and fellowship at the National Institute for Allergy and Infectious Diseases (NIAID/NIH). Following her clinical year of fellowship, she began working under the mentorship of Dr. Thomas Nutman in the Helminth Immunology Section of the Laboratory of Parasitic Diseases, NIAID on molecular diagnostics for soil-transmitted helminths and drug repurposing for filarial infections. In 2017, she began focusing on diagnostics in neurocysticercosis as an Assistant Clinical Investigator in NIAID's Transition Program for Clinical Research. In 2020, she became Principal Investigator on a natural history treatment protocol for neurocysticercosis at the NIH Clinical Center, where patient referrals from all over the United States are seen, including particularly challenging cases. In 2022, she became head of the Clinical Parasitology Unit.
Clinical Studies
16-I-N042, A double-blinded, randomized, placebo-controlled dose escalation study to examine the microfilaricidal kinetics and safety of imatinib for the treatment of Loa loa. Principal investigator.
85-I-0127, Treatment of Cysticercosis including Neurocysticercosis with Praziquantel, Albendazole and other Novel Treatment Modalities. Principal Investigator.
97-I-0096, Evaluation, Treatment and Monitoring of Patients with Known or Suspected Parasitic Infection. Associate investigator.
01-I-0238, Diagnosis and Treatment of Leishmanial Infections. Principal Investigator.
88-I-0083, Host Response to Infection and Treatment in the Filarial Diseases of Humans. Associate investigator. 
Selected Publications
Corda M, Sciurba J, Blaha J, Mahanty S, Paredes A, Garcia HH, Nash TE, Nutman TB, O'Connell EM. A recombinant monoclonal-based Taenia antigen assay that reflects disease activity in extra-parenchymal neurocysticercosis. PLoS Negl Trop Dis. 2022 May 26;16(5):e0010442. 

Harrison S, Thumm L, Nash TE, Nutman TB, O'Connell EM. The Local Inflammatory Profile and Predictors of Treatment Success in Subarachnoid Neurocysticercosis. Clin Infect Dis. 2021 May 4;72(9):e326-e333. 
Polish LB, Pritt B, Barth TFE, Gottstein B, O'Connell EM, Gibson PC. First European Haplotype of Echinococcus multilocularis Identified in the United States: An Emerging Disease? Clin Infect Dis. 2021 Apr 8;72(7):1117-1123. 

Nash TE, O'Connell EM. Subarachnoid neurocysticercosis: emerging concepts and treatment. Curr Opin Infect Dis. 2020 Oct;33(5):339-346. 

O'Connell EM, Harrison S, Dahlstrom E, Nash T, Nutman TB. A Novel, Highly Sensitive Quantitative Polymerase Chain Reaction Assay for the Diagnosis of Subarachnoid and Ventricular Neurocysticercosis and for Assessing Responses to Treatment. Clin Infect Dis. 2020 Apr 15;70(9):1875-1881. 

Nash TE, O'Connell EM, Hammoud DA, Wetzler L, Ware JM, Mahanty S. Natural History of Treated Subarachnoid Neurocysticercosis. Am J Trop Med Hyg. 2020 Jan;102(1):78-89. 
Training Program
Infectious Diseases Training Program
Tools/Resources
Clinical testing for Taenia solium DNA by qPCR (Tsol13) and antigen (TsG10) in plasma and cerebrospinal fluid. Please contact Dr. O'Connell directly for requisition form and sample requirements.
Research Network
U.S. Subarachnoid Neurocysticercosis Network
The Clinical Parasitology Unit is an interdisciplinary group of clinically trained LPD staff members who oversee the clinical research portfolio and provide clinical care, consultations, and training in tropical medicine and parasitology.