Helminth Immunology Section
NIH Main Campus, Bethesda, MD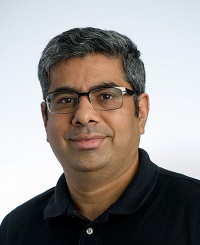 Major Areas of Research
Molecular characterization of helminth parasites with a focus on filarial infections
Development of diagnostics and biomarker discovery for helminth infections
Host-parasite interactions towards defining pathogenesis of filarial infection
Program Description
Dr. Bennuru's research focus within the Helminth Immunology Section is a multi-omic approach to understand the biology of parasitic helminths (especially human filarial infections, e.g., lymphatic filariasis, onchocerciasis, and loiasis) and the host-parasite interaction toward defining pathogenesis; to identify parasite-encoded therapeutic, diagnostic, and vaccine-related targets; and to develop biomarkers of species-specific filarial infection.
Biography
Education
Ph.D., 2005, Anna University, India
Dr. Bennuru received his Ph.D in 2005 from the Center for Biotechnology, Anna University in Chennai, India. He joined NIH in 2005 as a post-doctoral research fellow with Dr. Thomas Nutman in the Laboratory of Parasitic Diseases, primarily working on cellular and molecular aspects of human filarial infections and has been a staff scientist since 2013.
Selected Publications
Gazzinelli-Guimaraes PH, Bennuru S, de Queiroz Prado R, Ricciardi A, Sciurba J, Kupritz J, Moser M, Kamenyeva O, Nutman TB. House dust mite sensitization drives cross-reactive immune responses to hologous helminth proteins. PLoS Pathog. 2021 Mar 2;17(3):e1009337.
Easton A, Gao S, Lawton SP, Bennuru S, Khan A, Dahlstrom E, Oliveira RG, Kepha S, Porcella SF, Webster J, Anderson R, Grigg ME, Davis RE, Wang J, Nutman TB. Molecular evidence of hybridization between pig and human Ascaris indicates an interbred species complex infecting humans. Elife. 2020 Nov;9:e61562.
Bennuru S, Oduro-Boateng G, Osigwe C, Del Valle P, Golden A, Ogawa GM, Cama V, Lustigman S, Nutman TB. Integrating Multiple Biomarkers to Increase Sensitivity for the Detection of Onchocerca volvulus Infection. J Infect Dis. 2020 May;221(11):1805-1815.
Bennuru S, Cotton JA, Ribeiro JM, Grote A, Harsha B, Holroyd N, Mhashilkar A, Molina DM, Randall AZ, Shandling AD, Unnasch TR, Ghedin E, Berriman M, Lustigman S, Nutman TB. Stage-Specific Transcriptome and Proteome Analyses of the Filarial Parasite Onchocerca volvulus and Its Wolbachia Endosymbiont. mBio. 2016 Nov;7(6):e02028-16.
Cotton JA, Bennuru S, Grote A, Harsha B, Tracey A, Beech R, Doyle SR, Dunn M, Hotopp JC, Holroyd N, Kikuchi T, Lambert O, Mhashilkar A, Mutowo P, Nursimulu N, Ribeiro JM, Rogers MB, Stanley E, Swapna LS, Tsai IJ, Unnasch TR, Voronin D, Parkinson J, Nutman TB, Ghedin E, Berriman M, Lustigman S. The genome of Onchocerca volvulus, agent of river blindness. Nat Microbiol. 2016 Nov;2:16216.
D'Ambrosio MV, Bakalar M, Bennuru S, Reber C, Skandarajah A, Nilsson L, Switz N, Kamgno J, Pion S, Boussinesq M, Nutman TB, Fletcher DA. Point-of-care quantification of blood-borne filarial parasites with a mobile phone microscope. Sci Transl Med. 2015 May;7(286):286re4.
Patents
Nutman TB, Bennuru S, Drame PM, inventors; The Unites States of America as represented by the Department of Health and Human Services, assignee. Compositions and methods for detecting Loa loa. United States patent US 10,598,655. 24 March 2020.
Mitre EE, Morris C, Bennuru S, Nutman T, inventors; The Henry M. Jackson Foundation for the Advancement of Military Medicine, Inc., The Unites States of America as represented by the Department of Health and Human Services, assignee. Immunogenic compositions and vaccines for preventing or treating filarial disease. United States patent US 10,441,642. 15 Oct 2019.