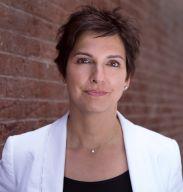 Chief, Systems Genomics Section
Host-parasite interactions in filarial worm infections
Respiratory virus transmission and evolution
Microbial interactions in respiratory infections (influenza, COVID-19, tuberculosis)
Biography
Dr. Elodie Ghedin obtained her Ph.D. in 1998 from McGill University's Institute of Parasitology in Montreal, Canada. Following a postdoctoral fellowship at NIAID on the cell biology of Leishmania donovani, in 2000 she joined The Institute for Genomic Research (TIGR; now the J. Craig Venter Institute) where she worked with Dr. Najib El-Sayed on the annotation of trypanosomatid genomes. There she led her own group on the Brugia malayi and Influenza Virus genome projects. In 2006 she joined the University of Pittsburgh School of Medicine where she was part of the Department of Computational and Systems Biology and the Center for Vaccine Research. In 2014 she moved to New York University where she was a professor of biology in the College of Arts and Sciences, and a professor of epidemiology in the School of Global Public Health. From 2017 to 2019, she served as director of NYU's Center for Genomics and Systems Biology. In May 2020, Dr. Ghedin joined NIAID's Laboratory of Parasitic Diseases as a senior investigator. She also holds an affiliated position with New York University. Dr. Ghedin is a MacArthur Foundation Fellow (2011), a Kavli Frontier of Science Fellow (2012), and an American Academy of Microbiology Fellow (2017).
Program Description
Our systems biology research program meets at the interface of molecular parasitology, microbiology, and genomics and focuses on the molecular basis of macroparasite (nematodes) adaptation to niches in their human hosts and microparasite (virus and bacteria) diversity and interaction in transmission and virulence. The overarching question is, How do pathogens adapt to their hosts, and what is the evolutionary basis of this adaptation?  
Host-pathogen interactions in filarial worm infections
Filarial nematodes infect millions of individuals and represent the leading cause of morbidity in the developing world. Current medications are inadequate for control and elimination, necessitating a better understanding of the basic biology of these worms. Most filarial nematodes, including Brugia malayi and Onchocerca volvulus (causative agents of lymphatic filariasis and river blindness, respectively) have an essential intracellular bacterial endosymbiont, Wolbachia. Our studies address key questions on the reciprocal cues required in the co-dependency between the worm and the bacteria.
Related Projects
Modeling the metabolic interplay between filarial worms and their endosymbiont (collaborations with Dr. John Parkinson, University of Toronto; Dr. Sara Lustigman, New York Blood Center)
Identifying promoter motifs involved in nematode development (collaborations with Dr. Lonnie Welch, Ohio University; Dr. Thomas Unnasch, University of South Florida)
Discovering new metabolites and immunomodulators (collaborations with Dr. Drew Jones, New York University Grossman School of Medicine; Dr. Dirk Trauner, New York University)
Predictive modeling of clinical outcomes in respiratory infections
We develop and use new analytical tools to define genetic structure and mechanisms of evolutionary change in respiratory viruses sampled within individual hosts over the course of an infection and across chains of transmission. We have observed that the dynamics of evolution of respiratory viruses like influenza are different in pre-immune versus naïve hosts and in high risk populations, such as immunocompromised and obese individuals. In light of the COVID-19 pandemic, we have expanded our research program to include SARS-CoV-2 to pursue questions on transmission, factors associated with disease severity, and host selection pressure on the evolution of the virus. Our goal is to integrate systems-wide data and map molecular interaction networks to build predictive models of COVID-19 severity. (Collaborations with Dr. Lara Mahal, University of Alberta; Dr. Stacey Schultz-Cherry, St. Jude Children's Research Hospital; Dr. David Gresham, Center for Genomics and Systems Biology, New York University; Dr. Ted Ross, University of Georgia; Dr. Mirella Salvatore, Weil Cornell Medicine)
Related Projects
Determining intra-host diversity and phylogeny of SARS-CoV-2 (collaborations with Dr. Mark Mulligan, New York University Grossman School of Medicine; Dr. Sanchita Das, NIH Clinical Center; Dr. Marta Luksza, Icahn School of Medicine at Mt. Sinai)
Profiling the respiratory microbiome and antibiotic resistance in influenza infections (collaborations with Dr. Richard Bonneau, New York University and the Flatiron Institute; Dr. Aubree Gordon, University of Michigan)
Functional analyses of the respiratory microbiome in tuberculosis (collaboration with Dr. Philana Lin and Dr. JoAnne Flynn, University of Pittsburgh School of Medicine)
Research Group
Denis Voronin, Ph.D.
Staff Scientist
Master's of Biology, Novosibirsk State University, Russia
PhD, Institute of Cytology and Genetics, Novosibirsk, Russia
Denis trained as a postdoctorate fellow at Université Claude Bernard Lyon 1 and at the Liverpool School of Tropical Medicine before joining the New York Blood Center where he became Assistant Member of the Cellular Microbiology Research Program. Denis is focused on delineating the essential cellular processes that define symbiotic Wolbachia-host interactions in filarial nematodes. Elimination of the symbiont leads to death of the adult worm, rendering Wolbachia an attractive target for interventional tools to combat filariasis.
Allison Roder, Ph.D.
IRTA Postdoctoral Fellow.
Bachelor of Science in Biotechnology and Molecular Bioscience, and Computer Science, Rochester Institute of Technology.
PhD, Molecular Genetics and Microbiology, Duke University
Allison uses next generation sequencing to analyze the host response to Influenza A and B viruses and how it differs between these virus types. In addition to her work with Influenza, Allison's studies extend to coronaviruses and flaviviruses.
Stephanie Banakis, M.S.
Lab Manager and Biologist
Bachelor of Science in Bioengineering, University of Illinois at Chicago
Master's of Biology, New York University.
Stephanie studies the evolution of the Influenza virus and of SARS-CoV-2 in populations at risk.
Wei Wang, M.D.
Biologist
Bachelor of Medicine, Tongji Medical University, Wuhan, China
Master's of Microbiology, North Dakota State University.
Wei has over 20 years of experience in cell culture with expertise in molecular virology and vaccine research.
Matthew Chung, Ph.D.
Computational Biologist
Bachelor of Science, Microbiology, G. H. Cook Scholar, Rutgers University, NJ
PhD, Molecular Microbiology and Immunology, Institute for Genome Sciences, University of Maryland Baltimore
Matt specializes in the computational analysis of genomics, metagenomics, and transcriptomics data sets. For his doctorate, Matt conducted a multi-species RNA-Seq analysis across the entire life cycle of the filarial nematode Brugia malayi, its Wolbachia endosymbiont, and its vector host Aedes aegypti.