The Lymphocyte Biology Section (LBS) has made numerous contributions to the understanding of the cell biology of antigen processing and presentation by MHC class I and especially class II molecules. It also has examined recognition of these ligands by T cells with a focus on the signaling mechanisms involved in ligand discrimination. Since the early 2000's, the LBS has conducted analysis of immune cell behavior in vivo using methods of intravital 2-photon imaging that it helped pioneer, providing real-time, high-resolution visualization of immune-cell dynamics in situ. More recently, the LBS has developed novel, highly multiplex section and volume imaging methods (Histo-cytometry, IBEX, and Ce3D) that allow an unprecedented analysis of cell phenotype, signaling, function, and location in complex tissue settings. These various imaging technologies are being used with more conventional molecular and cellular immunological methods to 1) describe the dynamics of innate and adaptive immune cell movement in lymphoid and non-lymphoid tissue; 2) localize the sites and duration of the cell-cell interactions involved in the development of adaptive immune responses; 3) analyze how differences in these aspects of cell migration and interaction affect differentiation events and functional immunity; and 4) investigate the dynamic behavior and effector activities of innate and adaptive immune cells in non-lymphoid sites including cancers.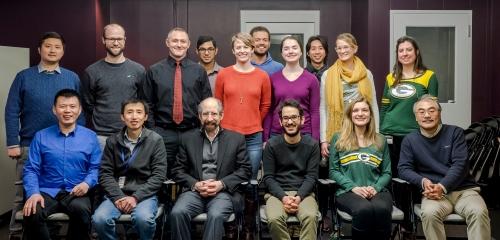 Former Research Group Members
Pierres, Michel Postdoc (Harvard) 1976-1978 deceased
Zubler, Rudolf Postdoc (Harvard) 1978-1980 retired
Dietz, Michael Postdoc (Harvard) 1977-1980 physician
Letvin, Norman Postdoc (Harvard) 1979-1981 deceased
Nepom, Gerald Postdoc (Harvard) 1980-1981 Member, Benaroya Research Institute, Director, ITN
Rock, Kenneth Postdoc (Harvard) 1980-1981 Chair, Pathology UMass Medical School Internationally recognized investigator of adjuvant signals
Norcross, Michael Postdoc 1982-1985 Investigator, FDA (retired)
Lechler, (Sir) Robert Postdoc 1984-1986 Past Dean and Senior Vice-President, Kings College, London, UK One of my first fellows at NIH. Well known in human immunology and a leader in UK academic medicine, including head of the equivalent of the National Academy of Medicine in the US; knighted
Miller, James Postdoc 1983-1987 Professor, Univ. of Rochester
Sant, Andrea Postdoc 1985-1987 Professor, Univ. of Rochester Highly successful investigator, leader at Univ. Rochester; strong AAI involvement
Braunstein, Ned Postdoc 1985-1987 Senior VP, Regeneron
Ronchese, Franca Postdoc 1984-1988 Immunology Cell Biology Program Leader, Malaghan Inst. New Zealand Helps direct major New Zealand research institute; well known for her basic immunology research, especially on dendritic cells
Saito, Takashi Postdoc 1985-1988 Team leader, Laboratory for Cell Signaling, RIKEN, Japan World recognized investigator in the field of TCR signaling and molecular imaging
Boehnke, Wolf-Henning Postdoc 1990-1993 Professor, Univ. of Geneva
Layet, Corrine Postdoc 1989-1991 deceased
Otten, Gib Postdoc 1989-1991 retired
Sadegh-Nasseri, Scheherazade Postdoc/Staff Scientist 1989-1992 Professor, Johns Hopkins Univ.
Racioppi, Luigi Postdoc 1989-1992 Assoc. Professor, Medicine, Duke Univ.
Koenig, Rolf Postdoc 1990-1995 Professor, Microbiology and Immunology, University of Texas Medical Branch
Romagnoli, Paola Postdoc 1991-1995 deceased
Van Meerwijk, Joost Postdoc 1991-1995 Professor, Toulouse Univ. France
Castellino, Flora Postdoc 1992-1996 Scientist, BARDA
Madrenas, Joaquin Postdoc 1993-1996 Professor and Dean, UCLA
Reis e Sousa, Caetano Postdoc 1993-1998 Senior Group Leader, Crick Institute, UK Fellow of the Royal Society, recipient of numerous European and international awards for his outstanding contributions to innate immune sensing and dendritic cell biology
Lucas, Bruno Postdoc 1995-2000 Team Leader Institut Cochin and scientific deputy director of the Institute for biological Sciences of the CNRS, France
Zhong, Guangming Postdoc 1995-1998 Professor, UT San Antonio Leading investigator in the field of chlamydia research
Fleury, Sylvain Postdoc 1993-1996 Chief Scientific Officer at Mymetics Corporation
Porgador, Angel Postdoc 1995-1998 Professor and Dean, Faculty of Health Sciences, Ben Gurion University of the Negev, Israel Numerous leadership roles in Israeli immunology, including as head of the equivalent of the AAI
Eichelberg, Katrin Postdoc 1998-2001 Program Officer, Immunology and Vaccines, NIAID, NIH
Stefanova, Irena Staff Scientist 1997-2004 unknown
Itoh, Yasushi Postdoc 1996-2000 Professor, Shiga University, Japan
Yasutomo, Koji Visiting Scientist 1997-2000 Professor, Tokushima University, Japan
Delon , Jerome Postdoc 1999-2002 Investigator, Institut Cochin, France
Scheinecker, Clemens Postdoc 2001-2004 Professor, Medical University of Vienna, Austria
Dorfman, Jeffrey Postdoc 1998-2003 Assoc. Professor, Stellenbosch University, South Africa
Mackay, Matthew Postdoc 2001-2003 teacher
Stoll, Sabine Postdoc 1999-2003 unknown
Huang, Alex Postdoc 2003-2006 Professor, Case Western Reserve School of Medicine
Altan-Bonnet, Gregoire Postdoc 2000-2005 Investigator, NCI, NIH International leader in computational immunology and systems biology
Meier-Schellersheim, Martin Postdoc/Staff scientist 2001-2007 Senior investigator, Lab. of Immune System Biology, NIAID, NIH Developer of the most widely accepted algorithm (SBML3 multi) for spatially resolved modeling of cellular biochemistry; initial report of this technology came while a fellow with Germain
Qi, Hai Postdoc 2003-2009 Professor and Dean, Tsinghua University, China Internationally recognized investigator, major contributor to understanding germinal center regulation, international HHMI investigator, Dean, Tsinghua University
Chieppa, Marcello Postdoc 2003-2008 Principal Investigator, IRCCS "de Bellis" Castellana Grotte (BA), Italy
Egen, Jackson Postdoc/Staff scientist 2004-2010 Director, Oncology Research, Amgen
Bajenoff, Marc Postdoc 2004-2006 Laboratory Head, Immunobiology of Stromal Cells, CIML, France Internationally recognized for his work on stromal cells in lymphoid tissues and for developing methods for tracking clonal cell development in the immune system
Ishii, Masaru Postdoc 2006-2008 Professor, Osaka University, Dept. Immunology and IFREC, Japan Widely known for his intravital imaging studies, technology development, and especially analysis of osteoclastogenesis
Hammad, Hamid Visiting scientist 2007 Professor, Ghent University and Group Leader, VIB, Belgium
Mueller, Scott Postdoc 2008 Professorial Fellow Microbiology and Immunology, Univ. Melbourne Well recognized expert on tissue resident T cells and their dynamics
Vrisekoop, Ninke Postdoc 2008-2013 Assistant professor, Utrecht Univ., Netherlands
Mandl, Judith Postdoc 2008-2014 Asst. professor, Department of Physiology McGill University, Canada
Kastenmuller, Wolfgang Postdoc 2008-2012 Director, Max Planck Systems Immunology program, Wurzburg, Germany
Gerner, Michael Postdoc 2009-2015 Asst. professor, Dept. Immunology, Univ. of Washington Recognized for his contributions to multiplex imaging technology and its application to spatial analysis of lymphoid tissues
Laemmermann, Tim Postdoc 2010-2014 Group leader, Max Planck Institute of Immunobiology and Epigenetics, Freiburg, Germany Widely known for his pioneering studies of myeloid cell motility, including neutrophil dynamics and the mechanistic dissection of 3D guidance in tissues
Subramanian, Naeha Postdoc 2009-2014 Assistant Member, Institute for Systems Biology, Seattle
Monteiro, Joao Postdoc 2009-2013 Editor in Chief, Nature Medicine
Gottschalk, Rachel Postdoc 2012-2017 Assistant Professor, Dept. of Immunology, Univ. Pittsburgh
Brandes, Marlene Postdoc 2008-2012 cardiologist
Van Panhuys, Nicholas Postdoc 2009-2015 Investigator, Sidra Medicine, Qatar
Honda, Tetsuya Postdoc 2012-2014 Professor, Department of Dermatology, Hamamatsu University School of Medicine, Japan
Clatworthy, Menna Fellow 2010-2011 Professor, Cambridge University Plays a major role in the Human Cell Atlas community; leads the UK side of the NIH Ox-Cam Ph.D. program; world leader in the immunology of the kidney Aronin, Caren Postdoc Patent attorney
Radtke, Andrea Postdoc 2013-2018 Staff Scientist, NIAID, NIH
Liu, Zhidou Postdoc 2010-2016 Principal Investigator, Shanghai Institute of Immunology, China
Veres, Tibor Postdoc 2013 Contractor, NIAID, NIH
Wong, Harikesh Postdoc 2015-present Asst. professor, Ragon Institute and MIT (as of Dec. 2021)
Huang, Yuefeng Postdoc 2016-2018 Asst. professor, Micro and Immunology, Columbia University
Mao, Kairui Postdoc 2014-2019 Asst. Professor, Xiamen University, China
Gola, Anita Ph.D. student/ Postdoc 2015-2020 Postdoc with Elaine Fuchs, Rockefeller
Uderhardt, Stefan Postdoc 2014-2019 Research group leader, Friedrich-Alexander-University, Germany
Baptista, Antonio Postdoc 2014-2019 Fellow, VIB, Ghent, Belgium
Milanez-Almeida, Pedro Postdoc 2014-2019 Computationalist, Astra-Zeneca
Chan, Waipan Postdoc/contractor 2014-2018; 2018-present Contractor, NIAID, NIH