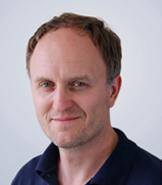 Chief, Malaria Infection Biology and Immunity Unit
Major Areas of Research
Mechanisms of naturally acquired immunity to malaria
Antibody responses to Plasmodium falciparum infection
B- and T-cell biology of P. falciparum infection
Regulation of P. falciparum-induced inflammation
Systems immunology of human malaria
Program Description
Approximately 500 million cases of P. falciparum malaria occur annually among the world's poorest populations, claiming the lives of nearly a million children each year in Africa alone. The development of a malaria vaccine is widely viewed as a key step toward malaria control and possibly eradication, yet current malaria vaccine candidates confer only partial, short-lived protection at best. Optimism that a highly effective malaria vaccine can be developed stems in part from the observation that humans can acquire immunity to malaria through repeated P. falciparum infections. However, the nature of the immune response that confers protection against malaria is poorly understood. In the Malaria Infection Biology and Immunity Unit (MIBIU), we aim to fill this critical knowledge gap by applying recent advances in immunology and genomics-based technology to carefully conducted longitudinal cohort studies in malaria-endemic areas. Ultimately, an improved understanding of the human immune response to P. falciparum infection is likely to provide key insights into how malaria immunity can be enhanced through vaccination. Objectives of ongoing MIBIU projects include the following:
To obtain high-quality clinical data and biospecimens from longitudinal cohort studies in Mali in which exposure to P. falciparum infection and immunity and susceptibility to malaria are reliably assessed
To gain an understanding the antigen specificity, function, and kinetics of the antibody response to P. falciparum as well as the B- and T-cell biology that underlies this response
To determine the mechanisms by which P. falciparum-induced inflammation is regulated
To identify molecular signatures of immunity to malaria through systems biology approaches
To define the human and P. falciparum parasite factors that underlie persistent asymptomatic P. falciparum infection in endemic areas
The cohort studies we conduct in Mali are made possible through a close collaboration with an experienced team of clinicians and scientists at the Malaria Research and Training Center at the University of Bamako. Our field studies in Mali are supported by the NIAID International Centers for Excellence in Research (ICER) program. In collaboration with our colleagues in Mali, we not only conduct longitudinal studies of malaria immunology but also facilitate the expansion of research capacity by training young Malian scientists, improving laboratory and clinical infrastructure, and enhancing information technology capabilities in Mali. To expand the scope of our work and to maximize the knowledge gained from our cohort studies in Mali, we collaborate with experts in parasite biology, basic immunology, genomics, bioinformatics, statistics, and computational biology. For example, with funding from the NIAID Genomic Sequencing Centers for Infectious Diseases, we collaborate with the J. Craig Venter Institute to incorporate sequencing-based technologies into the analysis of our cohort studies in Mali, with the goal of identifying transcriptomic signatures that correlate with protection from malaria.
Biography
Dr. Crompton received his M.D. and M.P.H. from The Johns Hopkins Schools of Medicine and Public Health in 2000. He then completed a residency in internal medicine at Massachusetts General Hospital/Harvard University in Boston before going on to a fellowship in infectious diseases at NIAID in 2004. After a year of clinical training at NIAID, he earned a diploma in tropical medicine and hygiene at the London School of Hygiene & Tropical Medicine before joining the Laboratory of Immunogenetics in 2005 to pursue his research interest in the human immune response to malaria. In 2010, he became a tenure-track investigator and chief of the Malaria Infection Biology and Immunity Unit. Dr. Crompton is certified in internal medicine and infectious disease by the American Board of Internal Medicine.
Research Group
Research Group Contact Information
Selected Publications
Portugal S, Tran TM, Ongoiba A, Bathily A, Li S, Doumbo S, Skinner J, Doumtabe D, Kone Y, Sangala J, Jain A, Davies DH, Liang L, Ricklefs S, Homann MV, Felgner PL, Porcella SF, Färnert A, Doumbo OK, Kayentao K, Greenwood BM, Traore B, Crompton PD. Treatment of chronic asymptomatic plasmodium falciparum infection does not increase the risk of clinical malaria upon reinfection. Clin Infect Dis. 2017 Mar 1;64(5):645-653.
Obeng-Adjei N, Portugal S, Tran TM, Yazew TB, Skinner J, Li S, Jain A, Felgner PL, Doumbo OK, Kayentao K, Ongoiba A, Traore B, Crompton PD. Circulating Th1-cell-type Tfh cells that exhibit impaired B cell help are preferentially activated during acute malaria in children. Cell Rep. 2015 Sep 30. Epub ahead of print.
Portugal S, Tipton CM, Sohn H, Kone Y, Wang J, Li S, Skinner J, Virtaneva K, Sturdevant DE, Porcella SF, Doumbo OK, Doumbo S, Kayentao K, Ongoiba A, Traore B, Sanz I, Pierce SK, Crompton PD. Malaria-associated atypical memory B cells exhibit markedly reduced B cell receptor signaling and effector function. Elife. 2015 May 8;4.
Portugal S, Moebius J, Skinner J, Doumbo S, Doumtabe D, Kone Y, Dia S, Kanakabandi K, Sturdevant DE, Virtaneva K, Porcella SF, Li S, Doumbo OK, Kayentao K, Ongoiba A, Traore B, Crompton PD. Exposure-dependent control of malaria-induced inflammation in children. PLoS Pathog. 2014 Apr 17;10(4):e1004079.
Crompton PD, Moebius J, Portugal S, Waisberg M, Hart G, Garver LS, Miller LH, Barillas-Mury C, Pierce SK. Malaria immunity in man and mosquito: insights into unsolved mysteries of a deadly infectious disease. Annu Rev Immunol. 2014;32:157-87.
Tran TM, Li S, Doumbo S, Doumtabe D, Huang CY, Dia S, Bathily A, Sangala J, Kone Y, Traore A, Niangaly M, Dara C, Kayentao K, Ongoiba A, Doumbo OK, Traore B, Crompton PD. An intensive longitudinal cohort study of Malian children and adults reveals no evidence of acquired immunity to Plasmodium falciparum infection. Clin Infect Dis. 2013 Jul;57(1):40-7.